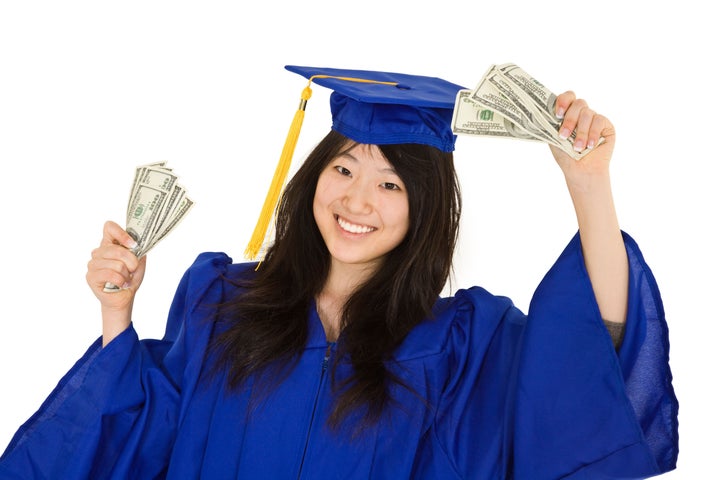 College costs are out of control. Total outstanding student loans hover around $1 trillion, second only to home mortgages as the largest debt Americans carry. Student loan repayment takes a hefty toll on starting salaries even during good economic times. But with so many recent graduates unable to find a decent job -- or any job at all -- repayment can be a nightmare.
You can't just walk away from student loan debt. It's practically impossible to get it discharged through bankruptcy and there's no statute of limitations on how long lenders can pursue you through collections. Indeed, the government can withhold tax refunds and garnish your wages indefinitely; plus, your credit score will take a huge hit.
It's against that backdrop that the Obama administration recently accelerated improvements to a readily available, yet underused, student loan repayment plan called Income-Based Repayment (IBR) that had been slated to begin in 2014.
If you're having difficulty paying off your student loans and want to avoid defaulting, IBR and other options are available that might help:
IBR is available for many types of federally guaranteed student loans and can be particularly beneficial for low-income families, the unemployed and people with lower-paying, "public service" jobs in education, the government or non-profit organizations.
Under IBR, required monthly payments are capped at an affordable level relative to your adjusted gross income, family size and state of residence. For example, if you earn less than 150 percent of the government's poverty level for your family size, you would pay zero. You still owe the money, but are not required to begin making payments until your income increases. As your income increases, so will your monthly payment -- but up to no more than 15 percent of income that exceeds that same 150 percent of poverty level.
In addition, the government will forgive any debt still owed after 25 years of consistent repayment. And those qualifying under the public service definition must only repay for 10 years before the balance is erased.
Under the recent IBR program enhancements, students who took out their first loan during or after 2008 and take out at least one additional loan during or after 2012 will now see the cap drop from 15 to 10 percent and the forgiveness period drop to 20 years. Those with older loans can still benefit from the original IBR terms.
A few other IBR features:
All Stafford, PLUS and Consolidation Loans made under either the Direct Loan program or the now-defunct Federal Family Education Loan (FFEL) program are eligible for repayment under IBR, except loans in default, Parent PLUS Loans or Consolidation Loans containing Parent PLUS Loans.
You must submit updated income documentation to your lender each year. If your income rises, so will your payment amount, although never above what you would otherwise pay under a standard 10-year repayment schedule.
There is no qualifying income ceiling, although higher-income people would need extremely high outstanding loan balances to qualify for IBR.
Because IBR will likely extend the term of your loan, you'll probably accrue more interest than under a standard 10-year payoff.
The amount of debt discharged after the forgiveness period will be subject to income tax unless Congress changes the current law. (Exception: Debt for those in the 10-year public service program will be discharged tax-free after 120 monthly payments).
Unfortunately, private student loans do not qualify for IBR.
If, after you've already begun repaying your student loans, your income is too low to meet payments, contact your lender, which can determine whether they qualify for IBR.
Under another program enhancement, borrowers with two types of federal loans -- at least one each issued under the Direct Loan program and the old FFEL program -- may consolidate their loans under a new Special Direct Consolidation Loans program between January 1, 2012, and June 30, 2012.
Doing so will lower your FFEL loan rates by 0.25 percent to a fixed rate that cannot exceed 8.25 percent. An additional 0.25 percent discount is also available if you sign up for automatic payments. Plus, you'll only have to write one monthly check instead of paying multiple lenders. Several types of loans are ineligible, including loans in default, Perkins Loans and private loans. Before you make the switch, make sure you aren't eligible for a more favorable FFEL discount rate from your current lender if you make a certain number of on-time payments.
This article is intended to provide general information and should not be considered legal, tax or financial advice. It's always a good idea to consult a legal, tax or financial advisor for specific information on how certain laws apply to you and about your individual financial situation.

To participate in a free, online Financial Literacy and Education Summit on April 23, 2012, go to Practical Money Skills.

Calling all HuffPost superfans!
Sign up for membership to become a founding member and help shape HuffPost's next chapter