Supporters had hoped to restore the 3.4 percent rate of interest on subsidized Stafford loans, or loans made to undergraduate students from moderate- and low-income households, that had prevailed for the last few years. The interest rate on new subsidized Stafford loans doubled to 6.8 percent on July 1, as previously scheduled. The proposal on Wednesday was supported by 51 senators and opposed by 49, needing at least 60 votes in order to advance to a final vote.
"We will not give up on this issue," said Sen. Tom Udall (D-N.M.). Shortly before the noon vote, the White House said it "strongly supports" the measure.
Roughly 7 million students, or a quarter of all new federal students loans to be made this year, are affected. The average student will pay roughly an extra $1,000 over the life of the loan due to the doubling of the rate. If no further action is taken to reverse the increase, the typical incoming freshman could pay about $4,000 more in interest to pay off four years' worth of subsidized Stafford loans.
Wednesday's vote was one of a handful of recent votes that likely has disappointed students and their families. Democrats and Republicans have spent weeks trying to advance separate proposals either to restore last year's 3.4 percent rate with a promise to overhaul the entire federal student loan program in coming months, or to scrap key elements of the current scheme immediately in favor of a program that ties student interest rates to the U.S. government's cost to borrow.
The legislative jockeying comes amid a government forecast that the Obama administration will reap a $51 billion profit this fiscal year from the federal student loan program, according to the nonpartisan Congressional Budget Office. Nearly all new loans for higher education are provided by the federal government. The profit, generated thanks to near-record spreads between the government's cost to borrow and what students pay in interest, has contributed to the cumulative $1.2 trillion in educational debt carried by U.S. households.
Policymakers, including those at the Consumer Financial Protection Bureau, Federal Reserve and Treasury Department, are increasingly worried that student debt risks reducing consumption and impeding economic growth over the next several years as student debt repayment crowds out household spending, auto and home purchases, savings and retirement nest eggs.
Against this backdrop of dire macroeconomic warnings, Republican and Democratic lawmakers and the White House have sought to capitalize on the political aspect of the doubled interest rate by blaming one another for failing to stop the rate hike. But despite using Twitter and other social media to gin up support for changes, their advocacy has yielded no substantive action.
The White House is partly to blame. In its latest annual budget, the Obama administration proposed reforming the student loan program by changing the way interest rates are calculated. Rather than having Congress continue to set the cost
to borrow, the White House argued that interest rates should be tied directly to the yield on the 10-year Treasury note, or the U.S. government's cost to borrow for 10 years.
House Republicans subsequently passed a bill mirroring aspects of the White House plan, although the administration has proposed a narrower spread to 10-year Treasuries.
In the Senate, a small group, led by Democrat Joe Manchin (W.Va.), Independent Angus King (Maine) and some Republicans, produced a bipartisan compromise that also ties student loan interest rates to 10-year Treasuries.
Most Senate Democrats, including Majority Leader Harry Reid (D-Nev.), oppose the plan, however, in part because it is forecast to increase borrowing costs, relative to this year, for students beginning in roughly 2016, when interest rates are estimated to rise due to an improved economy.
Nearly a majority of Democrats supported a temporary one-year patch that would keep rates on most loans fixed at current levels and revert the rate on subsidized Stafford loans to 3.4 percent. Lawmakers led by Sen. Jack Reed (D-R.I.) and Sen. Tom Harkin (D-Iowa) have said the one-year period would be used to reform the student loan program, likely tying rates to the government's cost to borrow.
The disagreement between the various parties hinges somewhat on whether student loan interest rates should be fixed to the government's cost to borrow for 10 years or a much shorter duration. Short-term Treasuries carry lower rates than longer-term debt.
The White House had initially offered tepid support for the one-year option, according to people involved in the deliberations. The administration has been working with the group of lawmakers led by Manchin and King to negotiate a compromise that could generate enough support from student groups, consumer advocates and Democratic lawmakers to pass into law.
In the meantime, 7 million students this coming school year are set to pay more, even though there is widespread support for preventing that very outcome. It's unclear whether the sides ultimately will reach an accord.
"This should have been resolved much earlier," said Michael Dannenberg, Education Trust higher education director and a former Obama education official.
This post has been updated from its original published version.
CORRECTION: A previous version of this article misstated Sen. King's state affiliation as Vermont. He is from Maine.
Support HuffPost
The Stakes Have Never Been Higher
Before You Go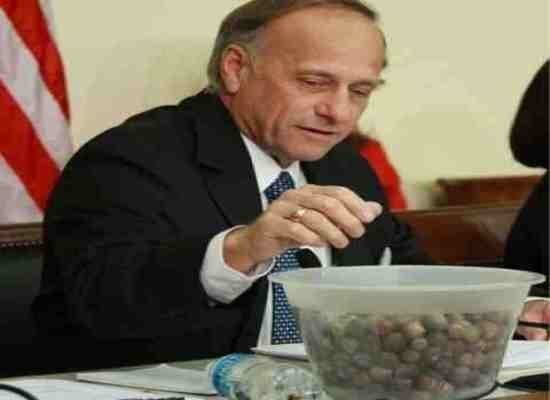 More Crazy Examples of Congressional Theatrics
Popular in the Community