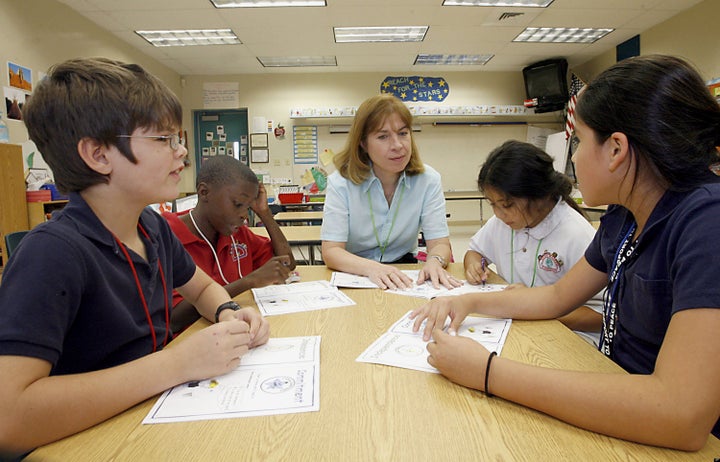 Fifteen years ago we successfully represented Jamie Nabozny after he endured years of bullying and harassment at school. The ruling from the court in his case made clear for the first time that the Constitution protects gay students from harassment and abuse just as much as it protects other kids. We at Lambda Legal are very proud of that; the case spoke volumes then, and still does.
But there's too long a line of schools cases following Jamie's. Too many schools around the country still allow the abuse of LGBT students to such a degree that Lambda Legal and our sister organizations can predict the fact patterns. There are often three common elements to the lawsuits we bring on behalf of students who experience anti-LGBT bullying, and we can do something to change all of them.
1. The bullying cases classically include combinations of verbal slurs and physical acts. For example, boys called "sissy" and girls taunted for being "butch." We add this analysis about stereotypes because we don't have federal laws that are crystal clear about protecting young people against abuse based upon sexual orientation. But the problem with not having specific enough laws is not just about some clearer legal claims in court. What's really important is that better laws and policies and training would give even more specific guidance to schools -- to help keep these cases from ever happening in the first place.
Nearly every case narrative we have includes something along the lines of this phrase: "And then it escalated to physical assaults." I have been thinking about that repeating narrative a lot lately. About how the failure to intervene at the level of verbal taunts gives the green light to escalation. Shoving into lockers. Tripping, grabbing, kicking, punching.
2. As was the case in Jamie's experience, school officials said to the target of antigay bullying: "You're bringing this on yourself." "Don't act so gay." "Don't flaunt it." Instead school officials need to intervene at all levels, and they need to do so effectively.

If a student doesn't know or is too scared to say who abused her or him, many officials refuse to respond in any way. There's no publication or republication of a nonharassment policy. No announcements. No school assembly. Instead, the student is blamed for being the target. Our lawsuit fact pattern builds.
3. Even if the student knows and says exactly who abused her or him, school officials retaliate rather than providing real support. They suggest moving the target student out of class. They misclassify the student as disturbed or developmentally delayed. They say the answer is to isolate the target student -- have him or her sit alone in an unused classroom, or in the library, and study a book. They punish the target.
Mistreated students, in schools with poor policies and training, may quite understandably give up reporting the abuse to the school administration. The school then attempts to use this purported "failure" by the student as a defense, saying there was lack of notice of harassment and bullying.
Sometimes, as in our current case in upstate New York, in which the Department of Justice has filed a significant amicus brief, school staff members actually participate in the taunts and gestures and abuse. Have they been trained otherwise? Have policies been distributed, posted, enforced? Doesn't seem like it. That's why we and our sister organizations often settle our cases on terms that include policy change and training.
Our clients aren't out for money. I have yet to meet a Lambda Legal client who doesn't say, "I want to bring this case so no one else has to go through what I went through." Yes, Jamie's case settling for nearly a million dollars certainly spoke volumes, in dollar signs as well as constitutional law. But my point is that we do these cases because so many members of these school communities still need to be educated.
Or maybe some staff are trained, and alert, and committed to providing a safe environment for every student to learn. Maybe they're like our client Cheryl Bachmann, a young, straight New Jersey public school teacher fired after she disciplined students for using antigay slurs in her classroom. The administration objected that she should have put up with it, and actually wrote her up for what they termed, "failing to tolerate unacceptable behavior."
As I pointed out to the school board at Cheryl's hearing to fight her firing, the school's response would have been fantastic fuel for a harassment case brought by a student. Think of it: the only teacher to actually stand up and comply with the nondiscrimination law gets fired for doing so. We got her job back, and I hope many teachers were encouraged to read her story; but we must know that some read it as a cautionary tale. Their students are all the more vulnerable for that. Even committed educated staff need our support.
I will close with a point about the connection between harassment and tamping down LGBT expressive rights. In our Pratt case in upstate New York, we're representing a gay student who was harassed till he dropped out of school, and his younger sister, a current high school student who does not identify as LGBT, but saw what her brother endured. Both tried to start a gay-straight alliance at the school, and both were blocked by school officials till our lawsuit. Our case illustrates, again, connections between expressive rights and bullying in school environments. And when I talk about expressive rights, I'm also talking about the perennial parade of cases about LGBT students blocked from prom, and from other core expressive activities in schools.
It is my strong opinion that Lambda Legal and our sister organizations should never have to bring another one of these expressive rights cases. Bullying and harassment cases involve youth as well as officials, and officials may raise arguments about what is beyond their awareness and ability to control. But the prom shut-out cases punishing LGBT students, the GSA suppression cases where students of all orientations and identities are blocked from contributing to a more supportive environment in schools, are entirely within the control of school officials.
We have celebrated students' silver anniversary with the Equal Access Act. The First Amendment is wonderfully old. Flagrant violations of these well-established laws are entirely within the decision-making and control of school officials. Denying students core expressive rights incubates harassment and bullying. And it should stop today. We urge Congress to pass the Student Non Discrimination Act.
Related
Popular in the Community