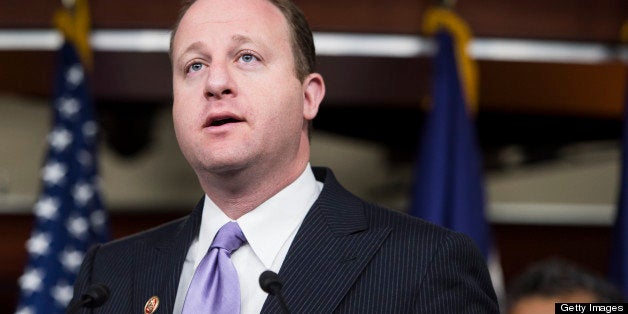 Bayli Silberstein, an eighth-grade student in a Florida public school, saw it firsthand.
Her friends, she said, were routinely bullied for their sexual orientation. "Watching it tear apart my friends is what scared me the most. It's not right, I don't like it, and I don't see my friends going through it."
But when she tried to start the Gay-Straight Alliance in her school, Bayli was rebuffed by her principal, sparking a school board debate about whether all extracurricular clubs should be banned.
For Becky Collins, a Chillicothe, Ohio, mother, it took involving the American Civil Liberties Union for her school to expel the student who beat up her son, Zach, for being openly gay. "He [the principal] said it was just a school yard fight, and I'm like, 'either you call the sheriff or I will call 911,'" Collins said. "The principal says, 'I don't have any problems with any other student but [Zach].'"
Representatives Jared Polis (D-Colo.) and Ileana Ros-Lehtinen (R-Fla.) are reintroducing a measure that would give students like Zach and Bayli legal recourse at a federal level. On Thursday, they announced 118 cosponsors from both parties for the Student Non-Discrimination Act. The bill makes bullying in public schools on the grounds of actual or perceived gender identity or sexual orientation a federal offense.
Unlike state anti-bullying bills, under SNDA schools could be penalized by having the federal government pull funding as a result of bullying infractions. It would also give victims legal cause to file civil discrimination lawsuits against school districts over LGBT bullying.
As Polis described it on a call with reporters, it would mimic Title IX, which required that students not be excluded from activities on the basis of gender.
"Discrimination is completely unacceptable in schools," Polis said. "Regardless of what adults think … schools need to be a safe place where everybody can go to learn. … Hatred has no place in the classroom."
While U.S. Secretary of Education Arne Duncan issued a statement saying he commends the legislation, its legislative prospects are unclear in a polarized Congress. Still, advocates say the measure gives them hope.
"Passing the Student Non-Discrimination Act is the single most important step that Congress could take to improve the lives of LGBT students in our nation's public schools," Ian Thompson, ACLU legislative representative, said in a statement. "Though the pace of positive progress on LGBT rights over the past several years has been dizzying, there is shockingly no federal law that explicitly protects LGBT students from discrimination and harassment in our nation's public schools."
Polis said he sees two possible legislative routes forward: One would be including SNDA in a rewrite of the Elementary and Secondary Education Act (now known as No Child Left Behind), but as HuffPost previously reported its reauthorization prospects for this year are pretty dim. "If Congress moves forward with ESEA reauthorization, we will make sure it's included in the final bill," he said.
The other route, Polis said, would require a debate and possible rewrite of SNDA in the House Education and the Workforce Committee, chaired by Rep. John Kline (R-Minn.). Polis said Kline hasn't articulated a position on SNDA, and a call to his spokesperson was not immediately returned.
He hopes amassing bipartisan sponsors could pressure Kline into bringing the bill before his committee, but he thinks this route is less likely than wrapping it into the ESEA rewrite.
Popular in the Community