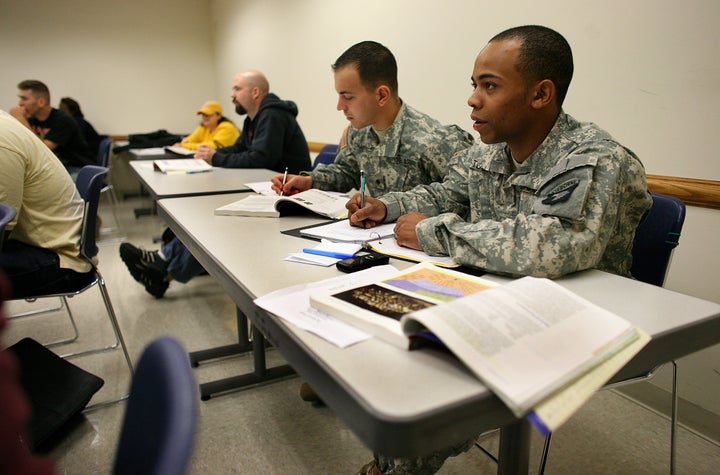 NEW YORK -- Earlier today, tens of thousands of student veterans attending private colleges on the Post-9/11 G.I. Bill cleared the final hurdle in an ongoing battle to secure promised tuition dollars.
Last Thursday night, the Restoring G.I. Bill Fairness Act sailed through the Senate with unanimous support. Following a 424-0 vote in the House this afternoon, the bill heads to the President's office later this week.
"Today, we kept our promise to America's student veterans. Together with our colleagues in the Senate, Congress is sending a bill to the President that keeps the original intent of the Post-9/11 G.I. Bill intact," said Rep. Jeff Miller (R-Fla.), who sponsored the House version of the bill. "Our veterans who have returned home and are in the process of getting an education at the school of their choice should not have been penalized for choosing one school over another, only to then find out Congress changed the rules on them midstream."
Miller's legislation in the House mirrored a nearly identical version in the Senate, which was sponsored by Sen. Charles E. Schumer (D-N.Y.).
Schumer said in a statement that he was "confident the president will quickly sign this bipartisan bill."
Currently, the Restoring G.I. Bill Fairness Act grandfathers in student veterans who have been accepted for enrollment on or prior to January 4, 2011, and the act sunsets in July 1, 2014.
While nearly identical, Schumer and Miller's legislation varied on its grandfather clause. While Schumer's bill only included students enrolled prior to January of 2011, Miller's legislation extended coverage to all student veterans enrolled prior to April 2011 in certain states.
To get around the issue, according to a spokesperson for Miller, the U.S. Department of Veterans Affairs will now interpret "enrolled students" as anyone who has applied to a school and been accepted -- effectively extending the grandfather clause to all veterans who were accepted to a school by January 4, 2011.
Terry Willis is among the student veterans finally breathing easier. And with August 1 less than a week away, it was a vote Willis had waited on all summer long.
"I've spent the summer on hold, hunkering down and keeping my fingers crossed," said Willis, a 35-year-old veteran of the U.S. Army.
After a dozen years of service and one tour in Mosul, Iraq, Willis enrolled at Embry-Riddle Aeronautical University in Arizona to complete an aeronautics degree with a concentration in helicopter flight.
As of August, following the change to his promised Post-9/11 G.I. Bill dollars, Willis was suddenly on the hook for about $45,000 a year in order to graduate.
"All the veterans were told to make sure they had a back-up plan," said Willis, who, prior to today's vote, was weighing whether or not to assume more than $100,000 in private student loans. He dreams of someday owning his own helicopter company.
"It feels like a tremendous amount of relief," said Willis, during an afternoon break from summer classes. "Finally, after all this, we no longer have to come up with a back-up plan."
Popular in the Community