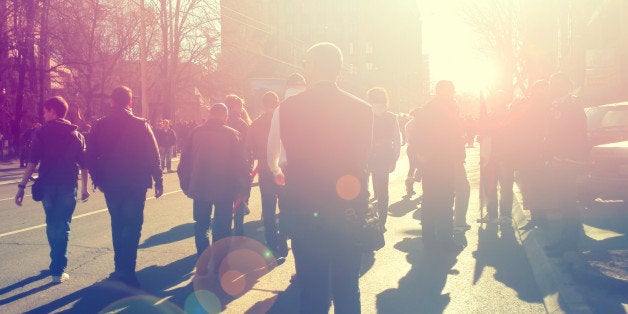 By Cambell Klose and Charlie Wood, 350.org Australia

There is a strong tradition of student protests in Australia, and this legacy has profoundly shaped our history and culture. Students have been at the forefront of securing many of the rights we now take for granted as a nation.
In the 1960s and 70s, students led protests against the Vietnam War - a fractious and heated period of our history. Their demonstrations eventually resulted in the election of the Whitlam Government and the cessation of combat.
In later decades, students were at the forefront of the struggle for women's rights and the end of the White Australia Policy. Student activism played a vital role in preventing the construction of the Franklin Dam, which led to the protection of some of the most magnificent forests in the world - a milestone considered by many to mark the birth of environmental activism in Australia.
More recently, our universities have been pioneers in the fight for LGBTQI rights across the country.
Before entering the mainstream and becoming part of the national consciousness via popular media, many of these issues have already been battled out in our educational institutions.
Universities are a great deal more than mere degree factories. They are institutions that trade in ideas - ideas that will shape the future of our country and the world. Across the globe, tertiary institutions have acted as training grounds for progressive values and the struggle for a more just society.
To this day, students around the world continue this strong tradition of taking bold action to change the national dialogue. Concerned about government inaction on climate change, they have taken great risks to push their universities to drop investments in dirty coal, oil and gas - industries that are polluting the planet and contributing to devastating climate change.
Now, Australian students have taken this struggle to defend our future from the tragedies of raging fires and roaring floods to the next level. Having lobbied their tertiary institutions for years, this week, students are risking arrest and their grades to get their voices heard and to get their universities to stop investing in climate catastrophe.
Around the country, students have been occupying the offices of their Vice Chancellors and sleeping out on their campus grounds, in a move which follows a long tradition of peaceful civil disobedience on university campuses.
Taking such action is far from easy for these students. They do it knowing it could take a toll on their academic and working careers. But they also know that if climate change goes unchecked, the damage could be far greater: not just to themselves, but to the global community of which they're a part.
We are already beginning to witness this damage, from unprecedented temperatures and bushfires so extreme they create their own weather systems, to the melting of the Arctic and the bleaching of the Great Barrier Reef. Any institution that continues to willingly invest in fossil fuels is in part responsible for these terrible realities.
Our students are taking action because our Government is asleep at the wheel. They've abdicated the responsibility of dealing with the most pressing issue our planet has faced to 20-somethings and under-resourced civil-society groups.
Let's face it: this is an uphill battle. If we are to avoid the worst case scenario of climate change, we must keep fossil fuels in the ground, fullstop.
This feat is made even more difficult by the iron grip the fossil fuel industry has over governments everywhere. Fortified by donations and a constantly revolving door between government and industry, this relationship is going to be difficult to break, but break it we must if we want a liveable future.
In the current political climate, we are not going to see top-down action on global warming. Communities everywhere must instead organise and make enough noise until our leaders simply cannot ignore us any longer. That is why the fossil free universities movement run by thousands of student organisers on hundreds of campuses around the world is so important.
This is about more than just the financial win of getting universities to sell their investments in fossil fuels, although that in itself is a great achievement. This struggle holds a broader significance as a demonstration of the important role of universities in our society: as the moral and intellectual compasses that point us in the right direction as a community.
Last weekend, 350.org co-founder Bill McKibben, told a packed-out auditorium in Hobart that 'climate change is about the most unjust thing that humans have been able to figure out how to do'.
Despite being portrayed as an environmental issue, climate change is really a moral issue; it's about people and community. Climate change means millions of people around the world lose their homes to rising sea levels; it means millions of people around the world get sick from fossil fuel pollution; it means natural disasters like Hurricane Katrina and the Black Saturday Bushfires that devastate entire regions; it means mass migration and stretched resources the like of which has never been seen before.
Climate change threatens the very fabric of our societies.
Australia's tertiary institutions have an important role to play in ensuring that this unthinkable future does not play out. They must demonstrate leadership and show governments that there is no alternative but to act. They must listen to their students, draw a line in the sand and say fossil fuels have no place in our future.This is not about giving in to student idealism. This is about accepting science and doing what it takes to protect our precious planet and stand up for our survival.
That is what this week's student protests are about. This is why young people around the country are putting everything on the line to push their universities to divest from dirty fossil fuels.
Our universities can lead our Government on climate action, and when they do it will be because of the pressure placed on them by their students.
This is a big burden for students to carry. But they've changed our society before, and they are already playing an important role in changing it again.
REAL LIFE. REAL NEWS. REAL VOICES.
Help us tell more of the stories that matter from voices that too often remain unheard.