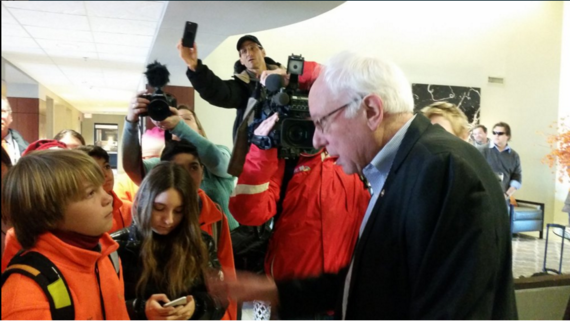 Photo borrowed from Kid Unity

"As the next generation of voters, it's important that we study the candidates, issues and process. Our classroom is on the front lines." -Carlthorp Student
Traveling from Los Angeles to Iowa, a group of 6th graders is learning about the political process in a remarkable and personal way. Today, the day of the Iowa Caucus, where the first votes for the next president of the United States will be cast, these kids are meeting candidates, interviewing political reporters and touring the site of this important event.
I've been following their twitter feed this morning, inspired and hopeful for the future. Here are their impressions and learnings in their own words...
"Interviewing the candidates is exhilarating and nerve racking at the same time." -Carlthorp Student
This trip was organized by Kid Unity, a non profit group started by two fathers Peter Sheehy and David Snow at Carlthorp School in Santa Monica (where my daughters attend elementary school). Kid Unity's intent is to teach kids about activism, community participation and how to use your voice to make change. What an incredible opportunity for these kids, learning now how to live with intent by truly taking action and participating in this incredible process.

"We are part of the process" -Carlthorp Student
Popular in the Community