On Friday May 5th, University of New Hampshire student Danique Montique was walking through her Durham campus when she noticed a group of students participating in Cinco de Mayo celebrations. Danique, a sophomore at the university, confronted a student wearing a serape in an attempt to explain how their celebrations were cultural appropriation. In the video below, posted by Campus Reform from Danique's Facebook, one of the students she confronts addresses the camera and states, "My name is Michael and I am not making a racial statement. I am celebrating a holiday and having fun". The video now has over 30,000 views.
In a separate Facebook post, Danique posted social media images shared by students at the celebration accompanied by a direct statement to UNH. Some of the captions under the images include, "Just got deported" and "We culturally appropriate."
Danique ends her Facebook post by stating, " To my Mexican brothers and sisters, I am sorry. Sorry Us wildcats let y'all down. Sorry this institution failed to protect you. Please know that you are loved. UNH I need you to open your eyes. Our home is broken. For the outsiders looking in, here's what yesterday looked like on this campus."
Danique has been facing backlash since her Facebook posts and has received numerous death threats and racial attacks.
On Wednesday, an old photo of another student, Eric Buchwald, in a clay mask was posted to the Instagram "blackoutlamers" with a caption that quotes Danique's Facebook post. Buchwald was unaware of the post and the way his photo was used.
"I want nothing to do with the photo that is associated with blackface, and I definitely don't want my face associated with that caption." Buchwald said
The account that posted the image has since been deleted.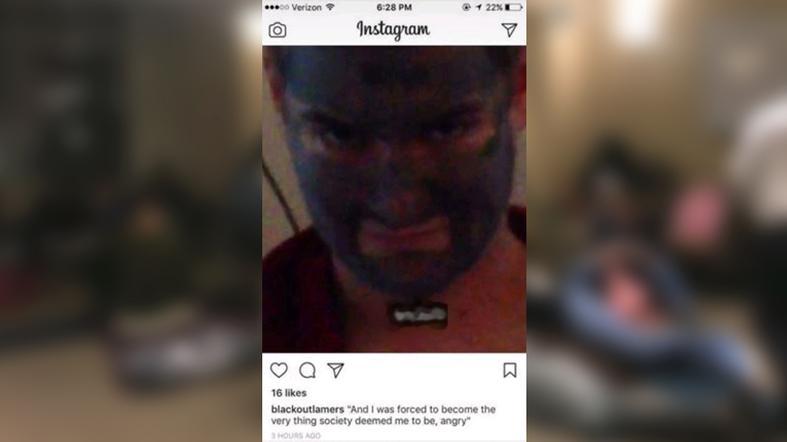 When asked how her campus handled the blackface situation, Danique stated that when she called campus police they asked her, "What is blackface?"
UNH's students of color, which make up 8% of the student population, have since joined in an effort to bring forth the racism that affects their campus. They had a sit-in in the hall of the dorm of the student who posted the blackface photo and received more racial attacks as a result. Students took to Twitter to promote their sit-ins and protests using the hashtags #ListentoDanique and #8PercentSpeaks.
The Facebook account All Eyes on UNH, shared a screenshot of another UNH student who posted a blackface image to Facebook to find out who he can "trigger".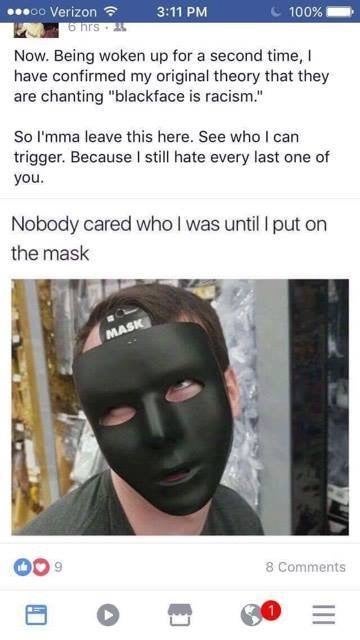 A different student at UNH, who wishes to be unnamed, shared this statement, - "The amount of reported and unreported, bias incidents has nearly doubled since the start of the new administration."
In fact, UNH students state that from August - November of last year, about 50 bias attacks had occurred. Since the start of the 2017 Spring Semester in January, over 100 incidents have taken place.
To address this issue on campus, UNH is hosting an Open Forum to discuss racism on campus. It will be held tonight, at 7pm.
REAL LIFE. REAL NEWS. REAL VOICES.
Help us tell more of the stories that matter from voices that too often remain unheard.
This post was published on the now-closed HuffPost Contributor platform. Contributors control their own work and posted freely to our site. If you need to flag this entry as abusive,
send us an email
.