These students' project will allow homeless people to sleep a little more comfortably while also finding another use for old plastic grocery bags.
Students from Three Rivers High School's National Honor Society in Michigan have been crocheting plastic bags together to create sleeping mats for the homeless as part of a project called A Mile of Mats. The students, who began the initiative this month and have completed five mats, plan on making a whopping 880.
NHS advisor Ashley Eby told The Huffington Post that the project not only teaches honor society members the importance of service -- a key pillar in the organization -- but also introduces the students to the topic of homelessness.
"There are people that don't have the things that [these students] have," Eby told HuffPost. "This has really opened their eyes and allowed them to see that homelessness is an issue."
The students, who have asked the community to pledge $200 per mat to go toward their current initiative as well as future service projects, start the process by collecting plastic bag donations from the community. They then cut the bags into strips, creating "plarn," or plastic yarn, and use it to crochet the mats Fox 17 reported. It takes about 500-700 bags to make one 6-foot by 4-foot mat.
Eby, who says she got the project idea from a parent, told HuffPost that the initiative made many students realize that the issue of homelessness actually hits close to home.
"They don't realize there are students working among them in the hallways that don't have a place to sleep at night," she said. "They were definitely made more aware of this issue in our area and our community."
With a newfound understanding of homelessness, the students, Eby said, have been enthusiastic about the project -- something that people in community caught on to as well. The advisor mentioned that plastic bag donations have been rolling in and the group has been getting more and more offers from others to help participate in making the mats.
While the goal of 880 mats is a big one, the advisor says that the group will not stop until its met. And with increasing help from the community, she is hopeful that they can reach it.
Once all the mats are completed, the students plan to take a trip to shelters and personally distribute their finished project.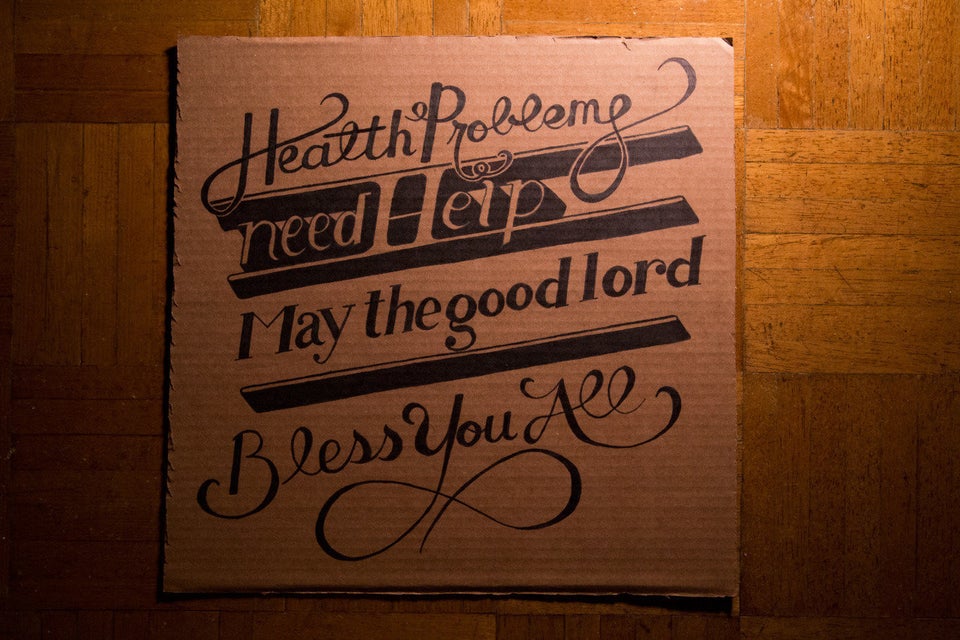 Artist Redesigns Signs For Homeless People