 "There's a weird pride in certain students when they pull all nighters," Kendra Knudsen, a coordinator with the UCLA Mind Well initiative, told the Daily Bruin earlier this month. "They need to re-prioritize, if they don't have time for sleep, looking at their schedule and seeing what is really important."
A temporary nap room was set up in the campus library during "Sleep Week," and UCLA hosted discussions with professors about the body's reactions to reduced sleep, as well as free yoga and mindful awareness sessions focused on relaxation tips to help students relax and fall asleep faster, according to the Bruin. This past week, Mind Well hosted free drop-in meditation sessions, in addition to "Sleep Well Assessments," a 15-minute study that examines whether decreasing computer light at night may help improve sleep.
But UCLA is hardly the only school trying to encourage students to prioritize sleep.
The University of Alaska-Anchorage hosted its own event Saturday to help students learn tips about how to make small changes to improve their sleep habits.
At Georgetown University, the school has for the past several years put up posters on campus reminding students to take care of themselves, both physically and mentally. Earlier this semester, they displayed posters reminding students to get some shut eye.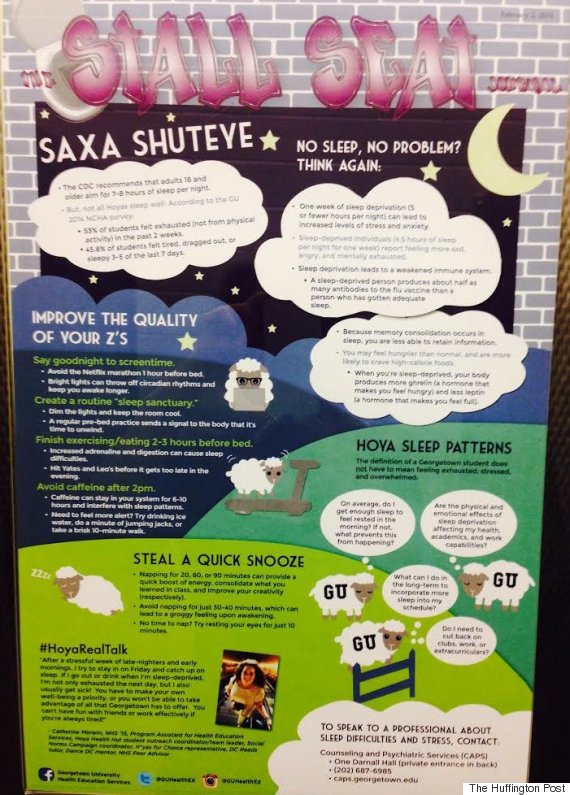 "It's about, 'How can I thrive and do well in this environment and also take care myself,'" Laura Marcucci, Social Norms Program Coordinator at Georgetown's Student Health Services, told HuffPost.
It's fine if a student's definition of thriving is a full class load, extracurriculars and a job or internship on the side, Marcucci explained, but, "If it's at the expense of your physical and emotional health, that's when it starts to be a problem."
University of Alabama health science professor Adam Knowlden found last year that while one-third percent of the general population isn't getting enough Z's, 60 percent of the college population gets insufficient sleep.
"One of the main differences is that college students' ability to get sufficient sleep is more within their control, whereas the general adult population is more likely to be dealing with medical sleep disorders," Knowlden said at the time.
"A lot of students realize they are sleepy, but I don't think they understand all of the ramifications. When we are sleep deprived, we don't judge our own ability well," University of Michigan neurology professor Shelley D. Hershner told the Deseret News recently.
Related