Seventeen thousand scientists, engineers, representatives from business & industry, students, and others gathered in San Francisco during the week of August 10-14 for an American Chemical Society (ACS) meeting focused on Chemistry and Global Stewardship. Among the thousands of lectures and presentations underscoring the need for responsible management of our natural, human, and economic global resources, a group of U.S. students hosted the first International Summit to be held at a national ACS meeting.
The students used GoToMeeting as a platform to interact live with their peers who spoke from on-location in Costa Rica, India, Malaysia, and Poland. Although it was a mid-day Summit for the US and Costa Rica students, time zone differences meant that it was the middle of the night for all others. A scheduled Israeli group was unable to join the Summit due to unrest and safety considerations within their country. And, there were technical challenges, "Testing, testing. India? Costa Rica? Can you hear us?" At times, audio reception exacerbated difficulties with language barriers. Yet, the students persevered undaunted.
Student faces appeared on a giant screen in the front of the room alongside their power point presentations. In alphabetical order during a 90 minute session, each student group offered insight into climate change issues in their home countries. As one group spoke, others--faces still on the screen--listened and watched, waiting for their time to present.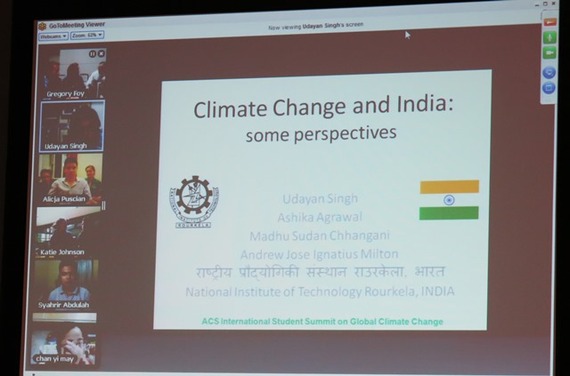 At the end of each country presentation, audience members tweeted questions. Following is a brief snippet of each presentation.
Costa Rica was represented by students interning at Monteverde Institute in the Monteverde Cloud Forest. They discussed how changes in abiotic factors in the cloud forest--maximum & minimum temperature, rainfall, humidity and cloud cover--impacts species including species distribution, richness, relationship, invasion by exotic species, and new predators within the food web.
The India group included students from the National Institute of Technology Rourkela. Two major climate related concerns for India are agriculture-food security and power. The livelihoods of 105 million people depend on agriculture. Changes in rainfall distribution are projected to reduce yields of both sugar cane and rice. Electricity accounts for 39% of India's GHG emissions. High investments in the power sector are required to lower these emissions.
Students from Universiti Sains Malaysia said that the tropical climate in their Southeast Asia nation is changing. It used to rain throughout the year in Malaysia. Now, however, they are experiencing more days without rain and experiencing greater rainfall anomalies. They expressed concern that lack of public awareness inhibits environmentally responsible behavior. They emphasized, "Education is still the most powerful tool to initiate change." Young people are especially important in transforming and empowering the community.
The Polish group included students affiliated with the Polish Academy of Sciences. Poland served as host to the most recent UN climate conference in December 2013. This raised the level of climate consciousness in many people. Yet, there remains a disconnect, much like we find in the US. Even though Poland recently experienced a flood of the millennium, unusual summer heat, and intensified whirlwinds (tornados), half the population remains in denial. In response to a survey question "Does global warming actually take place?", 45% responded "No" or "I don't know". The students closed their presentation with an often stated Polish proverb, "Rare as hail in June." However, they stated that it is not so rare anymore.
Leigh Foy, a high school chemistry and biology teacher from Pennsylvania documented the essence of what she was observing at the Summit. "I switched my focus to the stage and watched as the American college student group crowded around the computer and began asking questions to their international colleagues that were being tweeted in from the audience. Their intense, passionate, young faces were totally focusing on what was being said on the other side of the world - their common goal uniting them in this endeavor."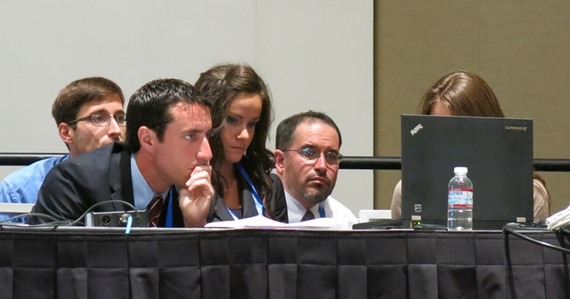 She said, "My eyes welled up with tears as I realized THIS is what an international dialogue looks and sounds like. As I watched and listened to them, I felt hope that they could accomplish what my generation has so far failed to do."
These international youth should be applauded for preparing to act as our Global Stewards.
Calling all HuffPost superfans!
Sign up for membership to become a founding member and help shape HuffPost's next chapter