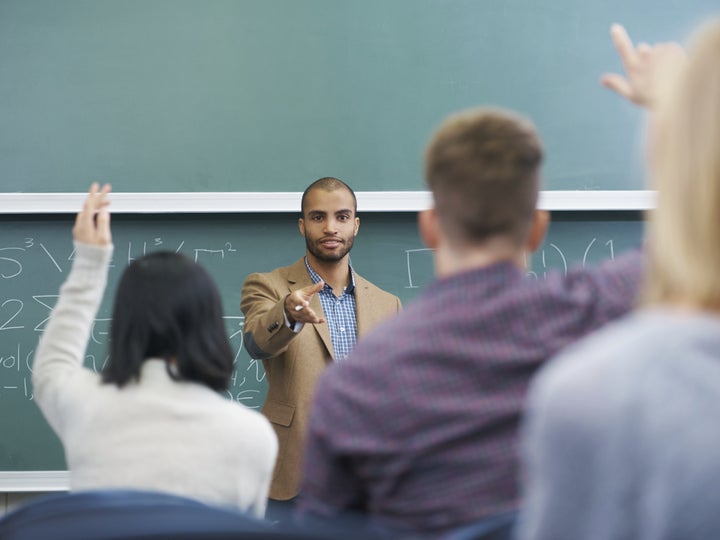 In the past few decades, research has provided compelling reasons for increasing the number of minority teachers in the classroom, such as that it could improve minority students' academic performance. Now, a study out Wednesday adds a fresh reason to the mix: All students ― regardless of race ― might simply like these teachers better.
The study by New York University professors set out to determine if middle school students tended to prefer black, Latino or white teachers. To find the answer, researchers used raw data from a 2009–2010 survey funded by the Bill & Melinda Gates Foundation and applied their own statistical analyses.
The results surprised the researchers. As it turns out, all students, including white ones, gave their black and Latino teachers better scores in a range of areas ― such as their ability to challenge and care for them ― than they gave their white teachers.
The original survey asked over 50,000 students at 200 different schools in grades six through nine to rate the behavior of their individual classroom teachers on a five-point scale. Students were asked if they thought their teachers cared about them and if their teachers seemed to know when something was bothering them. Researchers had access to information regarding the race of these teachers.
Even after considering factors like student academic performance and teacher working conditions, students still generally gave their teachers of color better marks in these areas, the researchers found.
Yet students did not necessarily rate teachers of their own race or ethnicity higher. Latino students, for example, did not tend to give higher scores to Latino teachers. And while black students generally gave better scores to black teachers, Asian students rated them even higher than black students did.
Still, Cherng admits he was surprised by the results. He expected students to rate white teachers higher.
Cherng previously spent a few years teaching math at a charter middle school in San Francisco. Most of the people in leadership positions there were white, a trend that is mirrored in most other schools. He expected students to report having more respect for white teachers because they were used to seeing white people in positions of authority.
"In the middle school I taught in and high schools I did summer stints in ... students knew the racial hierarchy which existed within the school, which is largely the racial hierarchy that exists in the United States. Which implies they would have more respect, more something, for white teachers than nonwhite teachers," Cherng said.
However, the survey did not ask students whether they respected their teacher. It asked them if they felt supported and motivated by their teacher.
Study authors offered a few theories as to why students might give higher marks to teachers of color. It may be that these teachers have a better understanding of what it feels like to be different, which helps them relate to and support students. Previous qualitative and theoretical research supports this theory, says the study.
"If you're a black teacher, you understand you're not in the mainstream and you know how to navigate the world essentially embodying an identity that is sometimes highly stigmatized," said Cherng. In middle school, "kids are struggling with their own identities and how to come to terms with their own difference and development. I think these middle school teachers can use their own identities and experience to bridge that relationship with all types of students."
Cherng uses his own experience as a classroom teacher as an example. He taught at a school that was almost 100 percent black. Although Cherng is Chinese-American, he found it easy to talk to his students about race.
"One of the kids was like, 'You don't actually know what it's like to be us, but you understand what it's like to be different, so you know that you're different, and we're different, and that's enough,'" Cherng recalled.
He also talked with his students about the difficulties they were experiencing as low-income students of color and found ways to relate to them.
"I talked to them about growing up in a household with immigrant parents, and how when I would leave my household, my parents would always give me these messages of 'You need to act right because this is not your world. You need to make sure you're better than everyone else because you still wont get as far,'" he said.
"When I said that to my students, they looked at me and were like: 'Are your parents black?' I was laughing at them ― like, no, obviously they aren't ― but it was the same message their parents gave them."
Rebecca Klein covers the challenges faced in school discipline, school segregation and the achievement gap in K-12 education. In particular, she is drilling down into the programs and innovations that are trying to solve these problems. Tips? Email Rebecca.Klein@huffingtonpost.com.