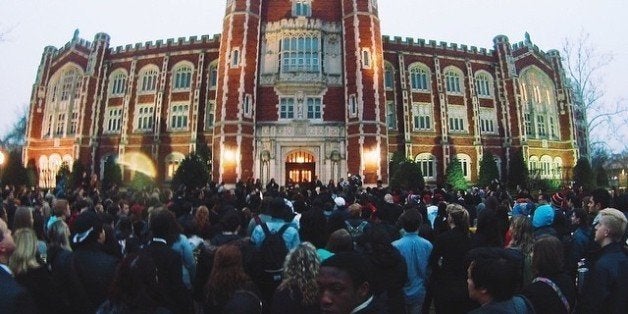 Photos posted online show dozens of students gathered, joined by university president David Boren, who condemned the students in SAE.
SAE's national headquarters closed the OU chapter Sunday after video surfaced of members singing, "There will be never be a ni**** in SAE." The university announced Monday morning it too would sever ties with the fraternity.
Students planned to gather Monday at 7:30 a.m. local time to protest SAE's actions. A group of student athletes reportedly formed a circle and were led in prayer by Sooners football center Ty Darlington.
Meanwhile, photos on social media show the SAE property at OU was vandalized overnight, and university police stationed vehicles outside the fraternity house. Boren ordered the fraternity members to remove their belongings by midnight on Tuesday. SAE's national office told HuffPost that the university own the chapter's property, so they have authority over the decision to vacate the house.
"All of us will redouble our efforts to create the strongest sense of family and community," Boren said in a statement Monday morning. "We vow that we will be an example to the entire country of how to deal with this issue. There must be zero tolerance for racism everywhere in our nation."
Related
Popular in the Community