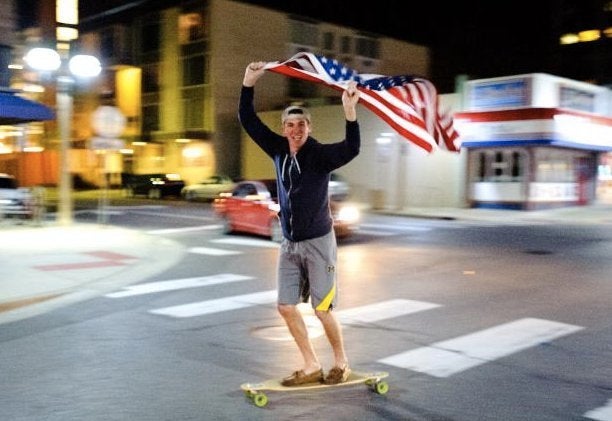 Paige Lavender was in math class when a friend ran in and said four ominous words: "We're going to war." It was Sept. 11, 2001. Two planes had just careened into the World Trade Center. Lavender was in the 7th grade.
Sunday, Lavender, now a senior at West Virginia University, received a phone call from her boyfriend telling her that the president was going to make an unusual speech that night. The journalism major (who has previously contributed to this website) immediately went to Twitter, where unconfirmed reports of Osama bin Laden's death were clotting the feed. When Obama formally announced the world's most wanted terrorist's death at 11:35 p.m., Lavender said she got chills.
"When Obama starting speaking ... with every confirmation and every person validating the news it seemed more real and it was chilling," she told The Huffington Post. "I remember being younger and 9/11 happening. [Bin Laden's death] is just a monumental occasion. It provides a little bit of closure."
For a generation that has come of age during the War on Terror, bin Laden's death Sunday provided a poignant moment for celebration, reflection and standard college-grade mayhem.
Lavender said students at West Virginia University took to the streets, burning dumpsters and couches. At Penn State University, however, fire was reserved for homework. Daily Collegian editor Ashley Gold was there:

Amid chants of "U-S-A! U-S-A!" and renditions of "God Bless America" and "Proud to be an American," students burned their notes for Monday's finals, strew toilet paper in the trees, set off fireworks, crowd surfed and ran through the crowd with American flags. One girl even starting doing cheerleading stunts and unbuttoned her shirt in front of the crowd.

Students began running toward the Beaver Avenue area of State College's University Park campus shortly after Obama's speech and the crowd grew to be huge within minutes. Students at Penn State have seen huge rallies before, but many agreed that they'd never seen anything like this.

"This is complete and utter madness, but I think that it's called for. Most people would consider themselves un-American if they weren't happy right now," Grant Bower, a freshman, said. "It's gonna be the fourth of July until the fourth of July."
Segal was shocked by the news. He almost couldn't believe it.
"This is obviousy huge a huge moment for us," said Segal, who was a sophomore in high school when 9/11 happened. "We've grown up with Osama bin Laden as the defining villain, the central antagonist of our generation."
He compared college students celebrating in New York and Washington to the youth riots that recently swept the Middle East. Here, as there, Segal sees it as young people responding to the patriotism, the optimism of a country.
"All we hear is bad news upon bad news upon bad news," said Segal, who described today as a "flash-bulb moment," where 20-somethings will forever recall where they were when they heard the news that bin Laden had been killed. "Our generation finally gets to see what progress looks like, what it feels like when American persistence actually leads to results."
Lisa Noon, a 20-year-old junior at the University of Maryland, Baltimore County, was in sixth grade when the two planes first struck the twin towers.
She was home sick the morning of Sept. 11, 2001 and remembers waking up to her father screaming downstairs at the television. The two spent the day glued to the screen, unable to comprehend the horror that would unfold over the next few hours.
"I always thought I had a unique perspective," said Noon. "All of my friends were in school and didn't find out until after the fact. I actually saw it happening live."
News of bin Laden's death brought those difficult memories flooding back. Unlike many of her classmates that are out celebrating, Noon described her mood as more somber and reflective.
25-year-old August Dannehl was a sophomore in high school when 9/11 happened.
Dannehl grew up in Demarest, N.J., which is about a 40-minute drive across the Hudson River from Lower Manhattan's World Trade Center.
He lost members of his community on Sept. 11th and after graduating from high school, it was his primary motivation for deciding to enlist in the U.S. Navy.
Dannehl, who is now a sophomore at Columbia University, worked as a nuclear operator in the Persian Gulf. He was responsible for powering and propelling an aircraft carrier that supported troops on the ground in Afghanistan.
Dannehl keeps his head up high most days, but today he feels especially proud, given that he served in the same branch of the military as the Special Forces unit that killed bin Laden.
"Hopefully this will mean that our young men and women can come home now and that we don't have to continue putting them in harm's way," he said.
At St. Lawrence University in upstate New York, Student Government President Robby Glass was in the library when news of bin Laden's death broke. "You could hear the library, which is usually a quiet place, erupt," he told The Huffington Post. Glass said the story reached most students through social media sites.
A 5th grader when 9/11 happened, Glass, now 19, said he couldn't really conceptualize the event at that age. The War on Terror has been a reality for more than half of his life.
"I can't believe that it's been 10 years," he said Sunday. "The war is far from over but it's definitely a huge victory."'
WATCH: Pandemonium at Penn State
More video: students react
Popular in the Community