Two days after President Donald Trump's stunning election victory in November, about 80 high school students crammed into the classroom of a suburban Seattle science teacher for an emergency meeting.
The students from Tesla STEM High School were worried that Trump, an occasional climate change denier, would follow through on his campaign promise to abandon the 2015 Paris Agreement on reducing global carbon emissions, and cause irreversible harm to the environment. Rather than wait for the newly elected president to show a commitment to fight warming global temperatures and rising sea levels, the students opted for a more grassroots approach.
The teens would hold their school to the same tough standards on greenhouse gas emissions that the accord had set for the U.S., even if Trump wanted to walk away from the agreement. With any luck, they figured, other schools and institutions would notice and follow their lead.
Today, between 80 to 100 of the around 600 students attending the Tesla STEM High School in Redmond, Washington, have joined a project to enforce the agreement. They've called their group "Schools Under 2C," a reference to the Paris deal's stated goal of capping global warming at 2 degrees Celsius.
"This is our future that's being affected," said the group's president Anne Lee, a 16-year-old junior. "We wanted to show that kids care about climate change."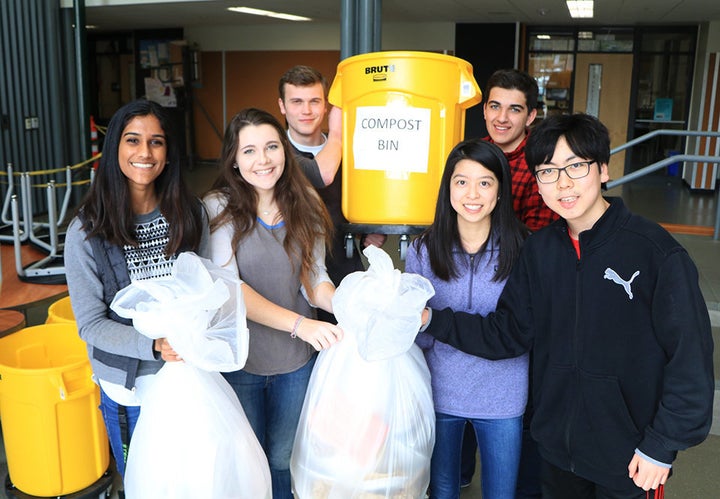 In December 2015, representatives of 196 countries gathered in Paris agreed to a landmark environmental agreement that would help reduce the effects of global warming by preventing the earth's temperature from rising 2 degrees Celsius, or 3.6 degrees Fahrenheit, above pre-industrial levels. The countries agreed to reduce the use of fossil fuel and to set targets for greenhouse gas production for each country. The United States committed to cutting its emissions by 2025 to 26 percent to 28 percent below their 2005 level.
But those goals appear to be at risk under a Trump administration, as the president campaigned to abandon the landmark treaty. He had also claimed that global warming was "an expensive hoax" perpetuated by China.
Tesla STEM science and engineering teacher Mike Town had begun including the Paris agreement in his curriculum last year and knew that many teenagers felt passionately about its prospect for staving off worldwide disaster. Now, the hopes for the accord are in the hands of Trump, who had said he'd "cancel" the deal.
"This is something they want to see and it gets taken away so fast," Town said. "They were just devastated by the results of the election." He organized the first student meeting about the Paris climate goals under Trump and what they would do.
"The idea was that our students would do something that would be productive and get actual results," said Town, who now serves as the group's adviser.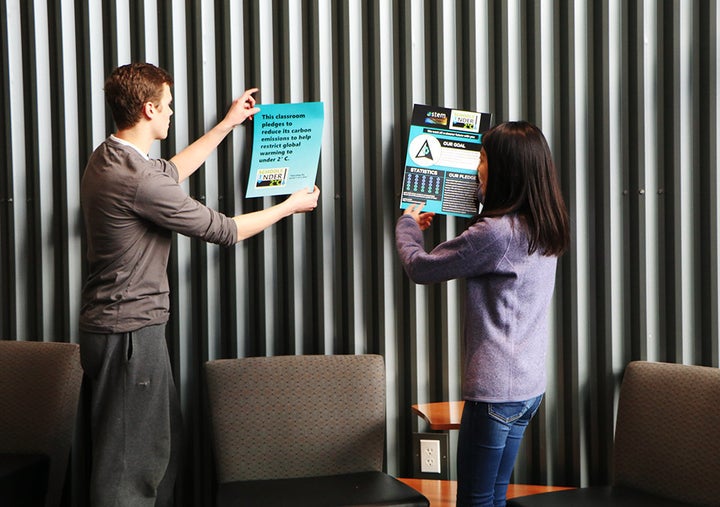 The students won faculty support with a Powerpoint presentation showing plans to reduce the school's carbon emissions by targeting some of the largest sources of inefficiency and greenhouse gas emissions: food waste, lighting, transportation and heating.
While drafting the program, the students began measuring energy usage and waste at the school. They learned there was lots of room for improvement by making simple behavioral changes. For example, about 75 percent of the school's garbage could actually be recycled or composted, the students said.
After three months of preparations, the green reforms took effect at the start of February. For the first time, the school has a composting program that reduces the quantity of trash hauled long distances to a landfill in Oregon. Electricity use is down as teachers have pledged to shut the lights when classrooms are not in use.
Thanks to the composting and lighting conservation, the students estimated they could reduce their school's emissions in those areas above their initial goal of 28 percent. That translates into 2 fewer tons of carbon dioxide released into the atmosphere this month, according to their calculations. Plus, they say they're saving the district money.
"I'm really amazed at how this is going and how much we can do to help solve this issue," said 17-year-old junior Fred Qin, who maintains the group's data.
"You get them the information and then they can do something about it," Kornbluth said.
To make an even bigger dent in the school's carbon footprint will require coming up with more efficient heating and transportation options.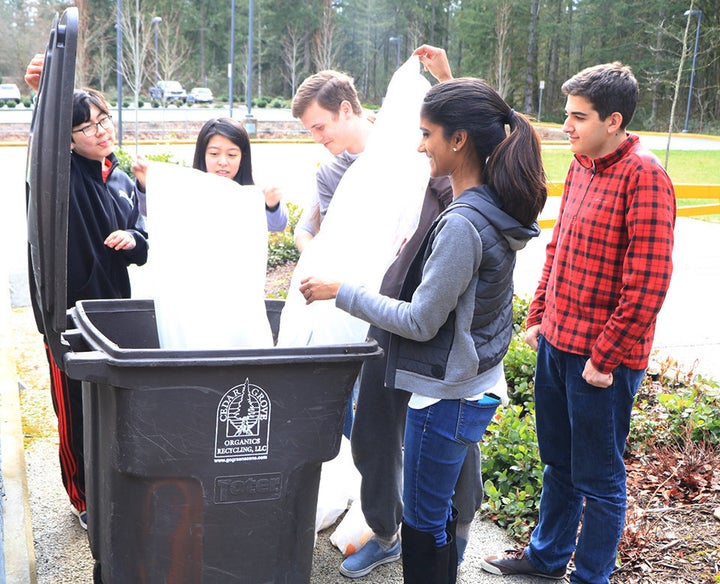 And the Tesla STEM students are hoping to do just that. They are working with local transportation officials to develop an app to encourage carpooling, biking, walking and taking the bus to school. Rayan Krishnan, 15, who is involved in developing the app, said students may get incentives to participate from local shops. He hopes the app will foster competition among schools to have green transportation.
"We're going to be the ones who inherit this country," Rayan said. "We can't vote, but we can have an impact."
The Tesla STEM students' actions fit in with the Pacific Northwest's reputation as a hotbed for pioneering environmental causes. They've learned about former Seattle Mayor Greg Nickels, who in 2005 declared the Emerald City would meet the Kyoto Protocol goals even though then-President George Bush opposed the precursor to the Paris agreement.
Town, had previously created an environmental challenge when he taught at neighboring Redmond High Schoo. The program, which won an EPA award and is now a program offered to 5,000 schools by the National Wildlife Federation.
"We're going to be the ones who inherit this country."
Starting locally makes sense, according to Cooper Martin, program director of the National League of Cities' Sustainable Cities Institute. He said that city and town officials are more responsive to environmental concerns than politicians in state and federal government.
"It's become an issue that local elected officials have to respond to like education and public safety," Martin said, emphasizing that student activism pushes local environmental initiatives.
The Tesla STEM students are doing what they can. The group developing the transportation app is hoping to launch before May, which is National Bike Month. Each day, student monitors check that teachers have switched off the lights before leaving their rooms. And after school, a team weighs what's been tossed into the compost to tabulate the day's carbon savings.
"People think climate change is scary, but really you just need to make small changes," Rayan said.
Popular in the Community