Being black at the University of Missouri was tough long before the country started paying attention to why.
Cultural insensitivity, racial slurs and de facto segregation are the common threads minority students say separate the 7 percent of black students from the 77 percent white students that make up the school's population. In the video above, four black students share their experiences with The Huffington Post on what their life is like dealing with racism on campus.
For months, students of various backgrounds protested a lack of administrative action on racial tensions and other significant issues. A delayed response to the students' demands led to graduate student Jonathan Butler's eight-day hunger strike and the football team's refusal to play until the school system's unresponsive president, Tim Wolfe, stepped down. The pressure finally led to Wolfe's resignation on Monday.
Though Wolfe's resignation is a victory for students hurt by the university's inaction on racist incidents in recent months, it's only the first step to addressing the root of racism that was present on campus long before Wolfe's tenure.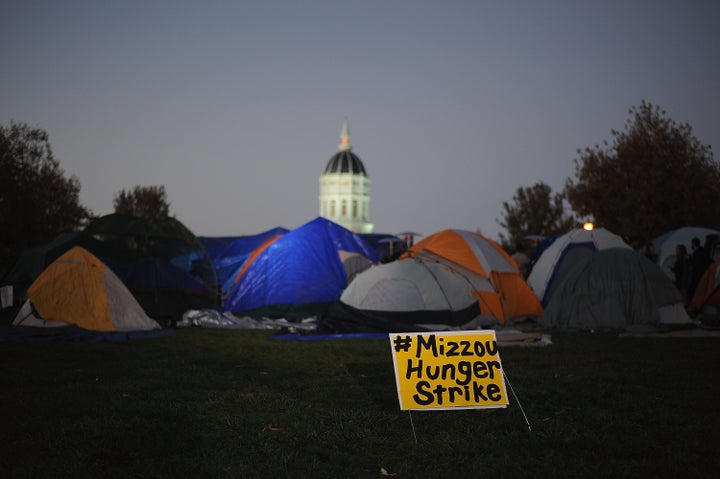 Lakea Gray, a freshman, is considering tranferring to an HBCU to escape the discrimination she says she faces at Mizzou. She told HuffPost that some white students question her high GPA and use the n-word loosely while under the influence.
"At a predominantly white environment, you just have to deal with acceptance and it's hard being a student of color because you have to deal with the segregation of Mizzou," Gray said. "You deal with racism and you just deal with people trying to belittle you because you're black."
Even in friend circles that include white people and people of color, racial insults fly, according to Afro-Latina senior Brenda Smith-Lezama. She told HuffPost that her ethnicity is often the butt of the jokes her white sorority sisters and fraternity brothers tell.
"Most people would never have to face people who are supposed to love and care about them hitting with microaggressions that can make you numb at some point once you start hearing them over and over and over again," she said.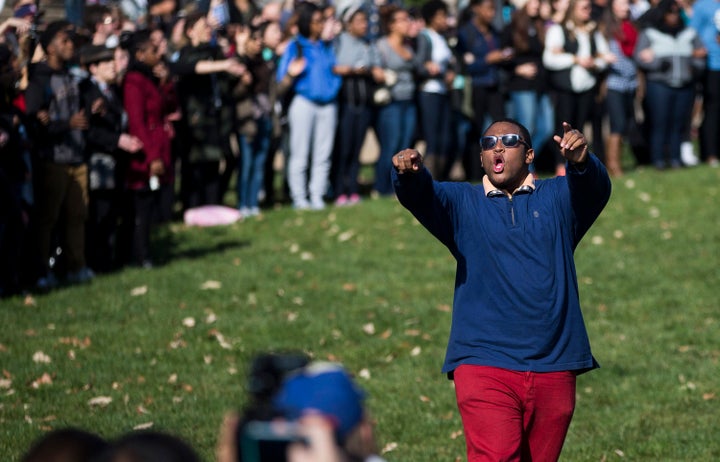 The blows don't begin or end with slurs and microaggressions, however. In 2004, a student wrote a column in the student newspaper accusing black students of vandalism and urging "stay in their little worlds." In 2010, students scattered cotton balls on the school's black cultural center's lawn. In 2012, someone plastered a racially charged flier in the public area of a dorm. Just this year, there have been two separate instances in which swastikas have been graffitied on residence halls. During a homecoming parade in October 2015, student protesters blocked Wolfe's car to get a response from him about the racial tension on campus. Wolfe didn't respond and protesters claimed his car tapped someone and accused police of using excessive force to clear the street.
In each aforementioned incident, students have filed complaints with little to no change, according to Slate and The Maneater, until Monday. Even with Wolfe's departure, black students say they are still facing threats and oppressive behavior.
Jovan Russell, a senior at Mizzou, said racial tension seems to have worsened since the protests started in September. He told HuffPost that he's even heard the rallies referred to as a "nigfest."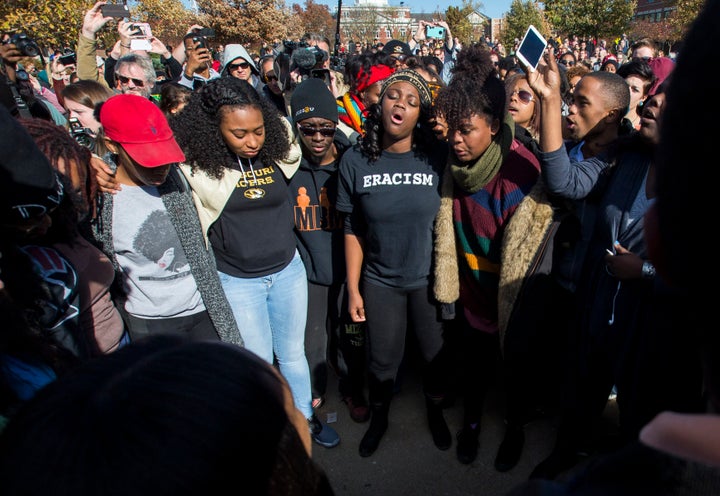 "I've heard so much bigotry and racist comments that I thought I'd never hear from my peers," Russell said. "People have just been extremely racist ever since this has all happened. And it's pretty sickening to me, the lack of compassion and empathy that my peers are showing."
Recent events have convinced Russell that he needs to be more proactive in fighting for equality on campus, he said. He's not the only one.
"The fact that Wolfe has stepped down is just the first step and we need more people to join our cause so that we can eventually get around full equality on this campus."
Gray advises black students thinking about enrolling at Mizzou to be aware of the racial dynamic, and prepare themselves. "People say it's a party school, people say that it's not segregated but it really is segregated," Gray told HuffPost. "And if you don't have a strong mind or mentality, then you won't survive here, at all."
Smith-Lezama said despite its issues, "Mizzou is an incredible place" and these issues aren't necessarily unique to this campus.
"We all love our university, and that's why we are all here fighting to make it better," she said. "[It's a place] where students feel empowered to speak up and make a difference and I hope that's one thing that has been really able to spread to other college campuses throughout this whole experience."
Video produced by Justin Cardoza, Christian Nilsson, and Kohar Minassian.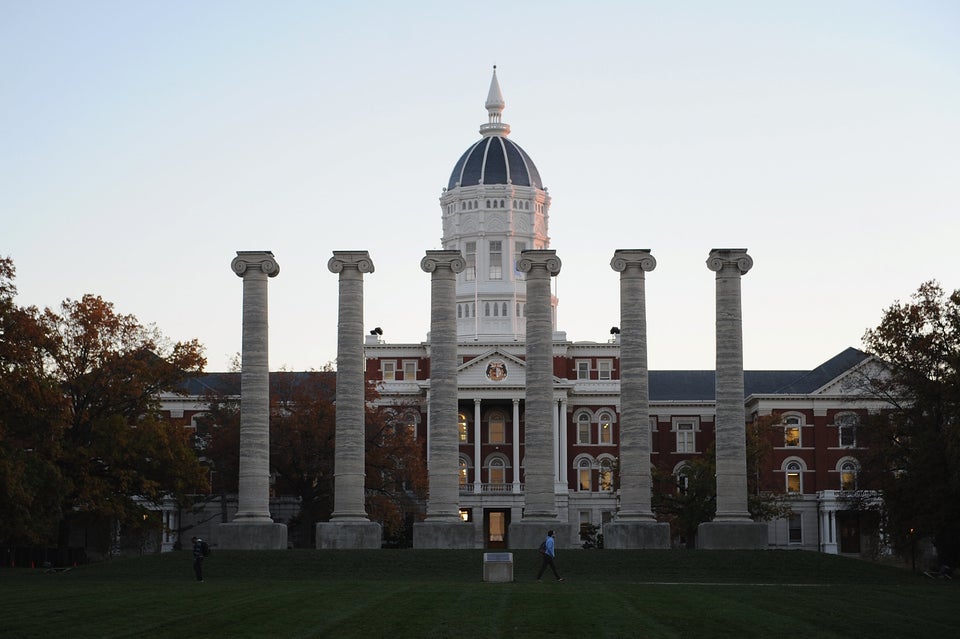 The Deeper Issues At Mizzou
Popular in the Community