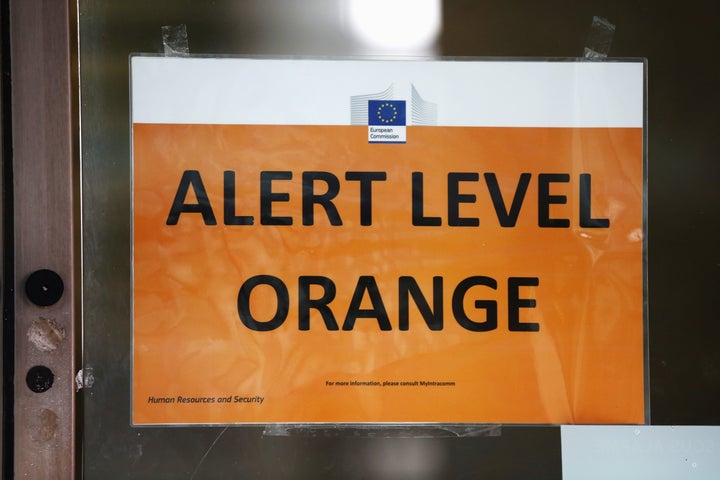 Following Tuesday's deadly explosions in Brussels, major American universities with study abroad programs scrambled to locate students who are currently in Europe.
The WorldPost reached out to a number of U.S. schools where it was mentioned on social media that students are currently abroad in Belgium. Officials from more than a dozen universities told The WorldPost they were making contact with their students abroad, their partner schools in Europe and officials at the U.S. State Department.
At least 34 people were killed in two attacks Tuesday, one at Brussels' Maelbeek metro station and another in what appeared to be a suicide attack at the Zaventem airport. The militant group that calls itself the Islamic State has claimed responsibility for the attacks.
The University of Illinois at Urbana-Champaign told The WorldPost it has 57 people in Belgium. So far, the school said, it has confirmed 55 of those people are safe. UIUC was still working as of 11 a.m. EST Tuesday to connect with the remaining two people.
The University of Missouri reported that 16 journalism students studying in Belgium are all "accounted for and are safe."
"Their safety is our top priority right now, and we are working with the lead faculty member there to make sure everyone stays safe," said Christian Basi, spokesman for Mizzou. "No other decisions have been made at this time."
James Madison University in Harrisonburg, Virginia, has a study abroad program in Antwerp, Belgium, which is about 27 miles from Brussels. JMU told The WorldPost it has confirmed that all of its students and faculty are safe.
The University of Michigan told The WorldPost it has only one student registered as being in Brussels, and that student has been confirmed safe. The University of Mississippi and the University of Wisconsin-Madison similarly reported their students were safe.
Some schools, like the University of Texas, said they have no students studying abroad in Belgium.
UT Austin's "overall posture for travel in Europe is not changing at this time," school spokesman J.B. Bird told The WorldPost. However, he added, school officials are "in the process this morning of reaching out to students in Western Europe to offer resources and support, and to reiterate travel precautions."
Furman University, in South Carolina, pulled its students from Brussels last fall following the Nov. 13 terrorist attacks in Paris. School officials explained Tuesday that Furman does not operate a study abroad program in Belgium in the spring semester, so there were no students to contact this time.
UPDATE: 1:50 p.m. -- A New York University spokesman said the school has four students in Belgium, although none of them are there on a study-abroad program or in any other school-sponsored context. "All are safe, and three of the four are currently in transit out of the country," spokesman Matt Nagel said.
The University of California, Berkeley confirmed it has three members of the campus community who are studying abroad in Brussels, and all are fine.
Popular in the Community