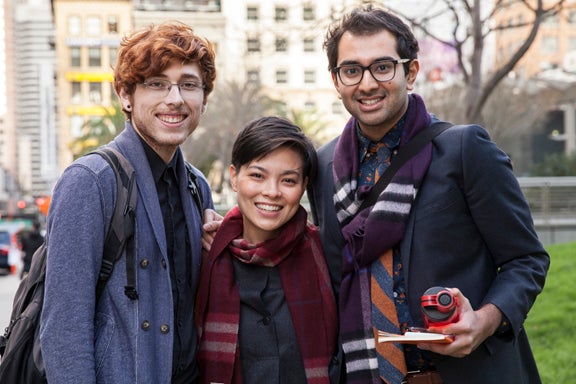 Students around the country are returning to school, a time frequently marked by both excitement and anxiety. Unfortunately, this fall will be a difficult one for lesbian, gay, bisexual, transgender and queer (LGBTQ) students. Right now, the LGBTQ community is under attack from those who want to roll back important rights and protections we have fought hard to attain on campuses and in the workplace. Many in power believe it is politically expedient to ignore differing opinions and exclude those with varied experiences from the policy making process.
For LGBTQ students, this rebuffing of diverse voices and lack of diverse representation in leadership sends the message that society does not value them, or what they can contribute. As these students begin the academic year, it is imperative that we help them push back against this toxic and deeply harmful message. Thankfully, Point Foundation - the nation's leading scholarship fund for LGBTQ students, where I serve as Executive Director - is dedicated to supporting LGBTQ students who are meeting these challenges head-on, and finding strength in their intersecting identities.
We would do well to look to these young leaders to model their values and approach to a more open, diverse and welcoming culture that protects civil rights and the rights of the most vulnerable. For this reason, I am proud to say that the 52 students we awarded scholarships to this year are also the most diverse group in the Foundation's history. They include:
Point Scholar Donna Scaffidi, a first-generation Afro-Latina college student, overcame poverty and homelessness. Her civic engagement and passion for legal justice for marginalized communities earned her an internship with Rep. Katherine Clark (D-MA). In a few weeks, Donna will begin law school at the University of Michigan, where she intends to use her future law degree to fight for the rights of those also at the intersection of multiple marginalized identities.
Another example is Point Scholar Kylie Blume, who is transgender and a student at the University of Minnesota Medical School, where she is a fierce advocate for the LGBTQ community through medicine. Driven by her own experiences with transphobia in medical settings, she is passionate about reforming medical education to welcome aspiring LGBTQ physicians and training all health care providers to be competent in caring for LGBTQ patients.
Donna and Kylie's stories of perseverance and accomplishment are unfortunately still the exception when it comes to the challenges LGBTQ students face. Year after year, students reaching out to Point tell us they have been bullied in high school because of their sexual orientation, and that they lack people to turn to for support. Even if they graduate and are accepted to college, LGBTQ students, many of whom lack the support of their families, tell us that they are far less sure about how they will pay for college than their non-LGBTQ peers.
With so many LGBTQ students coming from underprivileged and resource-poor backgrounds, Point Foundation recognizes that financial grants alone cannot empower these students to succeed in college and beyond. As such, we pair each Point Scholar with a mentor to provide them with career and professional development advice. Point Scholars attend leadership training programs and are required to develop and complete an annual community service project. In partnership with the Elton John AIDS Foundation, the Palette Fund, and other organizations, Point Scholars receive stipends so that they can undertake time-intensive internships with local community groups.
The outcome of providing multifaceted support to LGBTQ students is that our alumni are distinguishing themselves in their professions. Point Alum Alex Morse was twice elected mayor of his hometown, Holyoke, Massachusetts. Alum Ved Chirayath is a research scientist at NASA and helping guide the agency's outreach to the LGBTQ community. Alexia Koritz, another Point Alum, was part of the legal team that represented Edie Windsor in the successful Supreme Court case that overturned the Defense of Marriage Act.
To reach an even more diverse group of LGBTQ students, Point, with support from Wells Fargo, has launched a community college scholarship program. During the 2017-2018 academic year, 25 LGBTQ community college students around the country will receive financial grants and guidance on preparing to transfer to a four-year degree program. Many of these students are the first in their families to go to college, and nearly half identify as transgender or gender-nonconforming.
I urge everyone who cares about protecting the rights we have fought so hard to win for the LGBTQ community to help us level the playing field for LGBTQ students in higher education, especially at a time when the well-being of so many students is imperiled by this administration. Your help is critical right now: until September 20, you can submit comments to the Department of Education calling on its Office of Civil Rights to fulfill its mandate to protect all students. I've already submitted my own letter standing against policy changes that would open the door to discrimination against LGBT students, and I urge you to do the same. They need to see that despite the current political rhetoric espousing exclusion, millions of people are eager for them to take their place as a new generation of leaders, who find strength in and reflect our ever more diverse society.
Popular in the Community