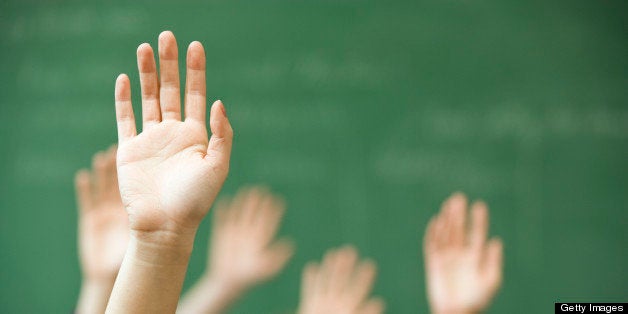 Right, Michelle Rhee, CEO and Founder of StudentsFirst, inset, educational "reformer of the year" Rep. John Ragan.
StudentsFirst, a very prominent and controversial educational political action group named Tennessee House Representative John Ragan as the state's "educational Reformer of the Year" who "stands up for the kids of Tennessee" and "has also been a leading advocate for change."
I guess it's enough that the only kids Ragan supposedly stands up for are the heterosexual kids.
It turns out the honoree is the co-author and introductory sponsor of the latest permutation of the notorious Tennessee "Don't Say Gay" bill. The latest version would have forced select Tennessee school officials to notify parents of children who privately discussed their sexual orientation, essentially dictating forced "outing" of kids, even against their own objections.
Ragan's proposed education bill is more than just ignorant and wrong, and bad policy, it's downright dangerous and does anything but "put students first," said Hedy Weinberg, executive director of the ACLU of Tennessee. "It's inexcusable to make counseling professionals out LGBT or questioning young people to family members, when all too many parents physically abuse their LGBT children, force them into quack 'reparative therapy' programs, or kick them out of their homes. This disgraceful bill pays lip service to student safety, but in reality it puts vulnerable young people at terrible risk."
As vetting goes, one need simply type "John Ragan'" into the Tennessee legislature's website to see Ragan filed HB 1332, the "Classroom Protection Act" back on February 14, 2013. It even pops up with a great big bold lead-in that says: "Education" so this educational political action group could easily find bills of interest to them. The legislative history for HB 1332 shows seven actions were taken on the bill until late March 2013 including lots of activity in the House Education Subcommittee.
Do a little more legwork and you'll find that in January 2013 the American Civil Liberties Union forcibly condemned HB 1332's Senate companion bill, SB234 calling it a "harsher version of Tennessee 'Don't Say Gay' bill." The House and Senate versions appear to be identical.
With a little more legwork StudentsFirst might have found that Ragan was a supporter of yet another anti-gay education bill, an effort to affirm Christian Evangelical's rights to harass LGBT kids as protected First Amendment speech, known as a "license to bully" bill.
A correspondence with a constituent who had written to ask Ragan to oppose "license to bully" bill also made the news. The Advocate reported in January 2012 that Rep. Ragan said that gay people are not "mentally healthy adult human beings."
Ragan replied to his voter's objections to the bill by affirming his support for the "license to bully" anti-gay bill, and provided a rather long, rambling 650-word manifesto of homobigotry, where he spouted junk science, and proceeded with the usual comparisons that mark a profoundly bigoted attitude toward LGBT people. In response to the constituent's concern about higher rates of suicide among LGBT teens Ragan wrote:
Should society avoid disapproving of pedophilia, prostitution, murder, etc., because practitioners of those behaviors may commit suicide at higher rates?
It isn't unusual to dress up awful legislation in Orwellian newspeak like calling a bill that singles out gay kids for discrimination and harassment the "Classroom Protection Act." This trick is as old as politics itself. Often the bill's' title is a clue it does exactly the opposite of what it purports to do. Thoughtful observers and advocates in politics know it's essential to read past the title, and see what the bill actually says and does, and what other vested interest groups are saying about it. StudentsFirst apparently failed to do this on education bills Ragan has attached himself to.
StudentsFirst policy VP Lerum points to StudentsFirsts participation in an "It Gets Better" video to demonstrate their commitment to the LGBT kids. Videos are a lovely gesture, but they don't make public education policy, legislators do.
And the StudentsFirst PAC's $6,500 donationto the Ragan campaign, makes this national org Ragan's fourth largest donor. In fact, of the 105 candidates StudentsFirst supported in the last cycle, 90 of them were Republicans, who most certainly won't be putting LGBT students first. It seems StudentsFirst's commitment to LGBT takes backseat to finding allies in their actual agenda to bust teacher unions.
This dustup is a little bit of deja vu all over again. The group also came under fire in October 2011 for big money spending in support of a virulently anti-gay candidate in Michigan. StudentsFirst also has been protested by Latino students for supporting anti-immigration extremists in the past.
If StudentsFirst really was truly unaware of Rep. John Ragan's history, it seems it's only because they didn't do their homework and that's becoming quite a recurring pattern. Perhaps they need to re-take Candidate Vetting 101?
Support HuffPost
Every Voice Matters
Popular in the Community