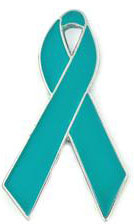 January was Cervical Cancer Awareness Month, a chance to raise awareness about how women can protect themselves from HPV (human papillomavirus) and cervical cancer. While annual Pap test screenings in the past 30 years have reduced the cervical cancer rate by 50 percent [1], it isn't the only way to detect cervical cancer. As it turns out, we only need to have one every three years. A newly released survey [2] from the National Association of Nurse Practitioners and Healthy Women found women and their doctors resistant to change in cervical cancer screening. To help ease some of this fear, let's look at the reasoning behind the new guidelines.
Almost 12,000 new cases of cervical cancer are diagnosed in the U.S. each year [3]. Cervical cancer is almost always caused by HPV, the most commonly sexually transmitted disease. Unfortunately, the Pap smear doesn't detect HPV [4]. The test for high risk types of HPV is done after collecting cells on the surface of the cervix (usually at the same time as the Pap test). Evidence shows that three years is the optimal interval for detecting cervical cancer.
Cervical cancer is very rare in women in their 20s. In fact, only a small number of women maintain a type that can progress into cervical cancer. Therefore, it is recommended that cervical cancer screenings start at age 21 [6]. Women ages 21 to 29 should have the standard Pap test every three years. If your Pap test results are normal you can go three years before your next screening. And, your chance of getting cervical cancer in the next few years is very low. So continue the Pap test every three years, unless you have an abnormal result, until age 29.
For women ages 30 to 64, the new guidelines call for a combination: the DNA test for the high-risk type of HPV along with the conventional PAP test [5]. This combination test needs to be done every five years, as long as there are no abnormal results. So if your Pap test is normal and your HPV test is negative, you can go five years before your next screening. This is great news because screening doesn't go without some risk, and definitely some discomfort.
Remember if you received the HPV vaccine, you still need to be screened. The vaccines protect against the types that cause cancer and genital warts. But if you were sexually active before receiving the vaccine and were infected, the vaccine cannot protect against that type. Also, the vaccines do not protect against all types of HPV. So screening is important, but now it is more strategic -- and thankfully -- less often. Here are some steps you can take to prevent cervical cancer:
Don't smoke.
Use condoms during sex.
Limit your number of sexual partners.
Get the appropriate screening according to new guidelines.
For more information on Cervical cancer and the HPV virus, visit
.
Popular in the Community