I'm not sure why it took us so long, but our first visit to Studio 909 has us hooked. If the performance by the Dmitri Matheny Group on August 30 was any measure, we look forward eagerly to what lies ahead.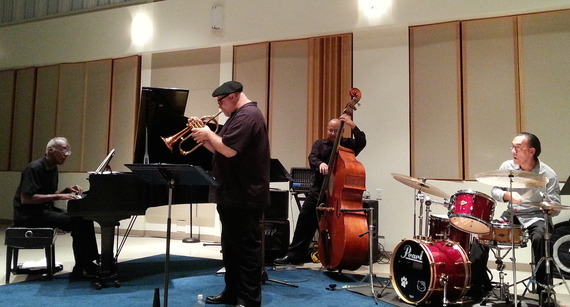 From the time he picked up his flugelhorn and said hello, Matheny hit all the right notes with the audience. He was an easy conversationalist, recognizing his fellow musicians generously ("What you just heard was 90 percent Tommy James") and acknowledging the attentiveness of his audience. ("Who said Lena Horne?")
Both playful and earnest, he introduced a number from his latest album, "Sagebrush Rebellion" with this disclaimer: "My name might be Dmitri and I called this composition "Red Rebellion," but I'm no communist." Over the laughter, he added: "I'm a socialist." And off he went.
There was plenty of pedigree in the room that night. Tommy James on piano calls Honolulu home now, bringing us his reputation and talents as "a real funky guy and someone who knows how to make music funky," said Matheny. The musical director of the Duke Ellington orchestra swept music off the keyboard with such a flourish that Christine Tolbert, sitting in the front row, right behind him, thought he might lean backwards and land in her lap. At one point, the music sheets went flying and she picked them up quietly. Didn't mind a bit. "It was fabulous," said the Maryland visitor, who found herself at Studio 909 after seeing a notice about the performance in the paper.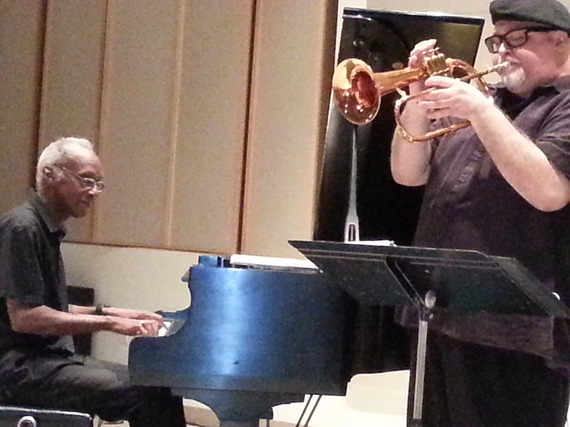 Pleased at how many hands went up when he asked who had been to Rio de Janeiro, Matheny suggested Honolulu name its airport after a great musician too--like Dean Taba on bass. Taba plays regularly at different venues with Noel Okimoto on drums. A very animated Okimoto was clearly having so much fun, we did too.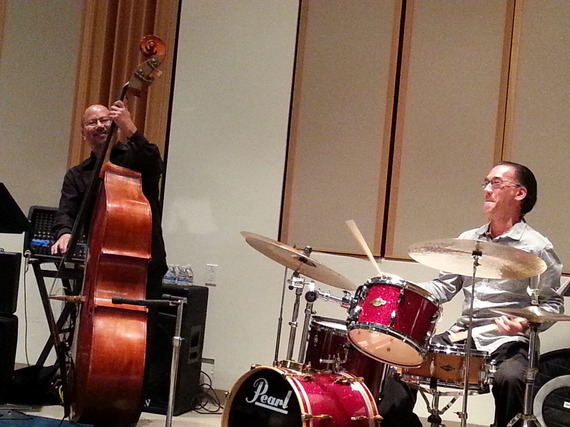 It was hard to imagine that a group this well-knit together had only come together a couple of hours before the performance. Matheny explained that he is on tour about 200 days out of the year and he plays with local musicians everywhere he goes. "My mentor, Art Farmer, used to do that," he said. "And it amazed me that it always sounded great, no matter who he was playing with. I asked him how that was. And he said to me, 'Dmitri, if you are the smartest person in the room, you're in the wrong room.' I've never forgotten that advice."
From "Stormy Weather" to "Cute," from music that we cannot now separate from the movies that they helped define, to some of Matheny's most recent compositions, the group played with a joy that crossed over to all of us listening. By the time we reached the end of the second set, the group had taken us on a tour that included channeling Bogie and Bacall through Charlie Haden's "Here's Looking at You." The musicians responded generously to the audience, now on its feet, begging "hana hou."
We arrived tentative. We left thrilled.
As wonderful as the musicians were, none of it would have been possible without the generous sponsorship provided by Fumiko Wellington, herself a violinist with the Honolulu Symphony, who stepped in when a prior sponsor withdrew. "Because I believe we need Studio 909. I want it to continue." Because, as she has pointed out, music builds community. Wellington says, "If you have a roomful of listeners, an energy goes out from the stage. It goes around the room. It joins the people."
May there be more believers. Next time, we will bring a friend. Or two.
Related
Popular in the Community