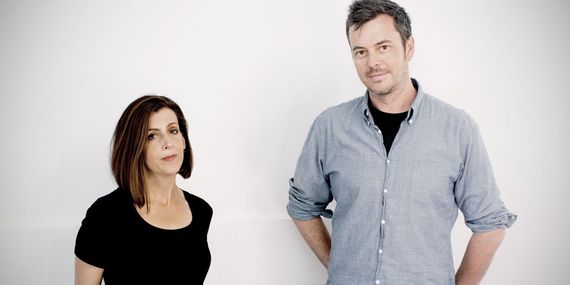 Studio Collins Weir is a full-service interior design studio specializing in fresh yet timeless California-cool designs. Based in San Francisco, husband and wife team Chris and Susan Collins Weir create beautiful solutions for any interior, from full-scale residential projects to commercial remodels. Through thoughtful synthesis of art, architecture, and design, Studio Collins Weir sets themselves apart by offering custom furniture and art curation that effortlessly enhances each interior.

While many designers might leave art decoration as an afterthought, Studio Collins Weir considers art as an essential part of any interior. Whether you are looking to start collecting art or are looking to integrate existing pieces into your home, Studio Collins Weir offers fundamental advice for design and art lovers alike who are looking to style their homes through the lens of art curation.
When did your relationship with art begin?

We both grew up with art and design in our lives. My grandmother was an amazing watercolorist and had a great sense of design. She taught me about colors and composition from a young age and would eventually introduce me to the fine arts and museums as I grew up. I ended up studying Art History in undergrad and then working with amazing masterpieces at Christies in New York. Chris' mother has a great eye and made sure he grew up with art in his life as well. She took things a step further for herself and pursued a degree in Interior Design later in life. I think seeing that as an educational path made a significant impact on him.

What are your first steps with designing a room? At what point do you consider art placement?

Our first steps are programming and layout -- art placement is very much a part of that discussion. Whether this is for an existing collection or making sure there's room for future works.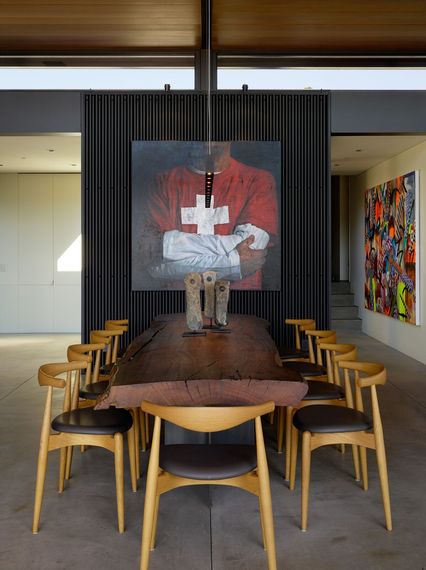 Have you ever used art as inspiration for interior design, or does art fit into your design naturally?

Both. We live with art and are always designing with art in mind. I think this results in spaces that take art well. We also use art as a starting point. Sometimes the colors and textures in a piece speak to something that you can't describe any other way. Frequently, we will place art in presentations to clients to help better describe the scale or concept of the room. A few years ago doing this took an unexpected turn. We were presenting schemes to a new (now old) client that included a mixed media triptych by a local artist. We initially included the work because the colors and textures were an interesting starting point for the design language. During the presentation, the client stopped me abruptly and told us she had been using an image of the same piece as a screen saver on her computer for months -- it now hangs in her living room.

What advice do you have for first time collectors?

Every city has a first Thursday (or Friday) where all the galleries are open in the evening. Go to these events, talk to people and the curators, drink some wine and start to understand what mediums are interesting to you. Also joining the young collectors circles at local Museums is a great way to educate yourself, learn some art history and meet people with similar interests.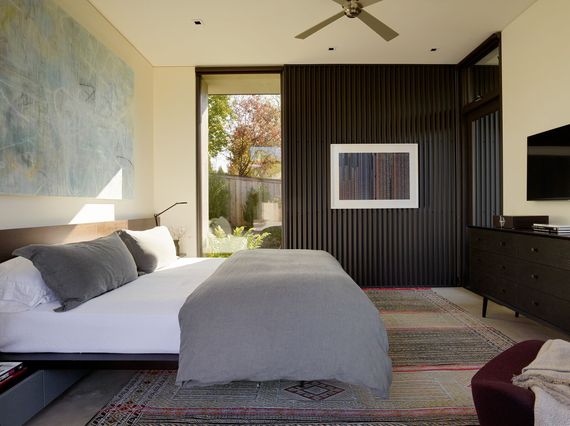 Where do you buy your art?

We purchase directly from galleries and always love the opportunity to work with young emerging artists. Some of our favorite galleries here in San Francisco include the Hosfelt Gallery, Gallery Wendi Norris and Haines Gallery.
Do you believe art should stand out or blend in with a room?

Depends on the project but either way, the work should resonate with the room.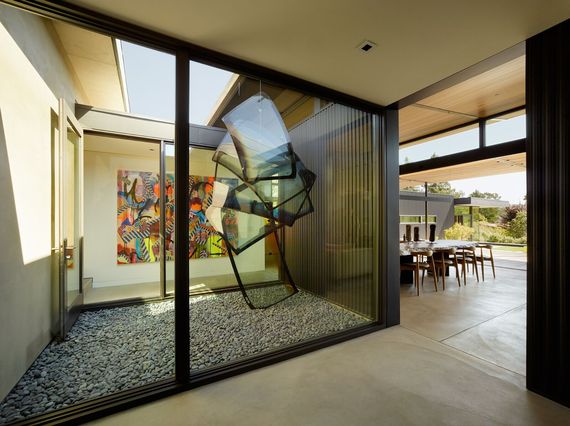 How do you mix and match art with design? Different styles, colors, etc.

We don't have any rules about this -- the art selection should be as timeless at the space.

What are your thoughts on creating a gallery wall?

We love a nice grid of similar works -- a collection of prints, black and white works or photographs. We pulled together a clients amazing collection of Outsider Art from decades of travels into an organic arrangement on an art wall -- the texture, color and graphics are simply amazing.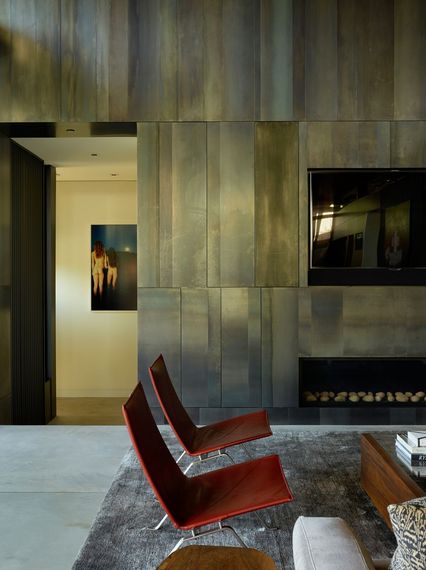 What are the most common mistakes people make when buying or decorating with art? How do you avoid these mistakes?

Great collections are inspiring because of the content but more so because of they speak to the passion and interests of the collector. Keep this in mind when looking at art and buy what you love. If you let this guide you when purchasing your first piece or adding to your collection you can't go wrong.
What trends in art collecting/decorating do you see?

Art is more accessible than ever. You can get an idea of current market trends and fairs through websites like Artsy and 1st Dibs. You can also follow and interact with your favorite galleries and artists through Instagram and other social media. Having all of this at your fingertips makes it so much easier to discover and ultimately place art in your home.
Photography by Matthew Millman
Popular in the Community