 As a child of the 1980s growing up in Michigan, I thought of macrame, embroidery and crochet as tedious tasks for homemakers. But a decade later, in my MFA program, I gained a newfound appreciation for fiber arts as high-art feminist pursuits. Flush with grad school inspiration, I got my needle and colored floss, and cross-stitched an array of misogynistic terms that have been used against women in a puzzle-like grid on a hot mitt. I had been pulling the thread too tight, causing my grid to turn into a lumpy trapezoid. When I proudly displayed my effort to a feminist faculty member at Yale School of art, she said, "Oh Hilary, leave this kind of art to people who really do it. You're a painter." This was good advice, and "Hot Mitt for an Ice Bitch" hit the trash.
Recently, I connected with a fiber artist who "really does it." As a painter who mixes shades of oil paint from a limited palette of colors, I'm amazed at the skill required to select complementary yarns from an unlimited array of colors. But Somerville artist Jodi Colella does just that, mixing colors of wool together using the ancient technology of carding.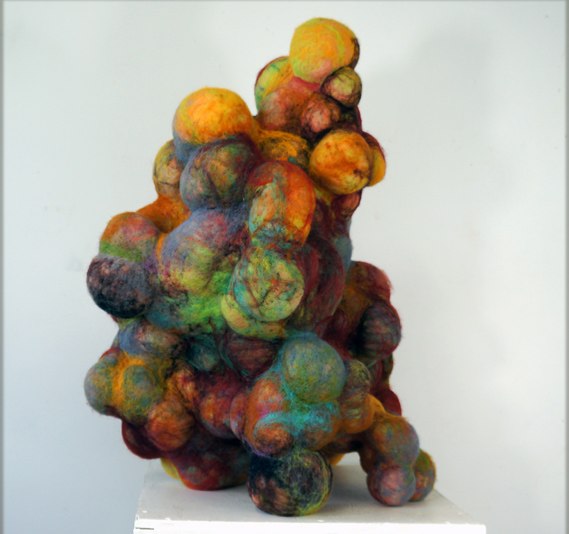 Jodi Colella "Blast"
Colella wasn't always a fiber artist: "Traditional handiwork techniques were part of my childhood, and then I abandoned them for painting and printmaking. After some time, I realized I wasn't feeling as though I was able to express myself as much with those mediums. On a whim, I started using fiber in nontraditional ways and found I had more of a voice in what I could create."
Colella's materials go far beyond just raw wool. On one side of her studio, she has a wall of bins containing materials that she has processed and organized for upcoming artworks. "I've created fibers on a spinning wheel with steel wire. I've torn up hand-me-downs from the Salvation Army." She opens a bin where a more complex form is beginning to emerge from a mass of magenta yarn. "I'm adapting traditional Irish crochet technique as an experimental way to create sculptures," she says.
Colella has a degree in biology, and her artworks often resemble natural forms. A piece in progress on a wall has gnarly twigs suspended by and interconnected with tendrils of pale skeins of fiber. She says, "I'm fascinated with biological forms as metaphors for life. Here I've taken found ropes and am incorporating them to make dendrites," which are extensions of nerve cells.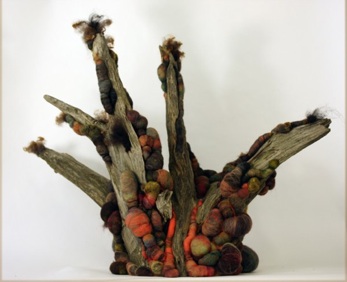 Jodi Colella "Elephant"
Using a process called "needle felting," Colella makes lichen-like protrusions emerge from crevices in anthropomorphic driftwood. At close range, you can see she has blended many shades of wool to create the fungus. "I sculpt with the needle," she says. "The wool has been felted to the wood with a barbed needle. What it does is contract large pieces of wool into small compact structures and I like to mix my color and layer it much like a painter would do."
Find out more about Jodi Colella's art and watch demonstrations of her techniques for using wool in the video below.
Related
Popular in the Community