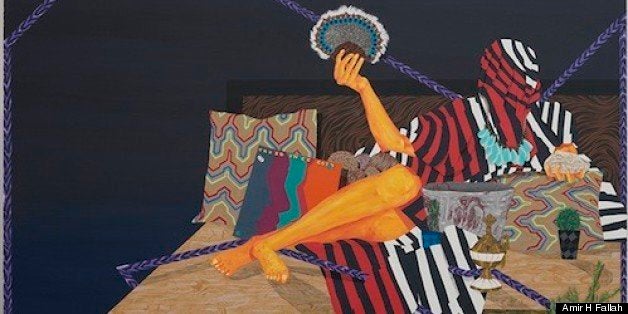 My GPS is broken and I'm relying on my iPhone, precariously balanced between two of my fingers, to help me navigate my way east out of Hollywood to visit with painter Amir H. Fallah in his studio. The sun comes out a few moments before the rain stops as I pull up to his house at the top of a hill. Cacti surround his house and there's a swimming pool, reminiscent of a David Hockney painting, just past the door to his garage studio. Fallah greets me in flip-flops along with his silvery small dog Baxter.
Fallah's studio is pristine with cool-toned lighting and red craftsmen cabinets. The painting in progress on the far wall, a portrait, is a fractured image of a reclining person covered completely by a blanket, as though smothered in a shroud.
The pristine serenity of his studio space, encompassing the rough, splintery imagery in his paintings, is like a platinum setting of a Tiffany's solitaire engagement ring where the diamond has been discarded and replaced with a jagged collection of shards of glass eyeballs.
Fallah explains that his portraits begin with a visit to his subject's home for a photo shoot. He pulls deceptively mundane objects, deceptive in that they are imbued with secret biographies, given their long history with the sitter and arranges them into a still life. He selects a cloth or blanket in the home and drapes his subject, and then inserts this figure stripped of physical signifiers into the tableau. The most you'll ever see is a sliver of a face with the nose sticking out, or maybe an eye.
The results of a photo shoot in hand, Fallah's attention turns to transforming his photos into a painting that includes collaged paper, bits of the photos and passages of expressive paint. He pauses frequently to photograph the work in progress, scans the new photo into his computer for further constraining and torquing, and then returns to his painting to integrate the new layer of information. Fallah does this repeatedly, further dislocating the imagery from its original source. What's left at the end is only the essence of the original experience in an amplified form.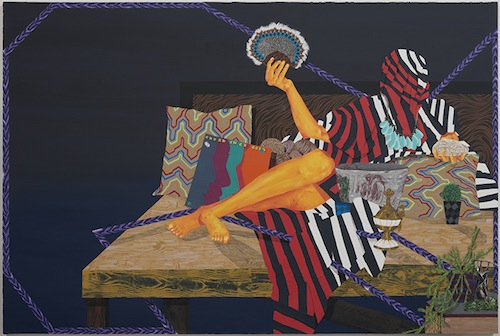 "Fanning the Flames 2," acrylic, ink, oil, and collage on paper mounted to canvas, 6' by 4', 2012.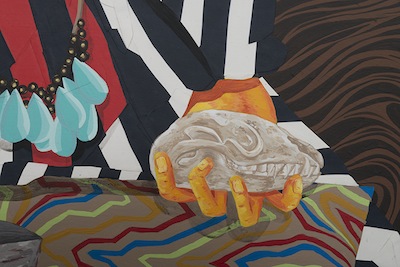 "Fanning the Flames 2," detail.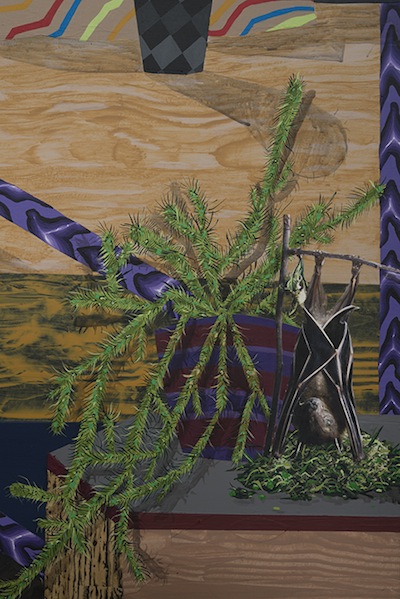 "Fanning the Flames 2," detail.
AF: This is a painting of Catlin Moore, an art dealer in LA. One day she told me she was going shopping with her mom for taxidermy that immediately caught my interest. I knew I had to have her sit for a painting.
She's holding a small rodent skull in her hand and her stuffed bat is in the lower right corner. The bat was beautiful so I chose to leave it as is instead of embellishing it with paint.
Objects that I think I can add something to I'll paint by hand, and I'll also sometimes paint into the photos. There's a push-pull between carefully rendered paint and photography. It creates a tension between the materials that I think adds to the psychological tone of the work.
The pedestal is made of a woodblock transfer mono-print on paper. For the lighter colored wood I used a Martha Stewart faux-bois tool to make the wood grain. I like the texture of the real wood next to my hand painted wood grain. They are depictions of the same pattern but look very different.
My paintings look graphic and flat from a distance and in reproductions but up close you can see the texture and imperfections. It's important to be able to engage the viewer at different distances. I want them to see my hand when they're close, nothing is hard-edged and they can see the texture and the roughness, the tactility of the paint.. The stripes are cut blue, red and white paper. I didn't measure the paper to fit the shape in an over-determined kind of way, I took a small pieces of cut paper and glued them down to make the pattern, like the collage equivalent of impasto painting.
The gold cup and the fan made of feathers belonged to her grandmother. The grey bowl is by Allison Schulnik, an LA artist represented by Catlin. These are all objects that she lives with. The mundane mixed with the sentimental. The prized possession that lays next to the utilitarian throw pillow.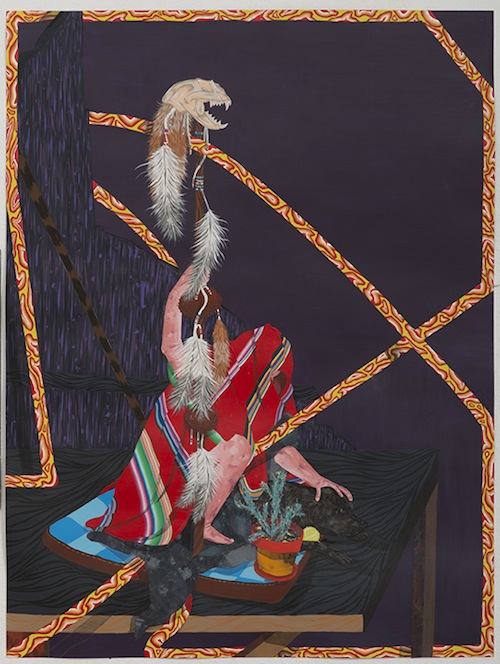 "The Redwood Healer," acrylic, ink. pencil, oil and collage on paper, 30" by 22", 2012.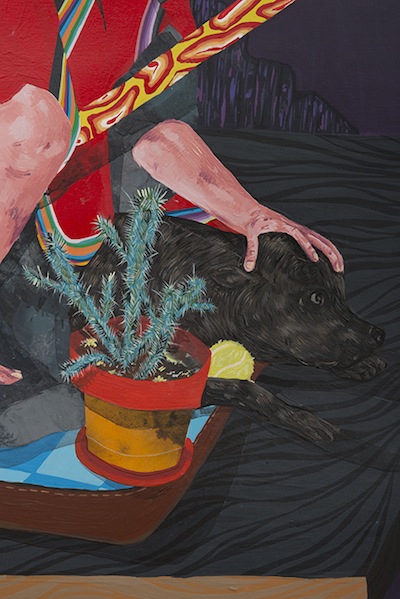 "The Redwood Healer," detail.
AF: This is my friend Jason Redwood who's an artist and illustrator and part Native American. His illustrations have a vintage Americana vibe, and they're used by many apparel brands both big and small. The Poncho doesn't have sentimental value but it's been on his couch for years. The ceremonial staff is from his grandfather and is covered with feathers, beads and various embellishments.
The pitt-bull mix is Diego. He's a very strong dog with an endless amount of energy. Jason has his hand on his head, almost like he's taming the beast. This was one of the few moments when Diego was calm during the shoot. I always include a lot of plants in my paintings because most of us live with plants without really thinking about them, t we keep them alive for decades at a time and nurture them without giving them much thought.
The grey blanket is made from pieces of paper stained to match the real blanket, and when you get up close you can see that folds in the blanket are made by the cut paper instead of painted shadows or actual lines defining the folds in the fabric. When I've made the entire painting and everything's done, I'll take a bit of black acrylic paint and dilute it with matte medium and water to make a transparent black tint to add shadows.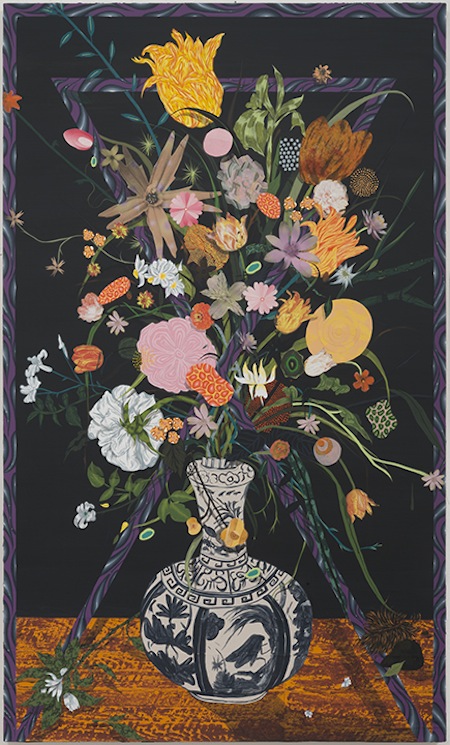 "Infinity Joins Us Together," acrylic, pencil and collage mounted on canvas, 3' by 5', 2012.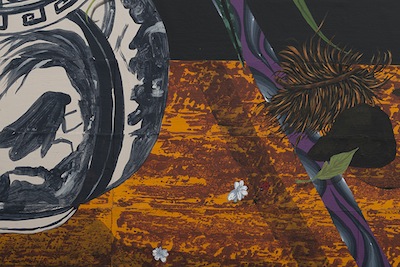 "Infinity Joins Us Together," detail.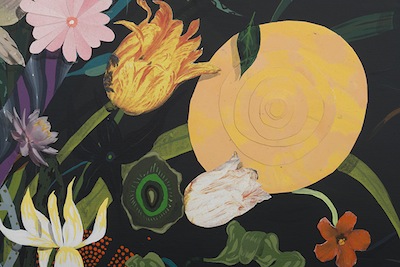 "Infinity Joins Us Together," detail.
AF: This is for a show in Dubai this July, loosely based on a Dutch and Flemish golden age painting. Some of the flowers in this painting are collaged -- they're scans of reproductions of flowers in the original paintings. I'll find a photograph of a painting I want to work off of, scan it, cut out images of certain flowers, and print them to use as collage elements. There are many fragments from the original painting in this piece but It's not an exact replica. The scale, placement and orientation of the flowers change. If you were to put the two paintings together you'd see similarities but at a certain point I allow my painting to take its own course. When the painting is 80 percent done, I'll photograph it and start doing mock-ups with Photoshop for how the border should weave in and out of the painting, and I'll do twenty or thirty different versions of it. For this painting, the ones I liked turned out to be nearly symmetrical. I chose this composition because of the hourglass shape, which relates to the infinity sign and renewal and rebirth that many artists including myself think about when appropriating moments in art history.
I'm also thinking a lot about abstract expressionism while I'm working on the floral still lives- specifically Brice Marden's line paintings where continuous lines weave in and out of each other. Or Jackson Pollocks drip paintings. I like the idea of taking on these moments from abstract expressionism, a macho tough guy chain-smoking adulterous era in art history and adding pink flowers and cartoony bright floral patterns.
I initially started painting these floral still lives without thinking I would show them which was very freeing. There was no pressure to make something great. It allowed me to do things I wouldn't normally do on work that I'm going to put in a show -- for me, that was really helpful. I used them as a place to teach myself new ways to paint and experiment, which I would then apply to larger and more ambitious works.
............................................................................................................................................
Fallah's paintings often have an air of melancholia, and can even be seen to function as memento moris, but Fallah himself is upbeat:
LA is more relaxed than New York and I think that comes across in a lot of my work. It's serious, but more nonchalant and playful. It's really hard to be depressed in L.A. -- I've tried really hard to be depressed here but it hasn't worked since it's beautiful all the time and I think it has an effect on people and the work they make and the palettes that they choose. When it's the middle of winter and it's 80 degrees outside and everyone is wearing flip flops, it's hard to make dark work either visually or conceptually.
I head out of Fallah's place, descending into the knowable urban embrace of West Hollywood, with a certain sense of navigational certainty that had been absent on my way in. The neon melancholia of the moment illuminated the spots where the sun is beginning to set. My iPhone is once again in hand -- just in case I find myself unable to tear myself away from this moment.
I find myself traveling to that moment just outside the smog in Fallah's LA gothic studio, even now as I sit in my studio in Brooklyn. The sun sets later these days, but the neon melancholia is still a welcome visitor.
Keep an eye out for his upcoming solo show at The Third Line opening 6/6. Check out Fallah's current show, "Desaturated Rainbow," which he's co-curated with Colette Robbins and includes two of his paintings, at Field Projects Gallery (through 5/18). Visit his website www.amirhfallah.com for more about his work and information about his numerous upcoming group shows.
Find out more about his inspirations and studio practice in the video below.
Images courtesy of Gallery Wendi Norris, San Francisco, CA & The Third Line Dubai, U.A.E.
Popular in the Community