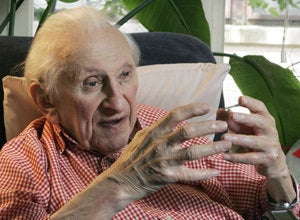 Louis Terkel arrived here as a child from New York City and in Chicago found not only a new name but a place that perfectly matched--in its energy, its swagger, its charms, its heart--his own personality. They made a perfect and enduring pair.
Author-radio host-actor-activist and Chicago symbol Louis "Studs" Terkel died today at his Chicago home at age 96.
At his bedside was a copy of his latest book, "P.S. Further Thoughts From a Lifetime of Listening," scheduled for a November release.
Beset in recent years by a variety of ailments and the woes of age, which included being virtually deaf, Terkel's health took a turn for the worse when he suffered a fall in his home two weeks ago.
It is hard to imagine a fuller life.
Watch this compilation of Studs discussing work, politics, art and his career (h/t Progress Illinois):
Related
Popular in the Community