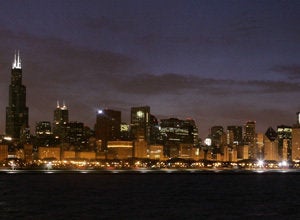 Studs Terkel died on Friday in Chicago at the age of 96. He was too young. But then, whenever he ended up dying, he'd be too young. I'm not quite sure I believe that he actually has died, though. Studs was unique and not given to ordinary convention. And dying is just so not him.
There will be articles of deserved praise for his long, remarkable, outspoken, vibrant life - his voluminous books, his Chicago radio show on WFMT for 45 years, his career as an actor in the early days of television, and so much more. All will touch on why he was fascinating, although it unlikely that anyone can really summarize such a soul. It had to be experienced, and even then. Studs lived in Chicago, Studs worked out of Chicago, Studs was the heart of Chicago, but if anyone had dual-citizenship with the world, it was Studs Terkel.
Years back growing up in Glencoe, I was in the kitchen, reading a newspaper article on Studs, when I noticed him mention that he had been given his start in radio by "that ad man, I.J. Wagner."

I quickly sat up. I.J. Wagner was my cousin, who passed away before I was born. More to the point, however, he's who I'm named after. Isadore James Wagner. Look at my name above, at the top of this article -- I have always specifically used the "J." when I write as an homage to him. He was one of the originators of radio jingles back in the 1930s, though several of them lasted for decades -- his most famous being "What'll you have? Pabst Blue Ribbon" and the sing-songy, "'Mommy! "What is it, dear?' 'I want a Salerno Butter Cookie!'" I was always honored to be named after I.J. Wagner. But believe me, knowing that "Iz" was responsible for giving Studs Terkel his start in radio has always made me even more proud of the "J."
After reading the article I went racing into my mother's room to tell her what Studs Terkel had said about Iz. I was expecting great surprise and excitement equal to my own, but she wasn't at all. "Oh, sure," she said nonchalantly. "They were very close. Studs spoke at Iz's funeral."

Years passed, and I was working a summer job for the Ravinia Music Festival. I had reason to speak briefly to Studs, when he called the office. And I was finally able to tell him about Iz Wagner. He was gracious, charming and Studs. It remains one of my happy memories.
Today's news is a sad loss, but what a life. And what a record he leaves behind that will live on. And y'know, I suspect there's a good chance he's living on, still.
Calling all HuffPost superfans!
Sign up for membership to become a founding member and help shape HuffPost's next chapter