Study abroad is on the rise with 4% more American students studying abroad than last year. The overall number of students, however, continues to hover at 10% as it has for the past several years.
The UK, Italy and Spain are the most popular countries, accounting for 32% of all Americans studying abroad. France follows in fourth and Germany bumped China back down to sixth. It's interesting to note that Germany did not just increase its participants by almost 1,000, but China dropped almost 1,000. More than 50% of students study in Europe.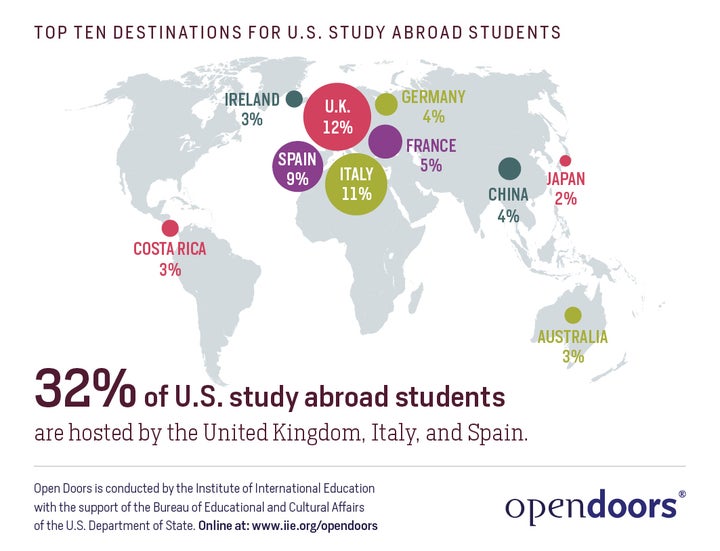 Another interesting data point for students going abroad is their field of study. STEM students are leading the pack with 25% of all Americans students studying abroad, an increase of 9% over the previous year. If you go back 15 years to the 2002 Fast Facts for Open Doors, the numbers are much smaller—closer to 12%.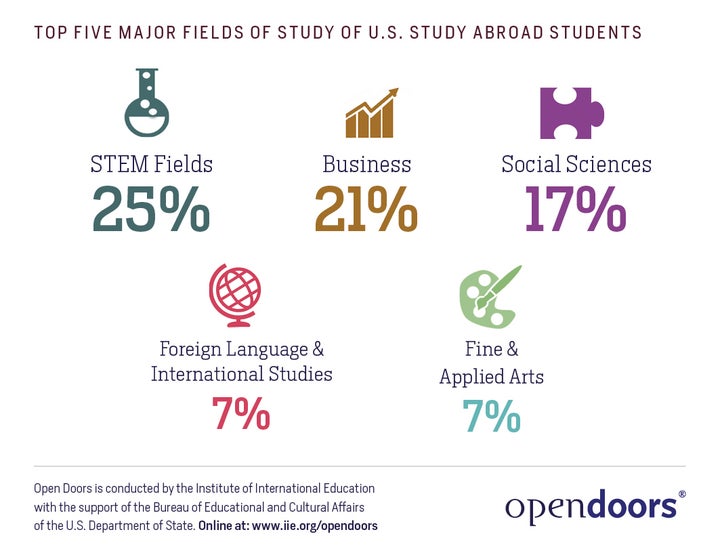 Also of interest is the number of students studying "foreign language and international studies," which has gone down about 1% over the previous year. It's difficult to determine the change in this field over the past decade since the earlier versions of "Fast Facts" lists foreign language alone and is not combined with international studies. It would also be insightful to know what percentage of the other 93% of non-foreign language majors actually studied in a language other than English, or are proficient enough to take classes in a second language. That's what we expect of the more than one million international students who study here—to pass an English proficiency test and jump into all-English classes, campuses, clubs and American culture.
This different expectation has a great deal to do with the fact that, broadly speaking, the U.S. doesn't have a culture that embraces or encourages world language learning. Despite the increasing global competition for jobs, the majority of American graduates lack the international experience, language capabilities and inter-cultural communication skills necessary to succeed in the global economy.
For the 10% of American college students who actually study abroad (the number is still very small—too low for the interconnected world we live in) and choose to study language abroad, there is a real opportunity to begin, develop and/or further the language skills that will enable graduates to significantly broaden their career opportunities in today's competitive job market.
How can students pursue meaningful language learning while studying abroad? Whether students are just starting out or have studied a language for years, they should search out programs in an immersive or semi-immersive environment, and keep an open mind about the many destinations of a chosen language; e.g., beyond France, French could be learned in Switzerland, Belgium or even Canada; Spanish, in Costa Rica (Open Doors #9), Mexico (#12) but also Peru (#22), Chile or Nicaragua, just to name a few.
While there are excellent language immersion programs, such as the Fulbright and Boren programs administered by IIE, as well as the NSLIY program run by American Council, these are highly selective with just 6,000-7,000 students being selected every year.
While it's great to know that the number of students going abroad rose again, and to learn that STEM students going abroad are on the rise, the numbers should include how many students study in a language not English. Having this information would paint a stark picture of American students' abilities in language skills and perhaps provide the impetus needed for change. Universities could work with organizations like IIE along with state and local legislators to increase K-12 budgets for language learning to enable students to look beyond English-speaking countries (UK is #1, Ireland #7, Australia #8) and take the courageous step of studying in a second language. This will enable students of all fields of study the ability to study in countries all over the world and in some of the countries with the highest GDP growth, such as across Africa and Asia.
Study abroad experience is an important one that will give American students a leg up in the global marketplace, but the combination of studying abroad and language immersion is even better. Students will return with a better understanding of another culture, the ability to see the world through more than just an American lens, and newly-developed language skills—a winning combination of skills for most any career.
Related
Popular in the Community