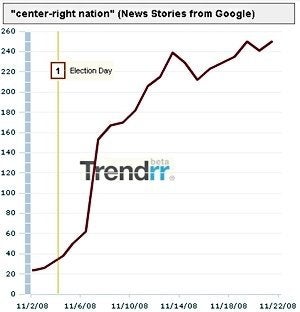 When I wrote my first column about the "center-right nation" and subsequently launched the "Center-Right Nation Watch" series on this blog I predicted that the news media would actually increase its usage of this term after Obama won. I did a Lexis-Nexis search of the term, and was the first to note the trend and make the prediction that "if Obama wins, expect more frantic talk from the fringe about how electing a black man billed as an Islamic Karl Marx obviously means our country is more conservative than ever."
Feeling like I was out on a limb (and remember, this was almost 2 weeks before a group of major progressive pundits belatedly started writing about the trend), I asked a friend out here in Denver who works with a company called Trendrr to officially track whether my prediction was right - and you can see from the results above, it was - more so than I ever expected.
Calling all HuffPost superfans!
Sign up for membership to become a founding member and help shape HuffPost's next chapter