 A study out of the Thomas B. Fordham Institute and Education Reform Now, a conservative education think thank, examined the strength of teachers unions statewide, ranking all 50 states and the District of Columbia according to the power and influence of their state-level unions. The report's authors elected to focus on state-level unions as opposed to local ones, since state organizations are more likely to influence education policy on a large scale.
"For better or worse, teacher unions look out for teacher interests," Chester E. Finn, Jr., Fordham's president, said in a statement. "This study sheds light on how exactly they do this, by measuring their strength, state by state, more comprehensively than any other analysis to date. It illuminates their power to hinder—or promote—education reform, on whether what occurred in Chicago could happen anywhere in the United States, and the myriad ways they seek to influence election outcomes and policy decisions."
To access union strength, researchers analyzed 37 different variables across five areas. One area included resources and membership, which highlighted internal union resources as well as K-12 education spending in the state — including the portion devoted to teacher salaries and benefits.
The authors also looked at the bargaining status of states, namely whether bargaining collectively with teachers was mandatory, permitted or prohibited. The legality of teacher strikes was taken into consideration as well.
A fourth area examined was state policies, or the degree of alignment between teacher employment rules and charter school policies with traditional union interests. Finally, the authors conducted an original survey of key stakeholders within each state that included how influential the unions are in comparison to other state entities, whether the positions of policymakers are aligned with those of teacher unions and how effective the unions have been in blocking policies they oppose.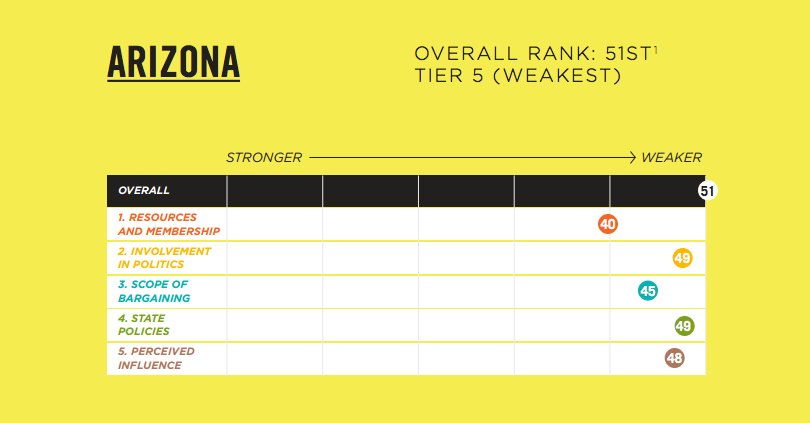 How Strong Are U.S. Teacher Unions? Fordham's State-By-State Comparison
The report did not link rankings to student achievement. Essentially the only metric included in the data that could affect student achievement was teacher teacher employment policies.
The authors ranked the states according to their scores in each of the five areas, and then averaged the five area scores to determine overall rank. The 51 jurisdictions were then arranged into five tiers, with their teacher unions ranked from strongest to weakest.
Hawaii was found to boast the strongest teacher union in the country, while Arizona has the weakest.
The strongest teacher unions are primarily on the west coast and in the northeast; all of these states have mandatory bargaining, boast high membership rates and are politically and ideologically liberal. Unions there also rank highly in perceived influence, according to the insider survey. Southern states generally have the weakest unions.
Dara Zeehandelaar, one of the report's co-authors, told the Sentinel the goal of the study was to highlight the work of teachers unions and "draw attention to the issue at large."
The Florida Education Association counts 56 percent of the state's teachers as members; by comparison, nearly 97 percent of teachers in Hawaii are union members.Florida's union also ranks low due to the state adopting new laws, such as the controversial teacher merit-pay law, that do not align with union interests.
According to the report, West Virginia's policies are better aligned with traditional union interests than any other state, as the state does not support performance pay and does not require student performance data to factor into teacher evaluations or tenure.
"Seniority is the sole factor in layoff decisions, while teacher performance is not considered at all," the report states.
Dale Lee, president of the West Virginia Education Association, disputed this claim, telling the Charleston Gazette, "A lot of things like certification and evaluation come into play. Seniority is a very small part of that."
Other findings include that teacher strikes are legal in 14 states and illegal in 37, and that 32 states require local school boards to bargain collectively with their teachers, 14 states permit local boards to do so and five states prohibit collective bargaining entirely — Georgia, North Carolina, South Carolina, Texas and Virginia.
During the 2010 election cycle, teacher unions in 22 states ranked among the 10 overall donors, excluding individual donations, to candidates for governor and other elected positions. In 21 states, they ranked among the top five highest-giving interest groups, coming in at No. 1 in Colorado and Indiana.
According to the report's insider survey, in just two states — Pennsylvania and New Jersey — were teacher unions unanimously deemed the most influential entities in influencing education policy over a recent three-year period. That said, respondents in 20 states indicated teacher unions were generally more influential, on average, than all other entities, such as the state school board, state superintendent, governor, advocacy groups, etc.
For three years prior to the 2011 legislative session, education policies in most states reflected union priorities. However, the trend became less apparent in 2011, as an increasing number of legislatures enacted policies less aligned with union priorities.
A 2011 Phi Delta Kappa/Gallup Poll found that while three out of four Americans have trust and confidence in public school teachers, 47 percent of respondents believed unions had hurt "the quality of public school education in the United States."
Popular in the Community