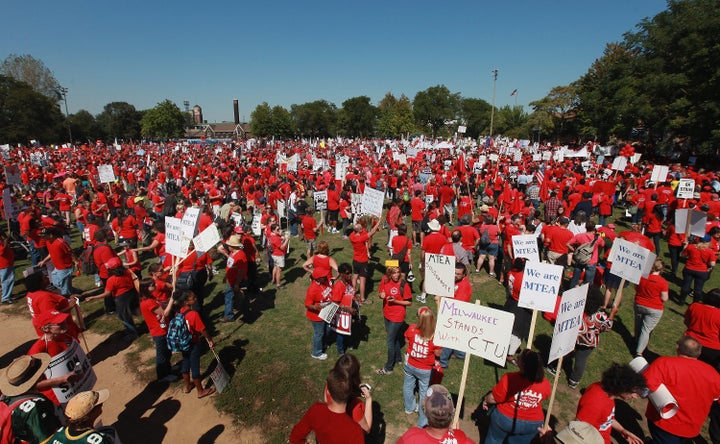 The hiring of public school personnel is outpacing K-12 school enrollment at a staggering rate, according to the Friedman study that takes into account statistics from the National Center for Education Statistics.
Since 1950, America's public schools have seen a 96-percent increase in students that has been accompanied by a 702-percent rise in non-teaching personnel. Teaching staff, meanwhile, increased 252 percent.
The trend has continued across nearly all 50 states. Between fiscal years 1992 and 2009, the number of full-time equivalent school employees increased 39 percent — 2.3 times the rate of increase in students over that 18-year period. Teachers' staffing numbers climbed 32 percent, while administrators and other staff experienced growth of 46 percent.
During that same time frame, 48 states saw their total school personnel increase at a faster rate than their students, or decrease at a slower rate than their decline in students. Nine states with declining student populations boasted significant increases in public school personnel: D.C., Iowa, Louisiana, Maine, Mississippi, North Dakota, South Dakota, Wyoming and Vermont.
Only three states between 1992 and 2009 increased public school personnel at a slower rate than their rise in students — Arizona, Illinois and South Carolina. It is worth noting, however, that the study's span ends in 2009, when states were entrenched in deep cuts from the recession. Districts across the country faced hefty wage and hiring freezes and mass school layoffs as local governments struggled to operate under heavily slashed budgets. Over the last three years, some 32,000 California teachers lost their jobs, accounting for 11 percent of the state's teacher workforce.
According to the study, there is no evidence to suggest that the increase in public school staffing contributed to improved student achievement, as public high school graduation rates peaked in 1969 at 77 percent. Furthermore, between 1992 and 2008 public schools' reading scores on the National Assessment of Educational Progress fell slightly, while scores in mathematics remained the same. A graph from a Huffington Post blog post by Bill Gates illustrates the increase in American school spending combined with flatlined performance: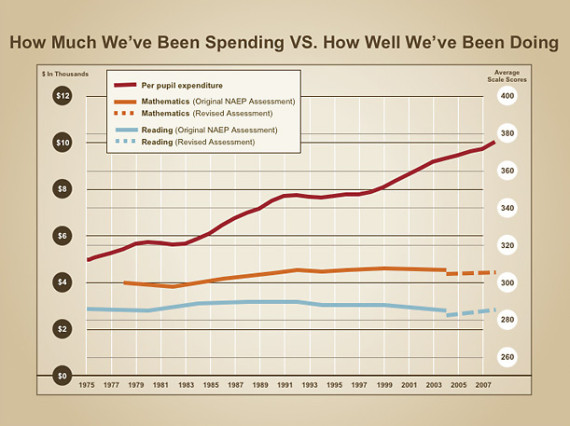 The author, Georgia College & State University economist and Friedman Foundation senior fellow Ben Scafidi, writes that had non-teaching personnel increased at the same rate as students, and had the teaching force only grown at 1.5 times the rate of students, American public schools would have an additional $37.2 billion to spend per year.
Compared to other nations' schools, U.S. public schools allocate higher portions of their operating budgets to non-teaching personnel, and lower portions to teachers, according to the study. Last August, an Organization for Economic Co-operation and Development report showed that the U.S. ranked 22nd out of 27 countries when it came to the ratio of teachers with 15 years' experience to the average earnings of full-time workers with a college degree. At the same time, the U.S. is one of the highest-spending OECD countries when it comes to K-12 education.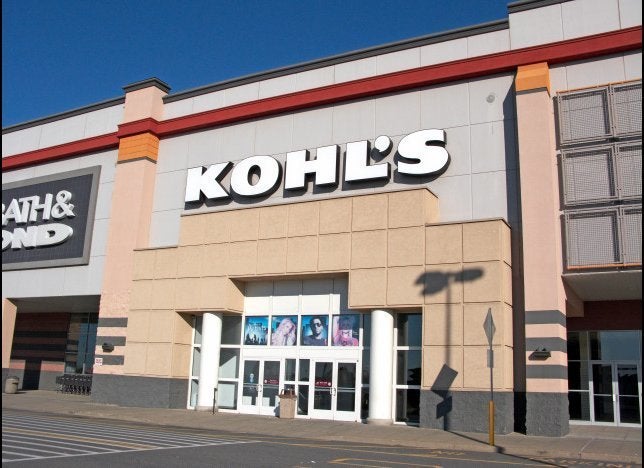 Back-To-School Facts And Figures
Popular in the Community