A controversial method of oil and natural gas extraction known as hydraulic fracturing, or fracking, has resulted in thousands of spills in four states over a 10-year period, a new study finds.
Researchers at Duke University identified 6,648 fracking-related spills in Colorado, Pennsylvania, New Mexico and North Dakota between 2005 and 2014. Fracking uses a high-pressure stream of water, chemicals and sand to tap into rock formations and extract oil and gas deposits. Many of the spills in the researchers' tally include fracking fluids, wastewater and hydrocarbons ― all of which can contain chemicals hazardous to drinking water resources.
The findings were published this week in the scientific journal Environmental Science & Technology and have escalated concerns for many environmental activists who have long opposed fracking. "We're alarmed, but we're not surprised [by the number of spills]," said Seth Gladstone, deputy communications director for environmental advocacy group Food and Water Watch. "We've seen the evidence and we've heard the stories about countless leaks, explosions, fires, human health effects, and employee safety issues all related to fracking."
Fracking has been a contentious issue for environmental advocacy groups and fossil fuel corporations for nearly a decade. The Duke study found up to 16 percent of fracked oil and gas wells have spills each year.
While research has linked fracking to earthquakes and contaminated drinking water in some parts of the country, fracking proponents say the procedure is safe. Nicole Jacobs, a spokeswoman for Energy in Depth, an industry-funded research group, said the thousands of spills identified in the study are not a major concern.
"It is important to keep studies of this nature in context," Jacobs told The Huffington Post in a statement. She pointed out that not all spills associated with the fracking process were of hazardous material. "There were freshwater spills included in the study, including the largest spill in the report, and ... a vast majority of spills are small and contained on site."
The biggest takeaway from the study may not be the number of spills, but the way in which they are recorded, said Lauren Patterson, lead author of the Duke study and a policy associate at Duke University's Nicholas Institute for Environmental Policy Solutions.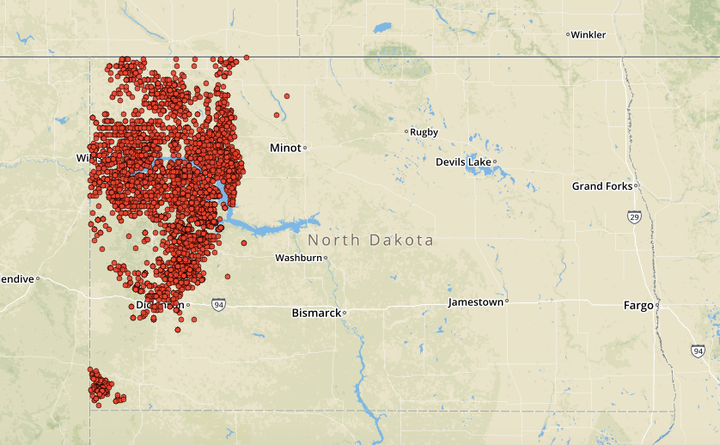 Currently, spill reporting requirements vary from state to state. Patterson said the report underscores the need for states to adopt uniform data collection standards to help determine how best to reduce spills.
For instance, North Dakota, an oil and gas production stronghold, reported the highest number of spills, with 4,453 incidents. Pennsylvania had the second highest rate at 1,293, followed by Colorado with 476 and New Mexico at 426.
Patterson said the disparity can be attributed in part to the states' differing laws on spill reporting requirements, since North Dakota requires reporting smaller spills than Colorado and New Mexico do. Differences in data collection pose a challenge to regulators seeking a fuller understanding of where and when spills occur nationally.
A 2015 EPA report on fracking found just 457 spills across these states and four others between 2006 and 2012, though that report had only accounted for spills related to rock fracturing, not the full production cycle, which also includes transport and storage. Fifty percent of spills recorded in the Duke study were related to storage or pipeline leaks.
Some states aren't explicitly required to report the cause of a leak, posing a challenge to regulators seeking to mitigate spills. Duke researchers hope their new study will prompt state lawmakers to revamp the data collection system to help regulators better understand the environmental impacts of fracking.
"Analyses like this one are so important, to define and mitigate risk to water supplies and human health," Kate Konschnik, director of the Harvard Law School's Environmental Policy Initiative, said in a press release. "Writing state reporting rules with these factors in mind is critical, to ensure that the right data are available ― and in an accessible format ― for industry, states and the research community."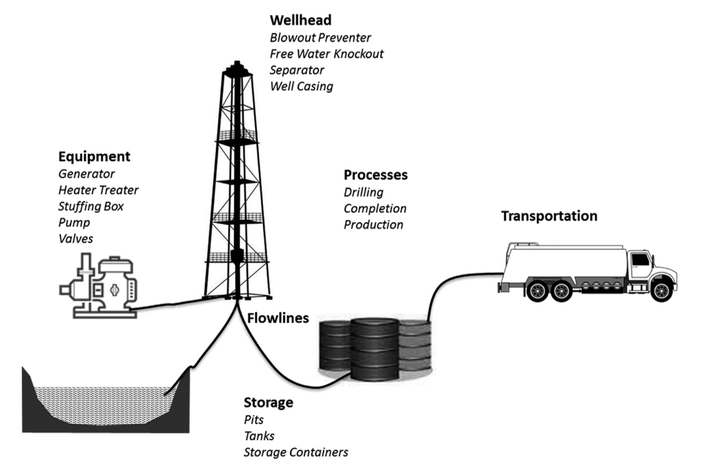 While fracking accounts for more than two-thirds of U.S. natural gas output today, the process didn't become common industry practice until a few years ago. In 2010, there were nearly 26,000 fracking wells across the country. By 2015, the number of wells had skyrocketed to roughly 300,000. Well proliferation is credited with creating the recent oil and gas boom in the U.S. ― much to the dismay of environmental advocacy groups.
Despite the fact that the majority of American people believe the U.S. should focus on developing renewable energy over fossil fuels, it appears the proliferation of fracking wells isn't slowing down anytime soon. President Donald Trump said last August he supported state-level fracking bans, before reversing course the following month.
"You will get that business," Trump told fracking executives at the Shale Insight conference in September. "You are going to like Donald Trump."
Democratic lawmakers have accused several of Trump's cabinet members, including former ExxonMobil CEO and Secretary of State Rex Tillerson and new Environmental Protection Agency head Scott Pruitt, of prioritizing fossil fuel industry interests over environmental protections.
Gladstone said it's critical to have "up-to-date access and reporting on industry activities" under the Trump administration.
"With this new administration so deeply tied to the oil and gas industry," said Gladstone, "it's more important than ever at local and state levels to build power and hold our local and state officials accountable and making sure they are resisting the pro-polluter agenda."
How will Trump's first 100 days impact you? Sign up for our weekly newsletter and get breaking updates on Trump's presidency by messaging us here.
Popular in the Community