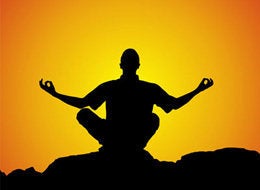 Mantras can help with stress reduction, new research shows.
Mantras, or mantrams, are a word or phrase with spiritual meaning, write Jill Bormann, PhD, RN, and colleagues in the Journal of Advanced Nursing.
The researchers studied 30 veterans and 36 hospital workers at the Veterans Affairs San Diego Healthcare System, where Bormann is a research nurse scientist. In a five-week class, participants chose a mantra and learned to use it to manage stress.
Related