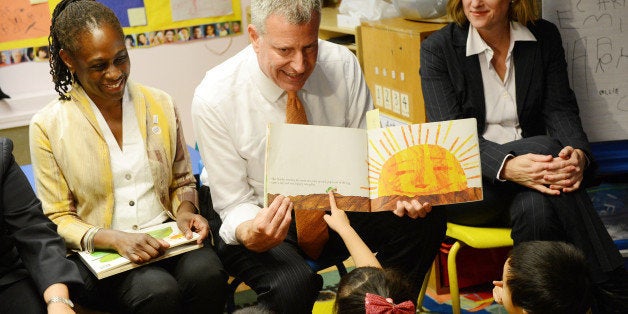 New York City's new, much-touted universal pre-K program favors the city's wealthier residents, according to a new study released Wednesday by California researchers that Mayor Bill de Blasio's administration is calling inaccurate.
The report from Bruce Fuller, a professor of education and public policy at the University of California at Berkeley, found that de Blasio's effort to expand access to preschool across the city may be further perpetuating existing educational inequities. In the first year of the program, available pre-K seats increased by greater percentages in zip codes with higher household incomes than in zip codes with lower household incomes, according to Fuller. Seats were also more concentrated in the boroughs with higher median incomes -- Queens, Manhattan and Staten Island -- while the Bronx and Brooklyn had fewer spots, the report says.
But according to the Fuller report, the mayor's plan is not living up to the promise so far.
"Given how de Blasio had raised pre-K to fight inequality and talked about a 'tale of two cities,' given this progressive rhetoric in the campaign, we thought the bulk [of new preschool seats] would be in lower-income communities," Fuller told The Huffington Post. "But the more we learned about the process, the more these findings made sense to us."
Fuller speculated that in the rush to make new preschool slots available, the city expanded preschool slots in areas where more physical space was available and where parent applications were the strongest. That meant new spots went to higher-income communities. A map below displays Fuller's thesis in action: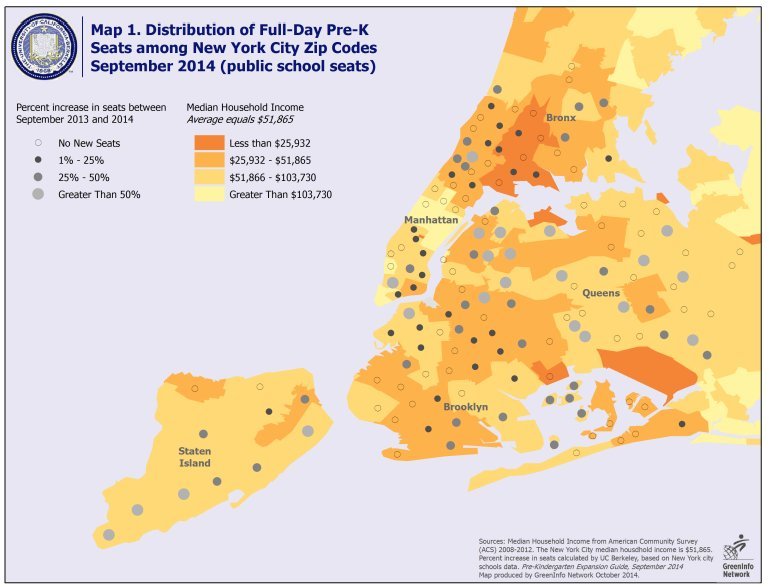 However, representatives from City Hall vehemently rejected Fuller's findings.
"This study is based on errors and false assumptions that no New Yorker or early education expert would ever make. Calling Queens a wealthy borough -- when we're serving neighborhoods like Flushing and Jamaica with average incomes lower than $20,000 year -- is not just misleading, it's offensive," said de Blasio spokesman Wiley Norvell in a statement.
"In reality, the real challenge in our first year has been boosting the number of seats in many middle-class neighborhoods -- where district schools are at capacity and community-based centers are few. That's something we're addressing as we work to provide pre-K for every 4-year-old next year," Norvell said.
W. Steven Barnett, director of the National Institute for Early Education Research (NIEER) at Rutgers University and an advocate for universal preschool, also disputed Fuller's findings. He said that because Fuller looked at the percentage increase in pre-K seats, and not the raw numbers, his results are misleading. Prior to this year, more low-income students than high-income students were already attending city preschool, so wealthy neighborhoods could see higher increases because they had fewer seats to begin with, Barnett said.
"If you just take his numbers from zip code or borough and switch to percentages or numbers, the numbers don't match his case if we were already mostly serving poor kids," said Barnett. "You can see the way the report is carved up. He talks about public school spots and providers, but doesn't ever give you the total number of slots for any of these things."
According to representatives from the City Department of Education, just 288 new pre-K seats were created in the city's 10 richest zip codes. On the other hand, they said, 3,293 spots were created in the least-wealthy zip codes.
Fuller told The Huffington Post that he converted raw numbers into percentages because "we thought it would be simpler to understand." He also noted that the numbers he used are slightly outdated and may have changed recently, though not in a way that would impact his central idea.
"For any future work we do, we will definitely have to see where kids are settling out and actual enrollment counts," he said. But, he added, "We don't see any reason to think our estimates are biased."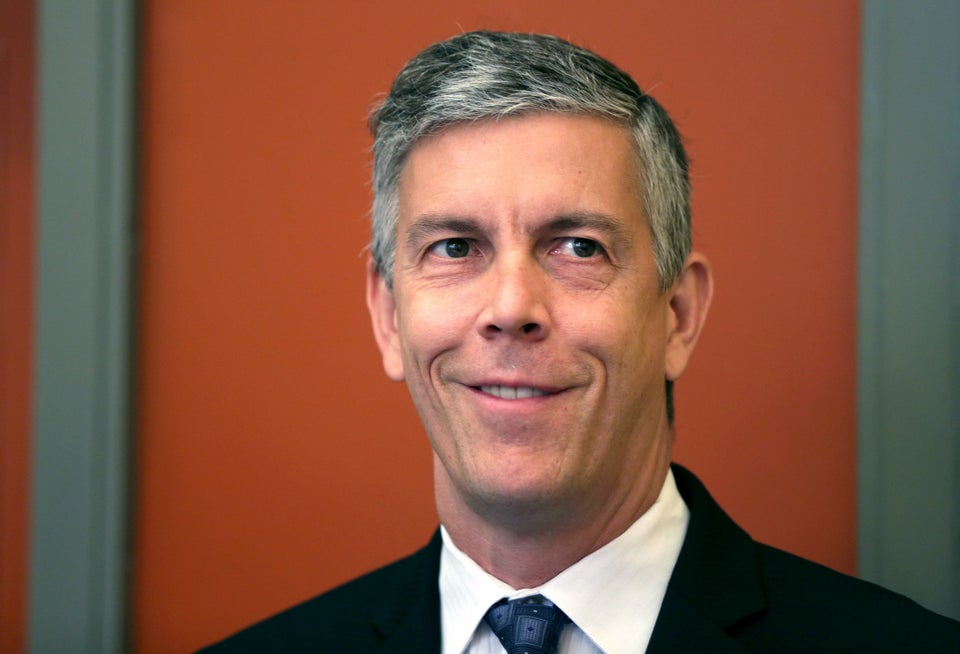 Education Leaders Who Have Never Taught
Popular in the Community