 Whatever the tone of the coverage, Obama's visit to the Middle East and Europe was an extraordinary media event. Coverage of the trip consumed 51% of the campaign newshole for the week of July 21-27, according to the Project for Excellence in Journalism's Campaign Coverage Index. That was enough to make it the second-biggest campaign story line since PEJ began tracking them in mid-March. (Only coverage of the April 22 Pennsylvania primary, during the week of April 21-27, generated more attention.)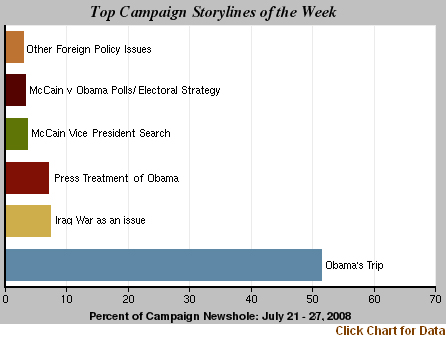 The biggest McCain-focused storyline was his vice-presidential pick (helped along by Robert Novak), but that took only 4% of coverage, and, PEJ reports, was often "couched in the context of a candidate desperately needing to create news of his own."
Of course, PEJ acknowledges that "not all of the coverage last week was flattering."
Popular in the Community