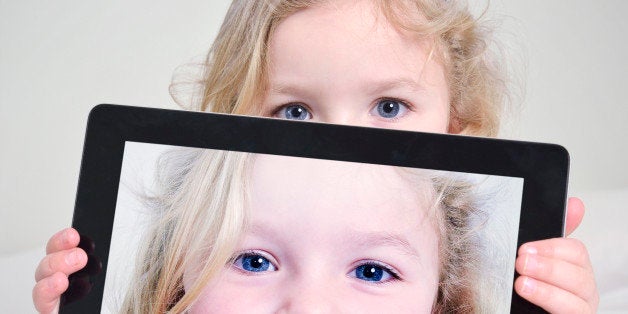 On a recent plane trip, the toddler in the row ahead of me reached through the gap in the seats and swooshed her finger across my iPad. She didn't speak; she didn't even look at me. She simply had a nearly instinctual response to my tablet: Swipe!
It's a dramatic increase in the two years since we first measured a significant surge in kids' mobile use in our 2011 Zero to Eight study. Both studies show the profound role media plays in children's lives -- and the importance of recognizing its impact.
Families love mobile devices. There's been a five-fold increase in ownership of tablet devices such as iPads, from 8 percent of all families in 2011 to 40 percent in 2013.
Kids really love mobile devices. Almost twice as many children have used mobile media compared to two years ago, and the average amount of time children spend using mobile devices has tripled.
Traditional media is on the decline. Time spent with screen media such as television, DVDs, video games and computers is down substantially, by more than half an hour a day.
TV is still king. Television continues to dominate children's media time, but new ways of watching now make up a large portion of viewing.
There's a digital divide between rich and poor. Access to mobile media devices and applications among poor and minority children is much higher than it was two years ago, but a large gap between rich and poor persists.
TV is the biggest provider of educational content. Among all 0- to 8-year-olds, 61 percent often or sometimes watch educational TV shows, compared with 38 percent who use educational content on mobile devices as frequently.
Understanding what kids are using, how they're using it and how much time they spend on it can help lead to better products, better parenting and better public policies. Media can have a profound effect -- both positive and negative -- on kids. If a 2-year-old can swipe a screen, we owe it to kids to create media and technology that maximizes the positives.
WATCH: Zero to Eight: Children's Media Use in America 2013
About Common Sense Media
Common Sense Media is dedicated to improving the lives of kids and families by providing the trustworthy information, education, and independent voice they need to thrive in a world of media and technology. We exist because our kids are growing up in a culture that profoundly impacts their physical, social, and emotional well-being. We provide families with the advice and media reviews they need in order to make the best choices for their children. Through our education programs and policy efforts, Common Sense Media empowers parents, educators, and young people to become knowledgeable and responsible digital citizens. For more information, go to:www.commonsense.org.