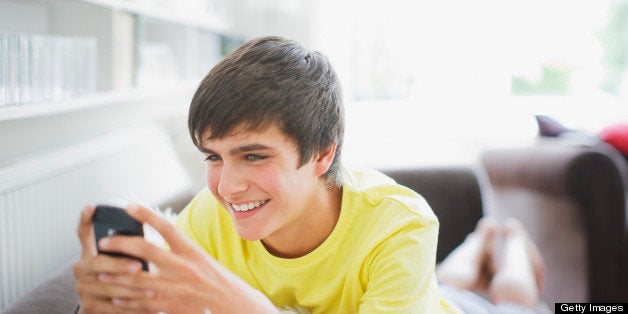 Last week, I spent time in Southern California -- not a bad place to hang out. While I was there, however, I was reminded of some life lessons I'd forgotten. I watched ordinary people walking, hiking, biking, enjoying the ocean, and the weather. The day reminded me that many of the messages the media in our culture is sending us -- and even more so, sending our young people -- just aren't true. May I remind you of some of those life lessons?
1. You don't have to buy something to have fun.
Let's be honest. We are conditioned today to be consumers. It's affected all of us. While there's nothing wrong with making purchases for things we need, I was reminded that I don't have to buy anything to have fun. I was with people I love and we walked and talked, sat in the sun and for a long time... didn't spend any money. It is possible to re-condition our minds to experience happiness that requires no cash.
2. You don't have to own something to enjoy it.
Many of the people I saw were enjoying a bike or a boat that belonged to someone else. They either rented it or had a friend who owned it. To be honest, many of my friends own possessions I cannot afford. I have learned to enjoy them and their owners, and not feel like I "need" one too. I am not endorsing "freeloading." I'm just saying I don't need to feel the pressure of calling it "mine."
3. You don't have to be in class to learn something.
Far too often, we categorize our lives and think that learning is done in school, and pleasure is experienced on weekends. Work is not fun; play is fun. I think that's faulty thinking. I can learn anywhere and experience fulfillment in a classroom or an amusement park. I can make my hardest task an adventure and find fulfillment in it. If I'm alert, most of my learning will be outside of class and it can last a lifetime.

4. You don't have to hear something, to be entertained.
So much of our culture is full of noise and clutter. There is something to see and hear almost anywhere you go. This not only numbs us emotionally, (we're overwhelmed) but it fosters our need for outside sources to entertain us. It's healthier to be in a place where I don't need a video game, a show, a movie or a song to be entertained or stimulated. I can learn to enjoy life with little help from artificial sources.
5. You don't need a screen to cultivate friendships.
Most kids today spend more time interacting with friends on a screen than they do face to face. Thanks to smart phones, tablets and laptops containing Facebook, iChat, text messages, Instagram, and other social media outlets, it's easy to interact virtually rather than personally and face to face. Sadly, most communication is non-verbal. When we use a screen our emotional intelligence fails to grow as efficiently.
6. You don't need outside stimulation to get motivated.
Due to non-stop external stimuli like video games, TV, movies, Wii, computer games, iPods and YouTube, we've learned to depend on outside noise or visuals to motivate ourselves. Let's face it: most of us need music and coffee to wake up in the morning. We've learned to need "stuff" to get us to do what we should do. What did people do before technology? I think they somehow developed internal motivation.
We all know that technology is not going away. Personally, I love the conveniences it offers. This is just a simple reminder to not depend on "stuff" to artificially produce a healthy, happy person. Those are God-given gifts and they're already inside you.
Related