This is Scout. He's a 9-year-old pit bull with a new book out that shows off his remarkable talent for sitting very still while all kinds of objects are perched on his big, lovely head.
Scout lives in Toronto, Canada, with two cats, a great Dane and his human mom, Jen Gillen, who has been keeping a blog called Stuff on Scout's Head for a few years now.
"He actually has quite the large flat surface on his head, making it actually quite easy for him to balance things since he sits so still for these tricks,'' Gillen told The Today Show last year. "It started when a friend suggested that I put a roll of toilet paper on his head. He instantly posed and balanced it so well, that I decided to try my luck, and try some other humorous items."
The blog, and now the book, are more than just a laugh. Through Scout's utterly nonthreatening brand of fame, Gillen is also hoping to change people's minds about pit bulls, and to advocate against breed specific legislation, or "BSL" -- laws that prohibit or restrict dogs based on their breed.
It's a personal mission: Scout himself is required to wear some frightening-looking headgear in public because of pit bull regulations in his own hometown.
"Scout and I live in a province that has [had] BSL throughout it for just over nine years," says Gillen. "That makes half of Scout's mission about educating, why I throw in the occasional sad muzzle picture. Because pit bulls are cute and goofy yes, and as more people are learning that, the reality is that these laws turn them into monsters especially to the people who don't realize why this dog is wearing a muzzle."
Beyond this, Gillen is also hoping to impart the message about the importance of... well, you can see what the message is right there in the photos.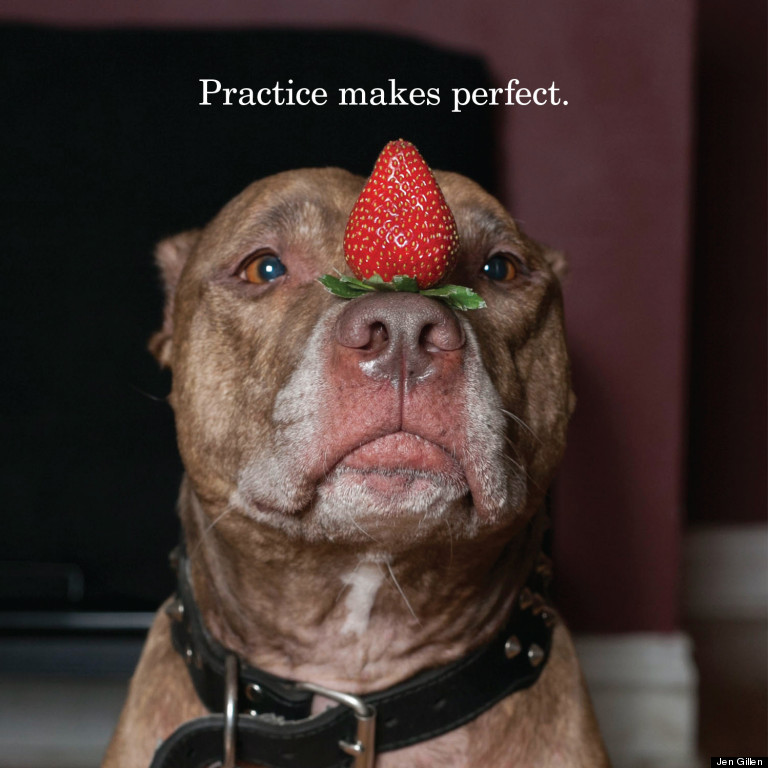 "If we just take a second, out of our day, let everything fall away, all the stresses and the worries, and just focus on one small task, and achieve it," she says, "Well, that's huge! We've found our zen. You sometimes need to take a step back and refocus, with or without things on your head."
As for Scout, despite going on television, and becoming an internet star with a newly published book, Gillen says his interests mostly remain modest -- palling around with his animal siblings and chasing squirrels, then spending "most of his days snoozing" -- though it is possible, his loving mom admits, that all this attention is giving him a bit of an inflated noggin.
"He does demand more treats sometimes," she says.
Get in touch at arin.greenwood@huffingtonpost.com if you have an animal story to share!
Popular in the Community