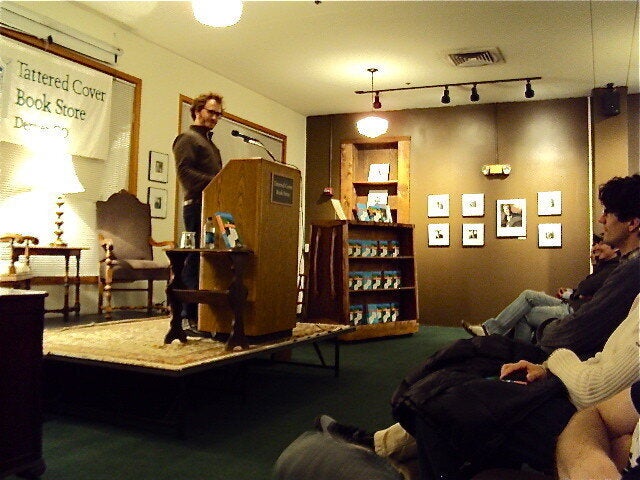 Christian Lander, author of The New York Times bestseller "Stuff White People Like," passed through Colorado as part of his second book tour for his hilarious book lampooning white hipster culture. Lander visited the Boulder Book Store on Wednesday and Lodo's Tattered Cover Thursday to promote his newest book "Whiter Shades of Pale."
Talking about his speedy and slightly controversial ride to success, Lander says the joke was on him.
The idea for "Stuff White People Like" actually even started as a joke amongst friends on a website--and then it grew to an audience of up to 400K per day.
"And most of them were misguided searches for fair-trade coffee," Lander says. But from there he says it took only 6 months to get an agent, write the book, publish the book, and get onto The New York Times' Bestseller list.
Now the book is being translated into Japanese and Lander says he's thrilled. In part, we're sure, because Japan is No. 58 on the list of "Stuff White People Like."
"It's going to have to have like a hundred footnotes to explain everything," he said. "But every year I have this dream, this fantasy of the book being treated as a textbook for talking to white people."
While it's true that Denver didn't get its own byline, Lander does write about Boulder (and--full disclosure--The Huffington Post made it too) in his new book.
Nestled in the mountains, Boulder, Colorado, has been singing its siren song to white people for generations. With a college, ample skiing, complete acceptance of hippies, strict development laws, and abundant nature, it's sort of like a halfway house for people who want to move to Canada. The typical Boulder white person is generally older than most, as the only people who can afford to own property in Boulder are those who bought it in the 1970's.

Popular in the Community