You might invite your favorite stuffed animal to tea parties, but you haven't shown your plush puppy, bear, kitty or bunny true love until you've sent it away to Nuigurumi Cafe.
The Tokyo restaurant serves sweets, adventure and luxury experiences exclusively to stuffed animals.
Yep, that plush piggy is eating a stack of flapjacks.
Inanimate objects aren't expected to mosey on over to the restaurant on their own -- that'd be silly. Instead, customers make a reservation and then overnight their stuffed animals to the cafe. Upon arrival, the animals are treated to 14 different experiences, including a limousine ride, a smoothie welcome drink prepared by resident chef Hebi-chan the snake (yes, the employees are stuffed animals, too), and a luxuriously comfortable overnight stay.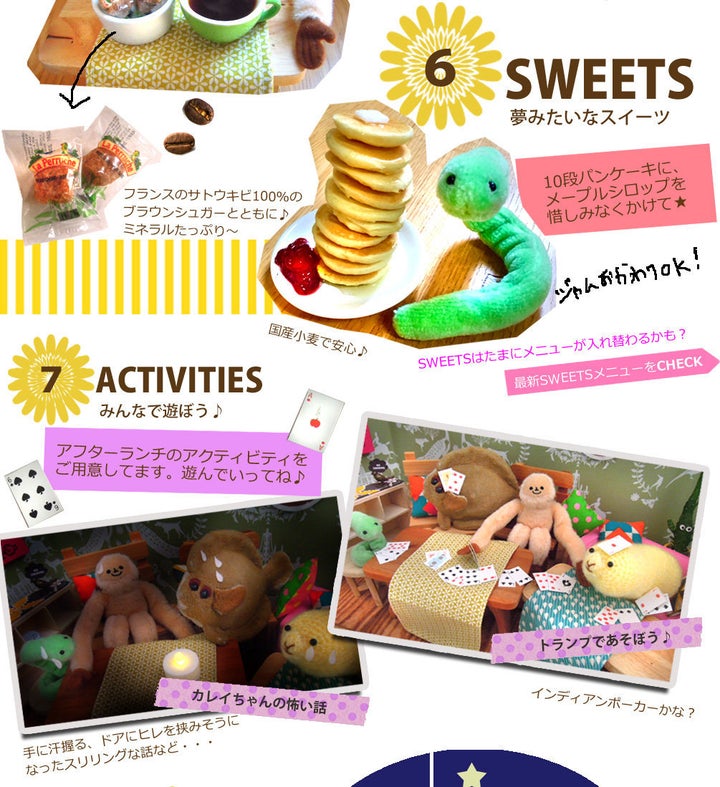 The stuffed animals are then sent back to their homes with a souvenir and photo album that captures the experience, so they can always remember their getaway and share their memories with their human friends.
The standard package also includes a frequent customer card, which is stamped upon each visit. Rack up enough stamps, and frequent guests and their owners earn prizes like mugs and magnets. Each package costs around 4,968 yen -- about $40 -- as well as the cost of shipping. But unless you're Blue Ivy's favorite cuddly or some other VIP, you probably won't be able to snag a seat until after mid-September, as the cafe is entirely booked until then. Keep an eye on availability here.