As I was making the masala mixture to fill the green chilies with, I asked my grandmother if I need to add two small 'kharchas' of oil, at which my mother laughed. I realized quickly that the added 'h' changed the meaning entirely. While kharcha or kharcho refers to cost or price of something, a karchho is a ladle. Pronunciation in Gujarati is of utmost importance, from the rolling of the 'r's to the way you say your 't's - not as we would in the English language, but with the tongue at the back of the upper teeth.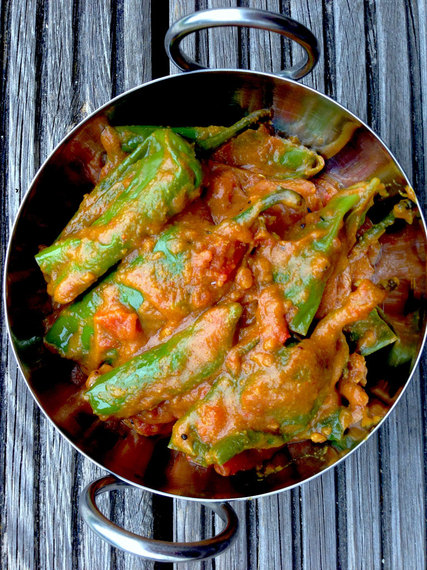 This curry might be made of chilies, but it is more sweet than it is spicy, with one of the key ingredients of the stuffing being jaggery, or gor, a brown natural unrefined sweetener that is high in protein, iron and mineral content. This curry goes well with any other combination of curries on the table, and as always, complemented by daal on the side - either Gujarati daal or Tadka daal. These larger chillies are often rather mild, and if they're spicy, then removing some of the seeds mitigates the spiciness.
8 large green chillies
Masala mixture for stuffing
2 tablespoons chickpea flour
1 tablespoon cumin powder
1 tablespoon coriander powder
2 tablespoons chopped jaggery pieces
1 teaspoon salt
1 teaspoon turmeric
1/2 teaspoon red chilli powder
3 tablespoons oil
Vaghar
2 tablespoons oil
1/2 teaspoon mustard seeds
1/2 teaspoon fenugreek seeds
2 tomatoes, chopped
Wash and slit the green chillies lengthwise, then cut in half and remove some of the seeds, to ensure that the curry isn't too spicy. Now mix together all the ingredients for the stuffing, crumbling the jaggery so that the mixture is smooth. Stuff the chillis with this mixture. There should be some masala powder left over, which can be used in the curry later.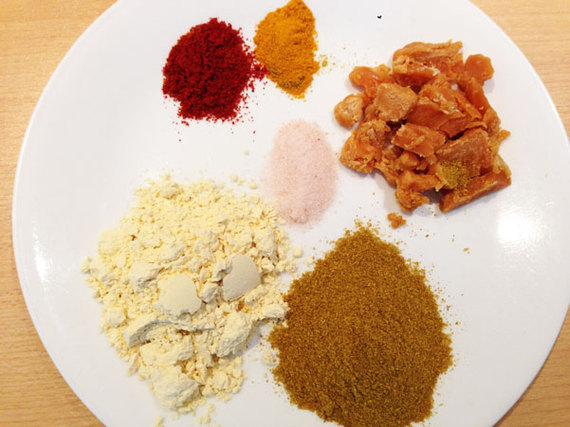 Now heat oil with mustard and fenugreek seeds in pan. Once the mustard seeds start to pop and the fenugreek seeds are brown, add all the stuffed chilis carefully and stir while this heats for five minutes. Add the water, stir again and covering the pan, leave this to cook on low heat. If the curry is looking a little dry while cooking, add a few more tablespoons of water. The rest of the masala mixture for the stuffing can now also be added into the curry. Stir this thoroughly and leave to heat for around ten more minutes. You can check that the chillies are cooked using a knife - the chilies should be very soft. Now add two chopped tomatoes. Alternatively you can use 4 tablespoons of tinned tomatoes. Mix and let this cook for a little longer, then garnish with coriander when serving.