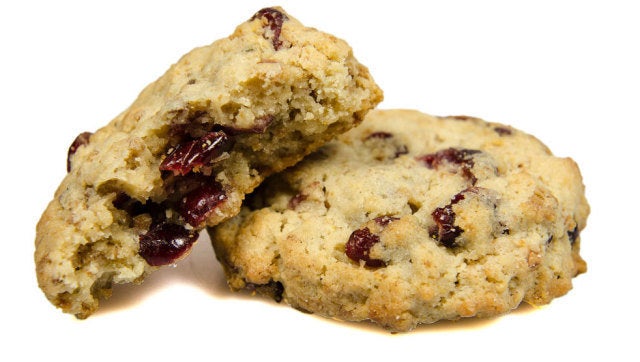 You read that headline correctly -- stuffing cookies. Cookies made of stuffing. Thanksgiving stuffing. When NYC's Downtown Cookie Co. let us know that their flavor of the month for November would be Pepperidge Farm Stuffing, we have to admit we were skeptical. "Is it just stuffing shaped like a cookie?" one of us asked. "Can this possibly be good?" wondered another.
Because we needed to find out, we got our hands on a batch, and we have great news for you -- these cookies are amazing. It seems that the stuffing has been used as one of the main ingredients, lending an herbaceous, savory quality to the buttery cookies, while whole bits of cranberry run through to remind us that we are eating dessert. We are wholly caught off guard by how great these cookies are, especially since we had no idea what to expect.
One editor noted that the texture was what really made her love it. "I love the slight undercookedness in the middle and the crunchy bits on the outside. And, these cookies are further proof that all cookies need a little bit of salt in them." These dense cookies definitely do not lack butter -- which is exactly how we prefer our cookies.