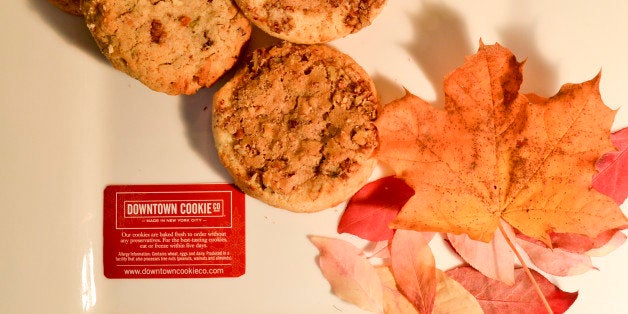 Move over, pumpkin pie. There's a new Thanksgiving dessert in town.
Here at HuffPost Food & Drink, we field daily PR pitches that shill new food products, ranging from the hideous to the incredible. Unfortunately, most of them err on the side of hideous ― so last year when we read about a cookie made from Thanksgiving stuffing, we steeled our tastebuds for a horrifying experience. (But of course we had to try them.) Boy, were we wrong.
Made by Downtown Cookie Co. in New York City, Thanksgiving Stuffing Cookies are complex, subtle and completely surprising (in a great way). They're formulated from a basic cookie recipe, except for one unexpected ingredient: Pepperidge Farm Stuffing. While we anticipated the marriage of cookies and stuffing to be dry, salty and unforgivingly inappropriate, they were anything but.
About 10 seconds after our first bite, our eyes turned into dinner plates as the nuances of the stuffing came to life on our palates. The cookie is unfailingly moist, with a tender crumb and delicately balanced flavor, thanks to just a hint of salt and dried spices. Plump dried cranberries stud the cookies throughout to make them even more Thanksgiving-y.
You can order the cookies from Downtown Cookie Co., but you'll need to hurry because they're only available during the month of November, and they're in high demand. But we have great news for those of you who can't order them in time: The kind folks at Downtown Cookie Co. have shared their recipe exclusively with HuffPost Taste. Bake these yourself and let us know what you think:
Downtown Cookie Co. Pepperidge Farm Stuffing Cookie
1 cup butter (two sticks)
1 cup packed brown sugar
1/2 cup white sugar
2 eggs
1 teaspoon vanilla
1 3/4 cup flour
1/4 teaspoon baking powder
1/4 teaspoon salt
1/4 teaspoon cinnamon
2 1/2 cups Pepperidge Farm Stuffing
1 cup dried cranberries
Mix flour, Pepperidge Farm Stuffing, baking powder, salt and cinnamon in a bowl and set aside. Cream the butter and sugars. Add eggs and vanilla extract and beat well. Add dry ingredients until combined. Mix in cranberries. Drop two ounce cookies onto ungreased baking sheet and bake in 350 degree oven for approximately ten minutes. Remove from oven, let cool, and enjoy! Yield - 15 (Baking time may vary depending on oven. For smaller cookies baking time varies).
Before You Go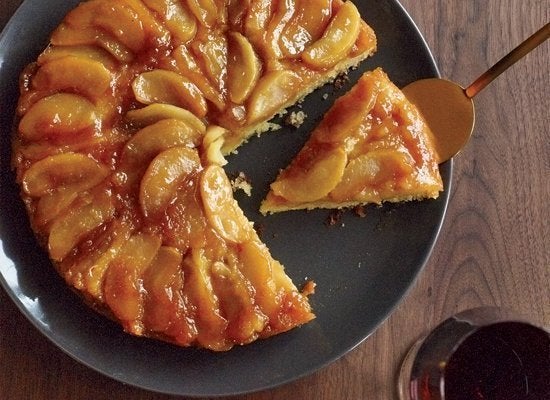 Stunning Thanksgiving Desserts
Popular in the Community