It can be challenging enough to feed the Thanksgiving crowd even before you get into the nitty-gritty of your guests' dietary restrictions. But because breaking bread together is so obviously central to the day's celebrations, it can feel exclusionary to force vegetarian or gluten-free guests to fend for themselves.
Hopefully, you'll find something to fit your guests' requirements from this roundup of stuffing recipes for every diet below. Then be sure to leave us your favorite (and healthy!) stuffing recipes in the comments!
Vegetarian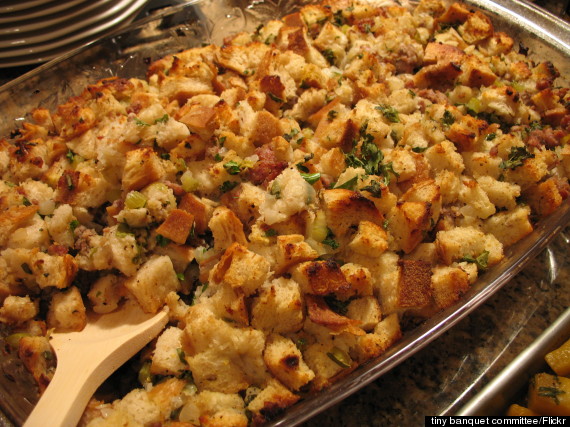 It's relatively easy to make your favorite stuffing recipe vegetarian-friendly by leaving out any sausage and swapping in vegetable stock. This Homemade Challah Stuffing calls for mushrooms, which will give meat-lovers that little something extra in terms of texture.
Dairy-Free Anyone with a dairy allergy, lactose intolerance or who doesn't mix milk with meat will love this Pumpkin and Herb Stuffing. Dairy eaters won't notice missing milk or butter thanks to tons of flavor from pumpkin, pears, cinnamon, raisins and more. Just make sure to read the label of any store-bought bread you toss into the mix to guarantee it's dairy-free.
Gluten-Free
Get all the fall flavors without the wheat by using quinoa as the base for your stuffing, as in this recipe with sweet potatoes, apples, craisins and nuts. Not only is quinoa gluten-free, it's the only grain that is also a complete protein.
Vegan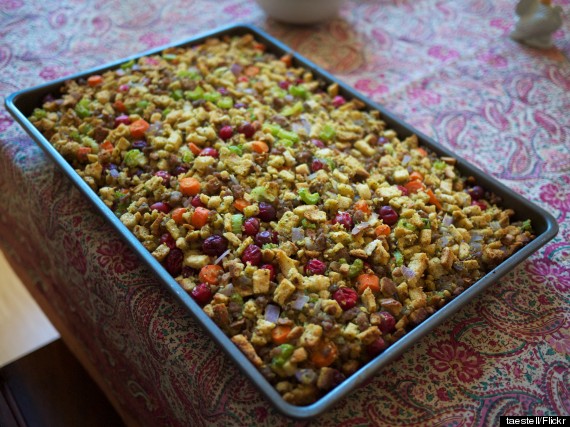 Homemade breads are more likely to be baked with milk, eggs or butter than store-bought varieties, but some of the brands at your local market may contain dough conditioners that aren't exactly vegan, either. For a truly vegan stuffing, you'll want to read the label or make your own bread, but with the right loaf, this Sourdough Stuffing will be a big hit.
Low-Fat Cutting out pork sausage in favor of turkey drops the fat content in this Sausage Stuffing recipe from 19 grams to just 4, according to EatingWell. You can also experiment with trading butter for olive oil. The oil still contains fats, but they are monounsaturated, which can help lower bad and boost good cholesterol.