As a Georgia peach with roots in Huntsville, Alabama, I knew dressing to be a particular bundle of characteristics: day-old cornbread crumbled into a pile that looked as high as a mini-mountain in a mixing bowl, drippings from a turkey roasted in a Reynolds oven bag, with coarsely chopped green peppers, onions and celery showered into the mixture of bread and broth. And it was always perfectly browned and crispy at the edges once removed hot from the oven.
But ask someone else and you might hear about stuffing (as opposed to dressing), the different types of bread used to make it, or whether it's cooked inside the cavity of the turkey. Through the years, the differences between versions of this side dish have become an annual source of contention in November.
Which is the ultimate version ― and whether it's called stuffing or dressing ― is a subjective question at best, and limiting at worst. Differences seem to straddle geographic regions and, in some instances, racial lines.
When thinking of Thanksgiving, most Americans rely on the fable of European pilgrims and indigenous people gathered in an amicable setting to break bread. Today, we know it was not like that. But we don't know exactly what was served on that supposed first Thanksgiving.
What we can definitively conclude is that whether dressing or stuffing was involved, the dish's bread base plays to the strengths and culinary traditions of the region where this side dish is being served.
Dressing Is For Southerners
As a black woman from the South, dressing is the only name I've ever known for the hallowed Thanksgiving side dish. This is the solid truth for most Southerners, whether black or white.
Southern Living suggests that going to the map illustrates this point succinctly. A quick scan of Google Correlate using the term "dressing" as a query shows that this time of year, finding just the right recipe and technique for making it is on the minds of those residing in Southern states, including Georgia, Florida, Mississippi, Alabama, Tennessee, South Carolina and Arkansas.
The term dressing, per the History Channel, originated around the 1850s, when the Victorians deemed stuffing too crude for the dish to be named. This happened around the same time that the term "dark meat" began to refer to chicken legs and thighs.
Just like today, cornbread was used in dressing because it was a staple in the typical Southern diet. Old, stale cornbread was repurposed instead of being thrown away, and was mixed with aromatic herbs, broth, salt and pepper. Then it was baked until it had the consistency of a casserole, and eaten alongside turkey, collard greens and sweet potatoes.
This is something that Kia Damon, sous chef of New York's Lalito who's originally from Orlando, Florida, knows to be true about the dressing she grew up eating. "Now, much older and wiser, I have so much love for dressing and watching my mother make it every time I'm home for Thanksgiving," Damon told HuffPost.
Damon's mother's special dressing combines her own turkey broth with giblets and bits of the neck and boiled egg, and is served with a dish of cranberry sauce.
Stuffing Is For Northerners (And The Pacific Northwest)
Those outside the Deep South historically veered toward using breads for stuffing ― sourdough, challah, leftover crusty baguette, even regular white sandwich bread no longer soft enough for sandwiches. Depending on which region you live in, stuffing can include seafood ― mussels, oysters, clams ― especially in New England or the Pacific Northwest.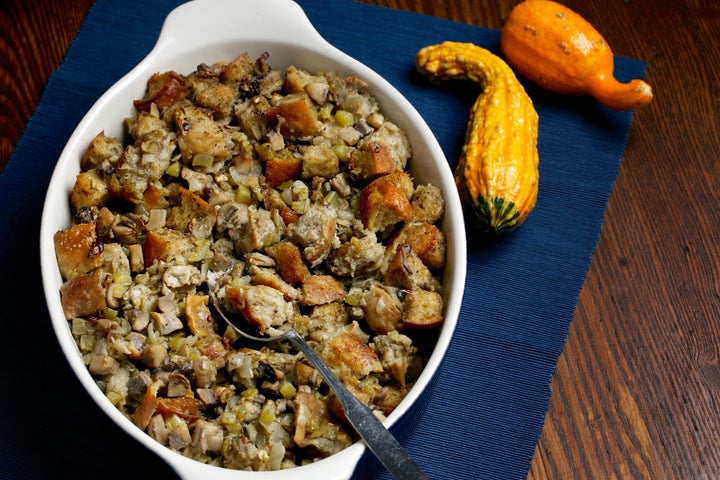 Naomi Tomky, a food and travel writer based in Seattle, grew up eating stuffing her mother made with assistance from store-bought Stove Top mix. "For me, Thanksgiving is all about the butter-soaked stale bread that is stuffing. That means preparing it exactly as the Stove Top directions say on the box ― I'm not fancy at all," she said.
Tomky added that her mother made their family stuffing inside their turkey, but often there wasn't enough of it, so they made an additional pan of it on the side.
Layla Schlack, senior editor of Wine Enthusiast, said bread choice is crucial for the flavor outcome. "I like to use a combo of rye, wheat and maybe sourdough, so there's some tartness and nuttiness," she said. "It's a good foil for gravy."
Dressing Is For Midwesterners
Prepare to have everything turned on its head. In the Midwest, things get a little muddled.
Lacey Muszynski, a food and drink writer based in Milwaukee, said she's always called the Thanksgiving side dish stuffing, as do other Midwesterners. Generally, in the Midwestern states, it's called stuffing regardless of the ingredients or whether it's cooked inside a turkey.
Depending on the family or cook, other ingredients can be tossed in ― sauerkraut in the northern Midwest, wild rice in Minnesota, even dried cranberries or cherries, Muszynski said.
A stuffing basic, however, cannot be missed. "In my family, the stuffing is the favorite item at Thanksgiving, and we use about a 50-50 mix of generic French bread and cornbread," Muszynski said. "My mom started making stuffing that way before I came around, and she got the recipe from one of the local newspapers, probably in the '70s or early '80s. We still have the clipping somewhere."
When Traditions Change
A few years ago, as I started to explore what Thanksgiving would look like as I created my own holiday traditions as an adult, I attempted to mimic the dressing I saw being prepared by my mother, maternal grandmother and aunts.
I added fresh sage and other herbs in addition to roasted mushrooms for something a little different. But the cornbread and broth mixture felt watery instead of thick and homogenous like I'd always seen.
After many trials and fails, my mother told me what I'd been missing: a box of Stove Top mix. Guess there are still surprises to the dressing I've come to know, love and eagerly anticipate each year.
Before You Go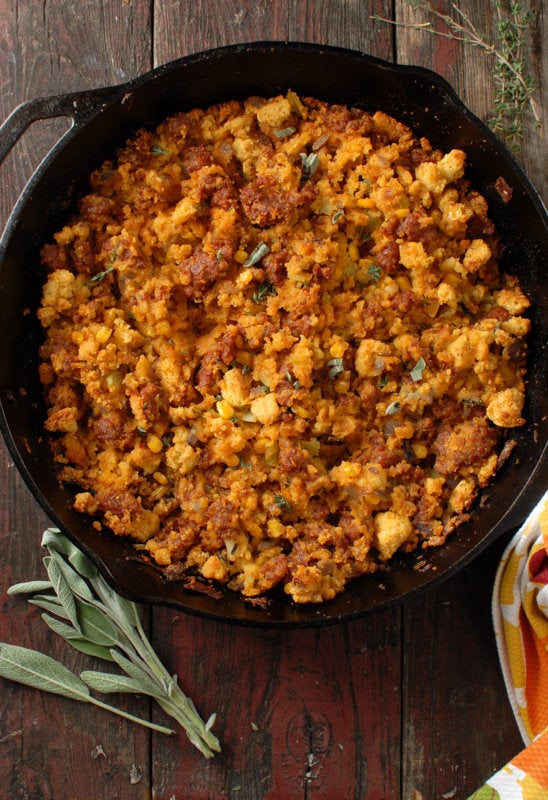 Stuffing Recipes