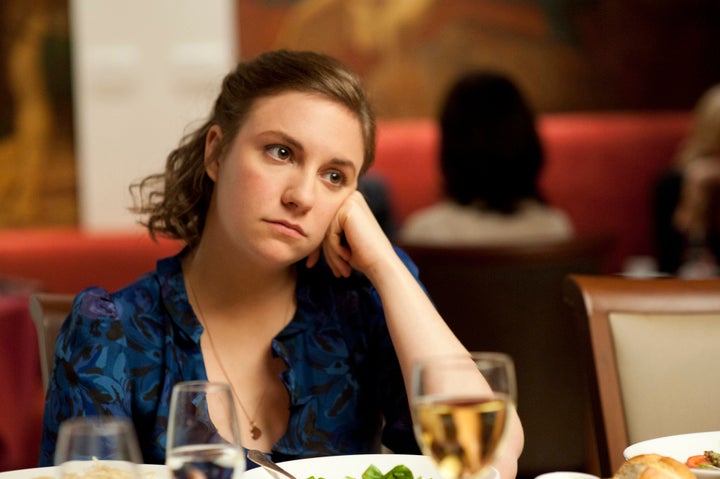 Pop culture doesn't reflect the diversity of day-to-day life in America, especially in urban centers. Lena Dunham's new series Girls on HBO -- so wonderfully, awkwardly realistic when it comes to depicting bad job interviews, the vagaries of friendship, and bad sex -- flails like a dying fish when dealing with race. Its world is so homogeneous that the show would be more accurately titled White Girls. NBC's The Office, set in Scranton, Pa., is more ethnically-mixed than Dunham's Brooklyn; so is the Seattle of ABC's Grey's Anatomy, which led the charge with color-blind casting in 2005. According to the New York Times:
Grey's Anatomy has differentiated itself by creating a diverse world of doctors -- almost half the cast are men and women of color -- and then never acknowledging it. ...

When [Shonda] Rhimes wrote the pilot [of Grey's Anatomy], she didn't specify the characters' ethnicities, so her casting process was wide open: Mr. Washington, who once played a gay Republican in Spike Lee's Get on the Bus, was nearly cast in the role played by Patrick Dempsey, who is white; his Dr. Burke was to be played by a white actor who was forced to drop out at the last moment. Ms. Rhimes imagined "The Nazi" as a "tiny, adorable blond person with lots of ringlets," until Chandra Wilson walked through the door ("I thought it was endearing," Ms. Wilson said of her part. "Endearing as the word 'Nazi' can be."). And even though some network executives assumed Ms. Oh's hypercompetitive character would be white, Ms. Rhimes did not -- in the pilot's script she wasn't even given a last name -- so all it took was one "fabulous" audition from the "Sideways" star to christen the character Cristina Yang. ...

Ms. Rhimes has also worked hard to extend diversity to her show's smallest roles. Determined not to have a program in which "all the extras are white, except the lone janitor," she has created one of the most colorful backgrounds in television, a hospital in which punked-out bike messengers and suffering Hasidim roam the corridors. "Shonda's only rule is drug dealers and pimps cannot be black," said Dr. Zoanne Clack, a black writer for the show who also practices medicine. Even the episodic roles -- a gay African-American, a young Hispanic couple -- are multicultural.
One answer is that Rhimes, as an auteur, breathes rarefied air. Like other writers/directors/producers -- a talented but small and exclusive fraternity that includes Alan Ball, Joss Whedon, Matthew Weiner, David Chase, and David Simon -- she has an unusual amount of creative control over her finished product. If diversity is a priority for her, she can make it happen. Dunham, as this frat's newest pledge, is still trying to figure out what her priorities are, and some of them are stellar, like being funny and worth watching. As Jenna Wortham of the Hairpin writes, part of the reason that Girls has become a lightning rod for the frustration that people of color don't get to see their experiences reflected on screen is because it "is actually good. It gets So. Many. Things. Right. It's on point again and again, hitting at the high and low notes about being in your twenties ...."
Still, we can sympathize with Dunham's choice to remain true to (her) life and simultaneously be disappointed, because it implies that Dunham, for all her creativity, ambition, wit, and skill, lacks imagination. How hard is it, after all, asks Sarah Seltzer in the New York Times, to at last break free of the traditional paradigm where "characters written as racially neutral (or even as nonwhite) are virtually always cast as white even though movie-watchers and TV-watchers of all backgrounds will search for a mirror, an entrance point, among the faces they see on screen."
Dunham is far from the only auteur, though, with this failing; as Ta-Nehisi Coates of the Atlantic points out, why should a 24-year-old just starting out be blamed for not diversifying media when the problem is a systematic one? Judd Apatow is one of Hollywood's most successful producer-writer-directors. He's prolific, too: a typical year finds him involved in two to four high-profile projects in one capacity or another. And he's not afraid to take risks, including, most recently, working with newbie Dunham to bring Girls to the screen. Yet no film of his has had a single leading character that Joey Drayton would have to think twice about bringing home to her parents. (Unless Tracy and Hepburn have a problem with emotionally-stunted man-children.) The few nonwhite characters in Superbad, Knocked Up, Pineapple Express, and the others in his stable, even 40-Year-Old Virgin -- featuring Apatow's most diverse cast and his smartest script -- exist on the fringes of the story and are there mainly for comic effect.
His most recent foray into relationship comedy, The Five-Year Engagement, which I recently reviewed with writer Adam Freelander for the Billfold, wastes the talents its few nonwhite actors by rendering them as depressing stereotypes: the bespectacled, socially-awkward Asian guy, the dick-obsessed black man, and Mindy Kaling, who, as Adam puts it, plays "Mindy Kaling, which is technically not an ethnic stereotype, though I'm concerned it soon will be." The movie's inability to deal with race in any kind of sophisticated way distracts from its otherwise poignant, interesting exploration of real-life problems.
Is it better, ultimately, to write minority characters, even when you end up making an ass of yourself, or should you stick to what you know at the expense of relegating minorities to the margins, if you remember to include them at all? Put simply: Try and maybe fail, or don't try?
Unfortunately, as long as "don't try" is an option, too many filmmakers and showrunners will quail at the prospect of doing it wrong and getting criticized and will revert to what feels easier. We need a sustained outcry against having movie after movie and TV show after show that is as white as a New Yorker cartoon. This is not about Lena Dunham; this is about our culture, and how much more we will all benefit from color-blind casting in our media and, hopefully, in our lives. Studios needs to stop considering it an option to have a totally vanilla cast, or one that pretends to be a sundae just because it has a couple of sprinkles here and there. Producers need to insist on better minority characters, and to recruit minority writers, directors, and producers to help them and their staffs see around their blind spots. Everyone will be better for it.
And writers, have a little courage! Expand your boundaries. Good faith efforts are often rewarded, especially as long as the quality is there. Just ask Shonda Rhimes, whose show was just renewed for a ninth season. Channel the advice of one memorable minority character from a 1977 classic: "Do or do not. There is no 'try.'"
Popular in the Community