Back in 2012 I visited the small village of Mindo in Ecuador where I spent my days getting lost in remote cloud forests, surrounded by the most beautiful birds I'd ever seen. It was a hub of Hummingbird happiness.
There wasn't a week that went by after that trip that I didn't dream of being immersed once more in lush green forests with the sweet buzz of darting hummingbirds filling my eardrums.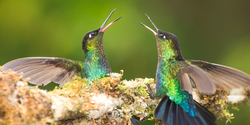 I finally had the chance at a similar experience this past May when I took off towards the rainy mountains of Costa Rica.
In my previous blog, Life Inside A Hummingbird Nest, I shared a selection of photos and video footage from my springtime Hummingbird Project. Sticking with the Hummingbird theme, I want to share a collection of images I captured on that dream trip to the Caribbean Slope and Talamanca Mountain regions of Costa Rica early this summer.
This collection is quite different from my typical style of imagery. I wanted to compose a sequence of images that were consistent beyond the subject. These images are intended to focus on the beauty of the birds themselves, leaving the background to your imagination. Let it run wild!
My trip included stays at a couple of wonderful lodges tucked away in the middle of nature. If you're traveling to Costa Rica and want a true rainforest experience, I recommend the wonderful Rancho Naturalista. If you're interested in Quetzals and other species of Hummingbird, Paraiso Quetzal Lodge is a must-stay.
To see more images from this series and to follow my other photography from around the world, head over to my Facebook Page. You can also check out a broader collection of bird photography on my Website
All photography included here is the original work of Alexis Coram. Follow me on Facebook or Instagram to keep up with my adventures and travels.