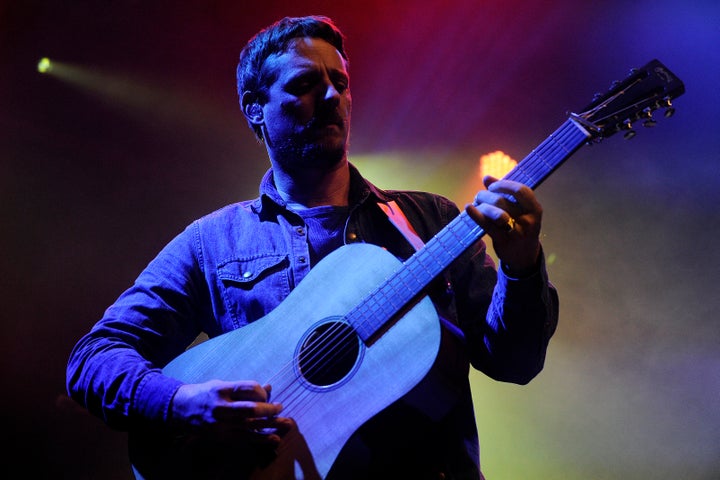 Sturgill Simpson has spent his entire career in country music bucking Nashville's establishment kingmakers. An outlaw in the mold of Merle Haggard, the singer infuses his music with everything from Buddhist-sounding contemplations of life's meaning to tales of psychedelic drug use, criticism of modern religion and poetic life advice to his infant child, as he cycles with ease through the sounds of blues, soul, country, and rock and roll. He shakes off the idea that he's country music's "savior," while at the same time pledging that he arrived in Nashville years ago primarily to promulgate the "destruction" of its vapid pickups-plus-girls-plus-beer hit-making formula.
So it's no surprise that Simpson, despite winning a Grammy for Best Country Album last year, wasn't invited inside for Wednesday's Country Music Awards, the establishment celebration of (just about) everything he hates.
Nor was it shocking when he showed up outside the arena instead, armed only with his acoustic guitar, to protest the ceremony with an old-fashioned busking performance.
But on Wednesday night, Simpson didn't just rave against Nashville's musical tastes. He raged against its political homogeneity too, taking a direct shot at President Donald Trump in the process.
"He's a fascist fucking pig," Simpson said. "And I'm not afraid to say that because at this point, anybody that's still supporting that guy can't be anything in my mind other than an ignorant fucking bigot."
With an open guitar case at his feet and a tongue-in-cheek sign telling passers-by that he was a "struggling country music star," Simpson pledged to donate any tips he received to the American Civil Liberties Union.
Simpson also broadcast his performance on Facebook Live, and while he told viewers he wouldn't take song requests, he let them know he'd answer any questions they had "because fascism sucks."
When one commenter asked him to give a mock acceptance speech as if he were on stage inside Bridgestone Arena, Simpson launched into a diatribe against guns, homophobia and racism.
"Nobody needs a machine gun, coming from a guy who owns a few guns," Simpson started. "What else? Gay people should have the right to be happy and live their life any way they want to and get married if they want to without fear of getting dragged down the road behind a pickup truck. Black people are probably tired of getting shot in the streets and being enslaved by the industrial prison complex. And hegemony and fascism is alive and well in Nashville, Tennessee. Thank you very much."
Even before Simpson showed up, the CMAs had faced criticism for a misguided media policy asking journalists not to question the artists about guns in the wake of October's mass shooting in Las Vegas. Organizers eventually backed off the policy after country music stars like Brad Paisley, who hosted the show, slammed the idea on social media.
The award ceremony itself remained mostly apolitical, aside from a few barbs Paisley and co-host Carrie Underwood aimed at the president. But then Simpson was outside instead of on stage.
Despite widespread commercial success and critical acclaim, Nashville has mostly chosen to ignore Simpson ― a fate he sealed in 2016, when he slammed the Academy of Country Music for trying to "hitch their wagon" to Haggard after his death that year, after he'd made a career out of pointing at Nashville with a certain finger. Simpson, in criticizing the academy, pledged to leave the city altogether, acknowledging that he'd soon be "blackballed."
Country music, of course, has deep roots in cultural and political conservatism, but it also has a long history of rebels like Simpson running against the industry's grain. In 1972, Johnny Cash visited President Richard Nixon at the White House and played songs that protested the Vietnam War, the government's treatment of Native Americans and U.S. prison policy. Three years later, Loretta Lynn released "The Pill," a song about birth control that many country radio stations refused to play.
Haggard, meanwhile, may be best known for his decidedly jingoistic tunes "Okie from Muskogee" and "Fightin' Side of Me," both of which were released in 1969 and became anthems not just of blue-collar America but also of Vietnam War supporters and conservatives who raged, as Haggard did in the songs, against hippie culture and drug use. But in "Irma Jackson," Haggard also sang approvingly of interracial relationships ― he had to fight his record label just to release the song, which he did in 1972, three years after he originally recorded it.
Haggard also became a fierce critic of Nixon. He later denounced President George W. Bush and defended the Dixie Chicks, the outspoken country group who criticized Bush over the Iraq War, too. Before his death last year, he was among the few country stars to speak out against Trump.
"I think he's dealing from a strange deck," Haggard said.
Simpson is cut from that same cloth, and Wednesday night wasn't the first time he decided to go beyond the helpless shrug most of country music has decided to give the world around it.
In 2016, he released a politically symbolic music video for his single "All Around You." The video featured a silhouetted image of a strong-armed political leader who bore a striking resemblance to Trump, as well as a child dressed as a superhero who defeats the leader, blows a hole in a wall topped with barbed wire, and shoves military planes and tanks off a cliff.
"I heard they were celebrating country music tonight down here, so I thought I'd come down and play some," Simpson told one onlooker Wednesday, before reading the words on the man's hat. "Make country music country again," he said. "Oh wow."
In full context, Simpson's criticism of Nashville can be seen not just as a difference in musical taste, but as a pining for room in the industry for the sort of country music that actually dares to say something. It doesn't have to talk about progressive politics or even politics at all: The three artists Simpson said he was rooting for at the CMAs ― Jason Isbell, Chris Stapleton and Miranda Lambert ― routinely produce music that, while rarely expressly political, at least attempts to engage and explore the world around them.
Simpson's own version of that on Wednesday night likely won't earn him any fans in the Nashville establishment and might hurt him among some country music fans, too. But Simpson, true to form, doesn't care.
"Anybody that's surprised to hear me say that [about Trump], who's going to unfollow me or stop listening to my records," he said, "they probably weren't listening that closely anyway."
Popular in the Community