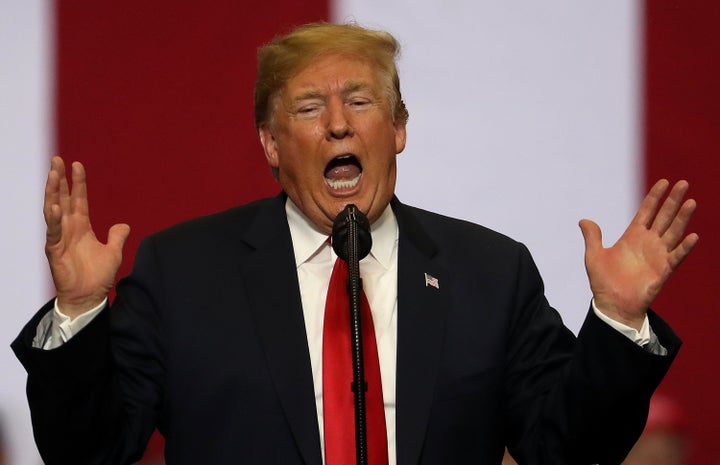 Comedian John Melendez, a longtime backup for shock jock Howard Stern also known as "Stuttering John," posed as Menendez, a frequent Trump policy critic, in a podcast he posted online Thursday. He said he got Trump to open up about his next Supreme Court justice pick and his zero tolerance immigration policy.
"Believe me, if it was that easy to dupe him, there's every chance in the world [Russian President Vladimir] Putin duped him," Melendez told HuffPost.
The White House did not respond to HuffPost's request for comment. But Politico, citing a source in the White House, said the administration "has been scrambling" to "figure out how this happened." Such a call would raise troubling security issues.
HuffPost could not independently confirm that Trump was indeed the person speaking in the podcast. But the White House apparently reached out to Menendez's office Thursday morning to ask about the call, two sources familiar with the situation told HuffPost. Officials would have had little reason to reach out to the senator if they did not believe it was Trump on the call.
The New Jersey senator, meanwhile, issued a statement saying he would appreciate a real conversation with the president.
"As someone who has spent my entire career trying to convince Republicans to join me in reforming our nation's broken immigration system, I welcome any opportunity to have a real conversation with the president on how to uphold the American values that guided our family-based immigration policy for the past century," Menendez said. "Tearing children apart from their mothers is not part of our proud history. Thus far, this White House has only sabotaged every good-faith effort to find bipartisan common ground on immigration."
"I welcome any opportunity to have a real conversation with the president."
Melendez said he called a White House number he found online on Wednesday. On the podcast, about 37 minutes in, he can be heard introducing himself as Menendez's assistant "Sean Moore" and saying he wants to speak to the president.
Trump's senior adviser and son-in-law Jared Kushner called him back about 45 minutes later, the comedian said. Melendez said he then got a call from Air Force One about 20 minutes after that.
About an hour and 10 minutes into the podcast, a voice sounding very much like the president's can be heard saying, "Hi Bob. Congratulations on everything. We're proud of you! Great job." (Menendez beat back a primary challenge in his state on Tuesday. Federal corruption charges against the senator were dismissed early this year after a trial last year ended in a hung jury.) "You went through a tough, tough situation, and I don't think a very fair situation. Congratulations," the speaker adds.
Melendez says his "constituents" are giving him grief about Trump's harsh immigration policies.
"I want to be able to take care of the situation every bit as much as anybody else, at the top level," comes the reply. "I'd like to do a larger solution rather than the smaller solution. I think we can do the whole thing ... We have to have security at the border. Sixty percent of the country wants security. That's a good issue for the Democrats, too, Bob. It's not like it's good for you or good for me. It's good for both of us."
Then the speaker touts the rally he says he's just appeared in: "Bob. I'm on Air Force One, coming back from this amazing rally in North Dakota."
Melendez then suggests that a moderate should replace retiring Supreme Court Justice Anthony Kennedy.
"I have a big list of people, Bob," he's told, "and we'll be looking at it the next couple of weeks. We have some great choices."
Melendez said Trump should have recognized his voice because he said they have spoken in the past at least 20 times. Trump was a frequent guest on Howard Stern's show. "He's even given me real estate advice," the comedian said.