Casting director Natalie Joos and Style.com Editor-in-Chief Dirk Standen hosted a party on Wednesday night to celebrate the relaunch and redesign of Joos' blog, Tales of Endearment, and the upcoming collaboration between her site and his.
Held atop the James Hotel at the border of SoHo and TriBeCa, the space was intimate -- half indoors, half outdoors, though for whatever reason, the crowd gathered around the glass doors that divided the two. Glasses of champagne and an array of cocktails were passed and poured as industry insiders mingled.
The party's attire was simply stated as "vintage," and many attendees took it to heart. Joos donned a flowing turquoise maxidress with a deep neck and delicate silver chains across her sternum, designed by Lebanese designer Jacques Cassia, provided by Resurrection Vintage. Joos exuded a Rachel Zoe-esque air, partially due to her movements, and partially due to her petite stature and thin frame. Co-host Standen opted for a simple suit and (assumedly) vintage, precariously-knotted neckerchief.
The blogger/casting director gushed to friends about the new layout of her blog with an infectious enthusiasm, much unlike Zoe, who lets her guard down in such a manner for only the most "I Die"-worthy moments. Two months in the making, the layout is cleaner and more mature than her previous one. Such a drastic change will take some getting used to, as Joos joked with friends that she can barely figure out how to use it.
The attendees were a melange of editors, writers, designers, models, bloggers, and friends. Waris Ahluwalia, Phil Oh, Vogue's Stephanie LaCava, Giovanna Battaglia, Genevieve Jones and Prabal Gurung were among the bigger names present. Top models Behati Prinsloo, Tati Cotliar and Anna Selezneva towered above many of the other guests, draping themselves over the shoulders of their favorite designers and writers.
I tried my hardest to arrive fashionably late to the party, but the unbearable heat forced me to seek air conditioned shelter. Fifteen minutes after the event was slated to start, there were no more than 20 guests present.
Among those who were early (by industry standards, of course) was designer Erin Fetherston, wearing a stunning red dress and nude sky-high Louboutins, topped off with her unmistakable bleached bob. Fetherston appeared to be the life of the party just as much a Natalie herself, chatting and giggling with Joos and members of the WWD crew. The photographers ate it up.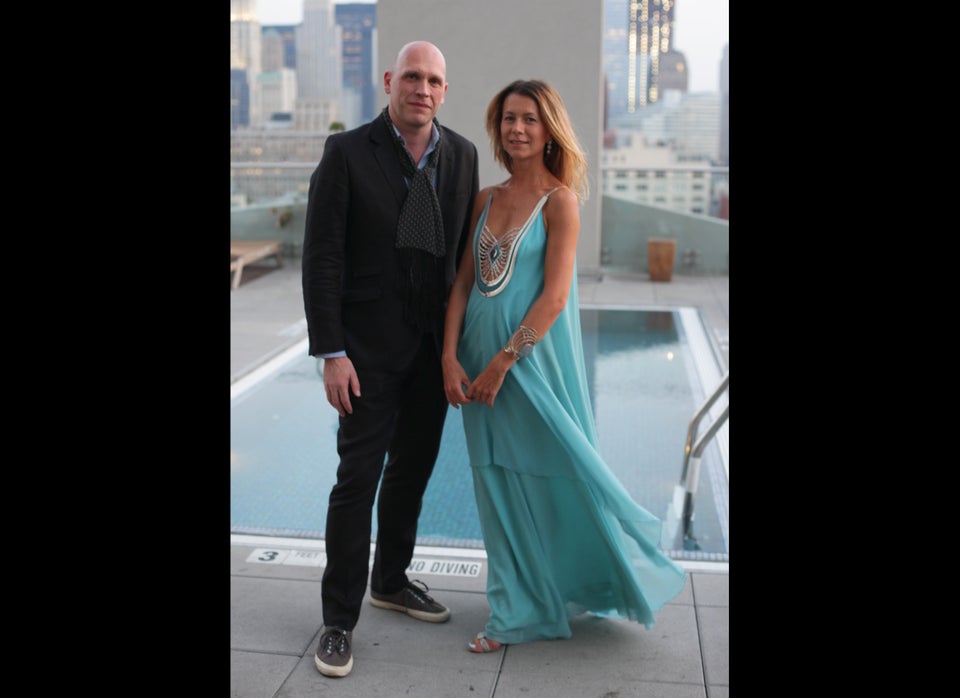 Music was provided by Sophomore NYC designer, Chrissy Miller, who was situated in a corner inside with a slew of girls who seemed apt to be featured on The Cobra Snake. Sky Ferreira and Cory Kennedy were among Miller's high-class hipster posse. Party pop jams by Robyn, Katy Perry, and Kid Cudi were played, adding to the already-laid-back atmosphere.
Later in the night, Jamie Strachan, boyfriend of top model Behati Prinsloo, made the questionable decision to cool off in the rooftop pool with his clothes on. He was subsequently escorted out of the hotel by security with Prinsloo following close behind.
An afterparty was held in the ballroom at the Jane Hotel. Kirsten Dunst, Dree Hemingway and Olivier Theyskins were in attendance.
Keep an eye out for Tales of Endearment x style.com, coming later this summer. For more, head over to Style.com.