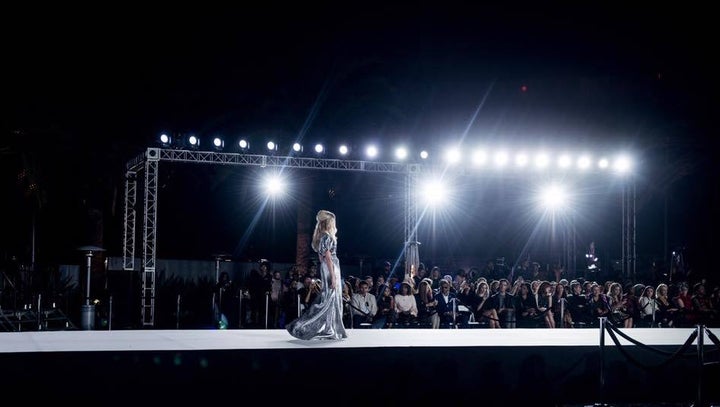 Style Fashion Week LA kicked off a thunderous Friday night at the Pacific Design Center with another must see event from these organizers who bring together top designers in the fashion world. Brand creators showcased sexy cutting edge designs under the stars of the main courtyard of the P.D.C. The runway extended over the center's main fountain where a mote of clear water sparkled past the catwalk reflecting photographers' flashes which echoed brightly as they captured the stunning looks and the picturesque couture above. DJ music boomed, comics performed and singers Meredith O'Conner and gold record artist Jamaican singer Kevin Lyttle entertained under a full moon.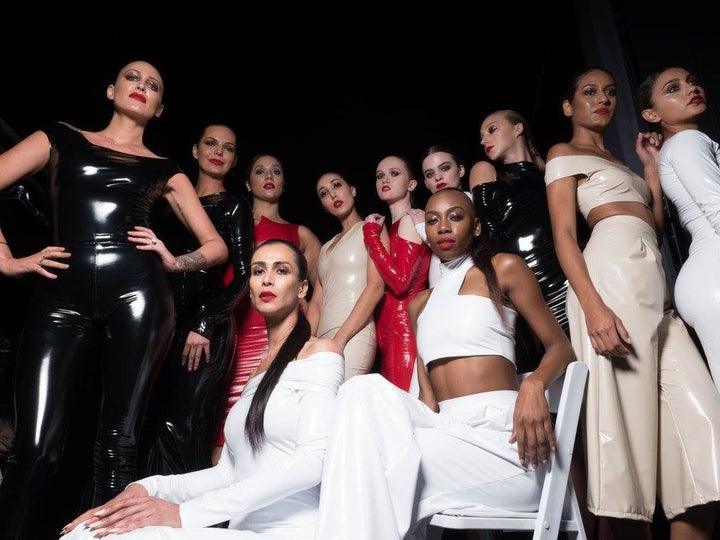 Designers Antanella Commatteo, Shahida Parides and Moods of Norway started the evening while the second show continued with extraordinary couture and ready to wear items from David Tupaz, Richard Hallmarq and Mario De La Torre. Designers intermixed creative and forward thinking concepts as well as rethinking retro and classic inspirations which all mixed into fresh and striking looks.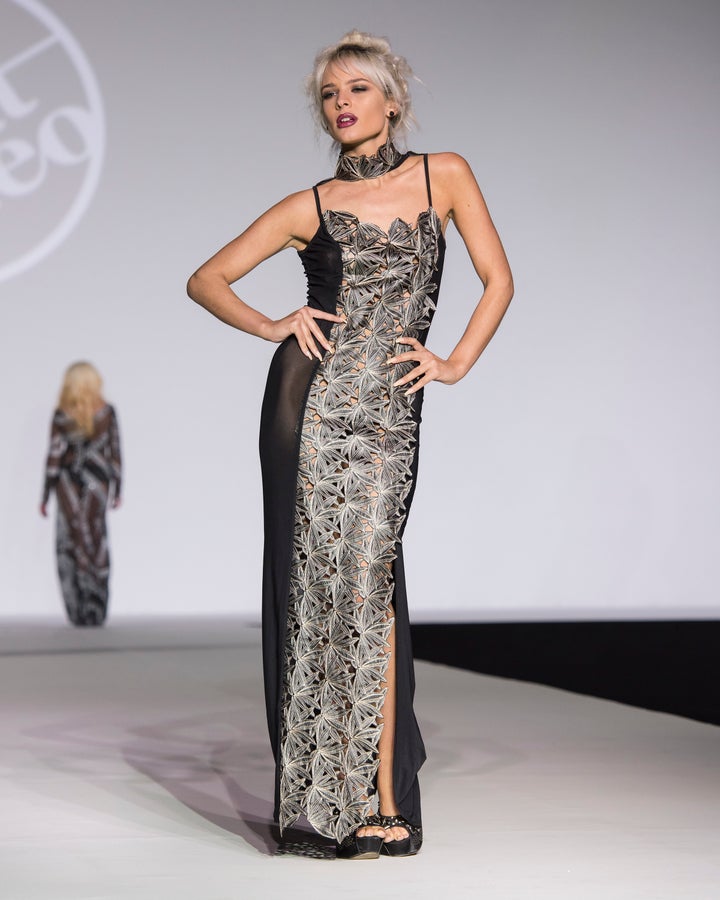 Annatalla Commateo's sensuous line of elegant clothing must be categorized under marketable as well as glamorous. Sleek grey print dress, smartly patterned fabrics with defining lines one third cleverly made the dresses very slimming. Japanese influenced sleeves with open folds on brightly colored tops mixed with very short skirts, some with capes and accessorized with tall leather boots and evening pumps kept the looks long, striking and flirtatious.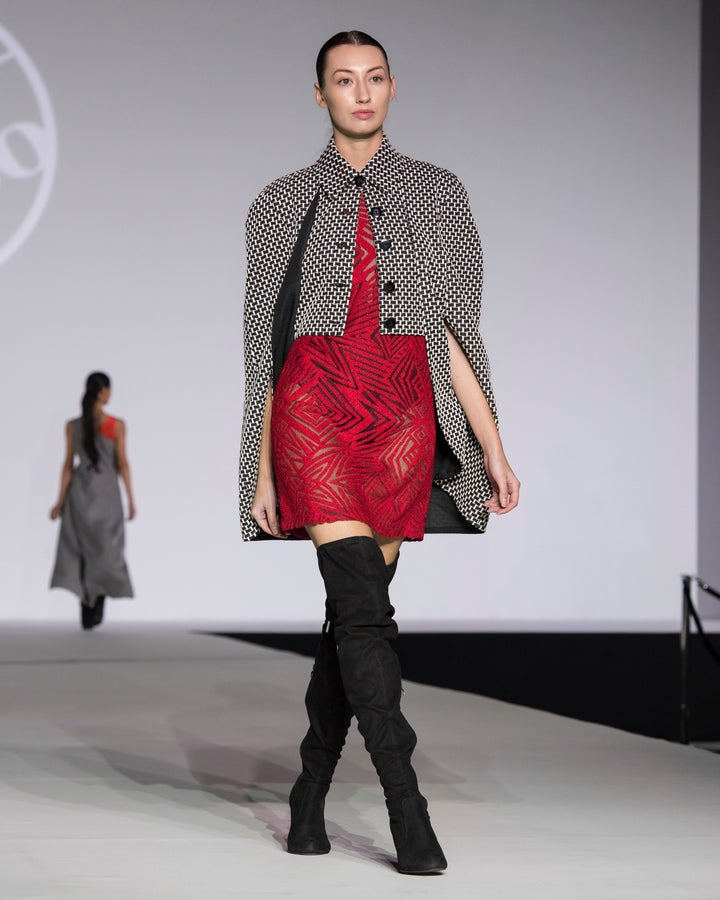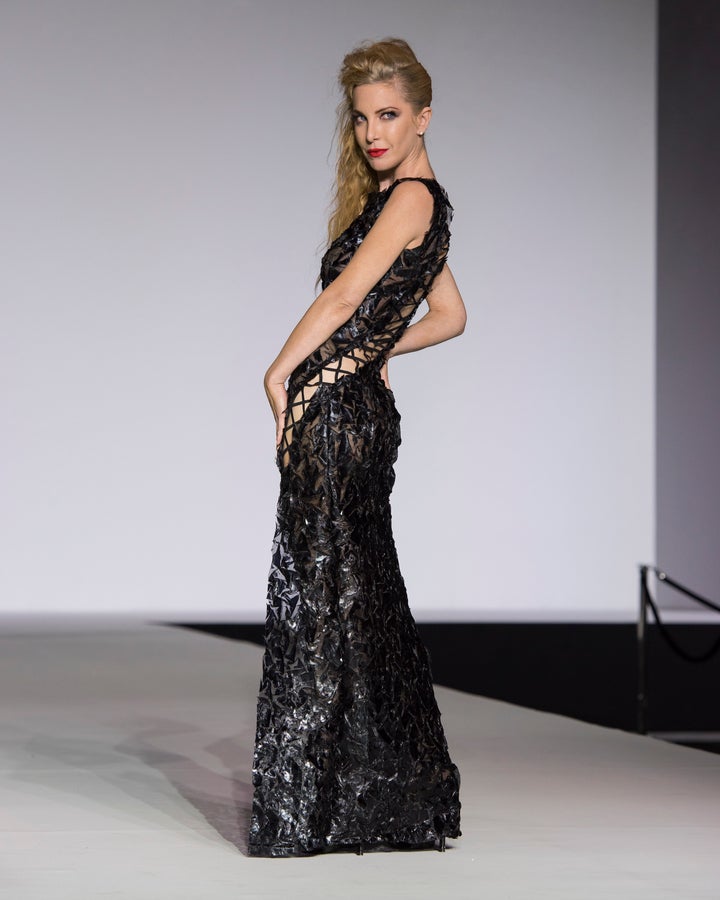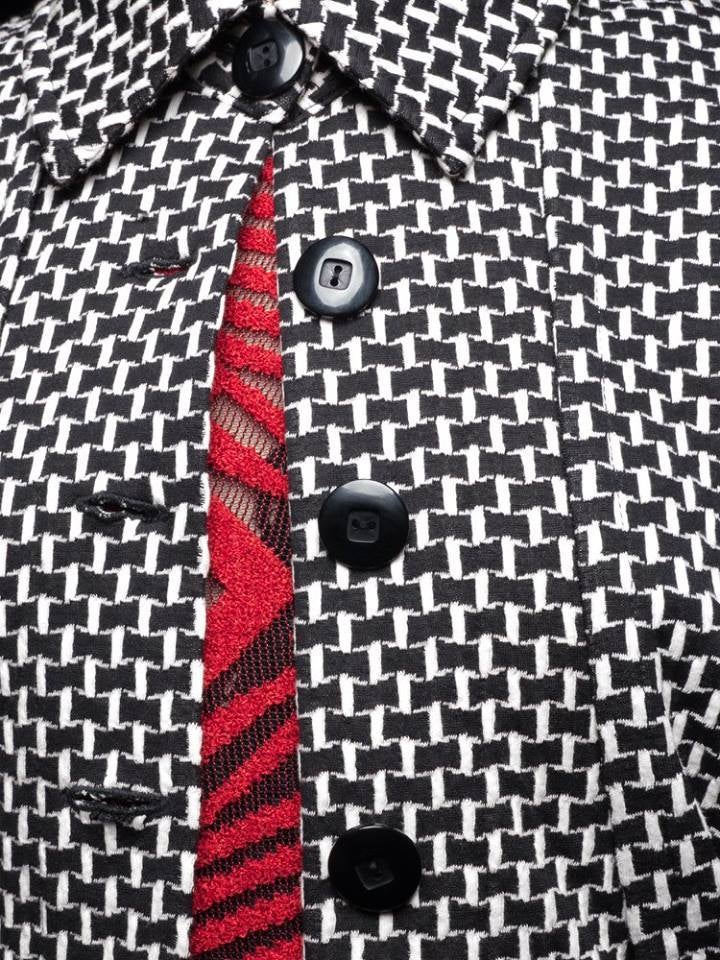 Long body hugging gowns, some with open backs that wrapped exotically to the front, long lace panels and pants with geometric patterns over bright splashes of primary colors made for a great collection.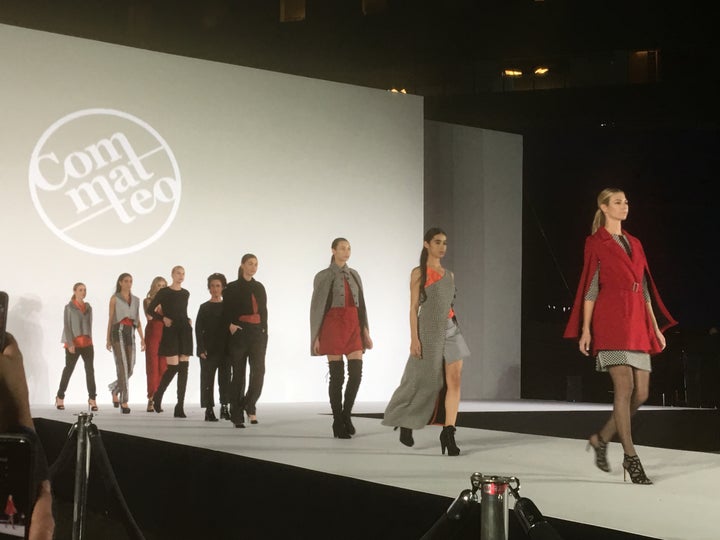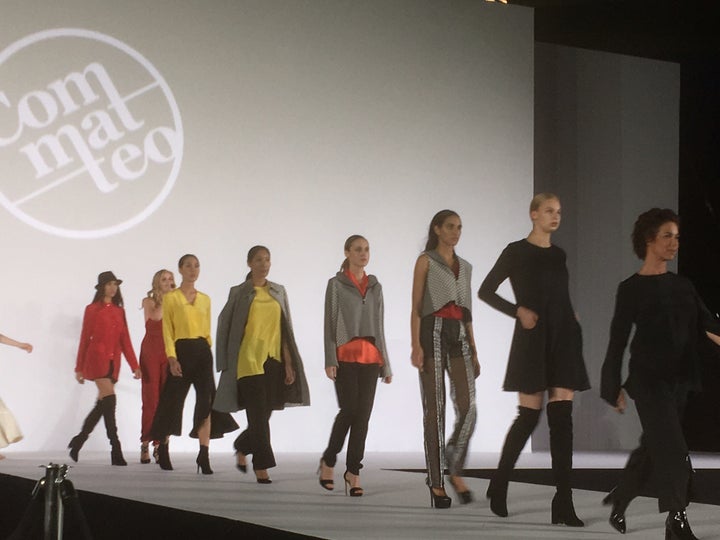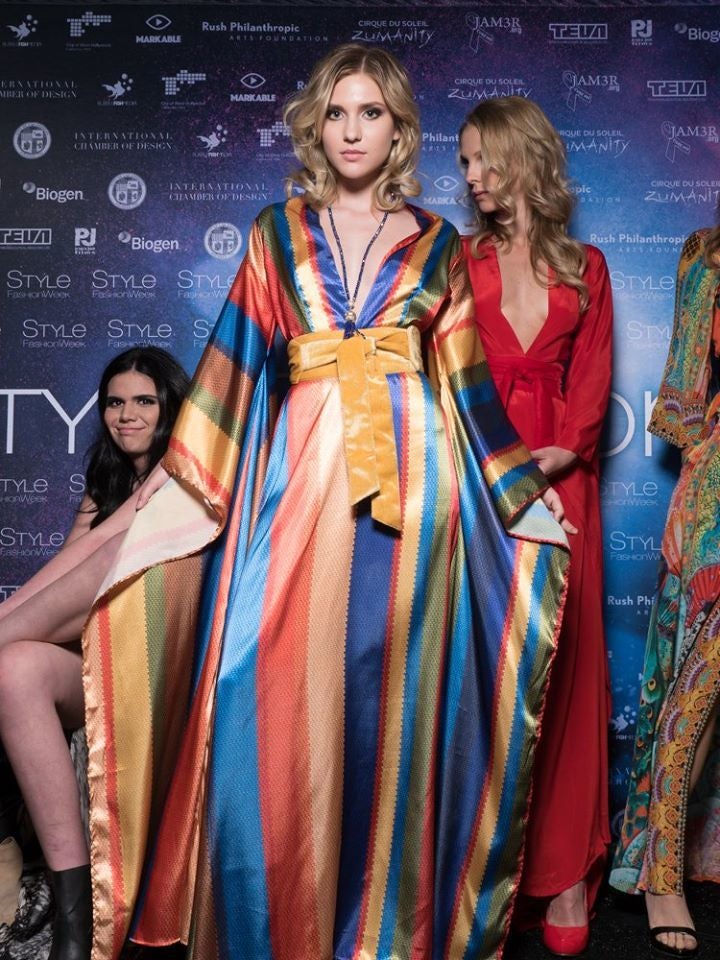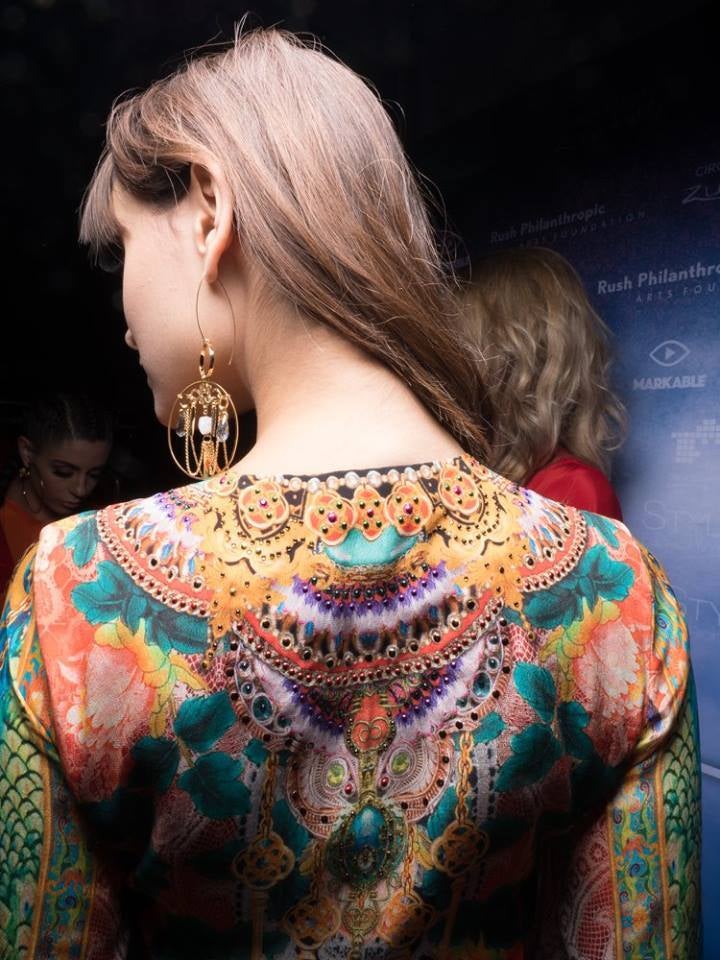 Shahida Parides dazzled with bright, bold colors and extraordinary flowing pieces of diaphanous fabrics, some sleeveless, some with geometric patterns, bold animal prints and solid monochromatics in long floor length gowns and capes. Tight fabric wrapped belts at the waist created great definition in the longer pieces, and were interspersed with modern, short skirts with thigh high boots and tight tops.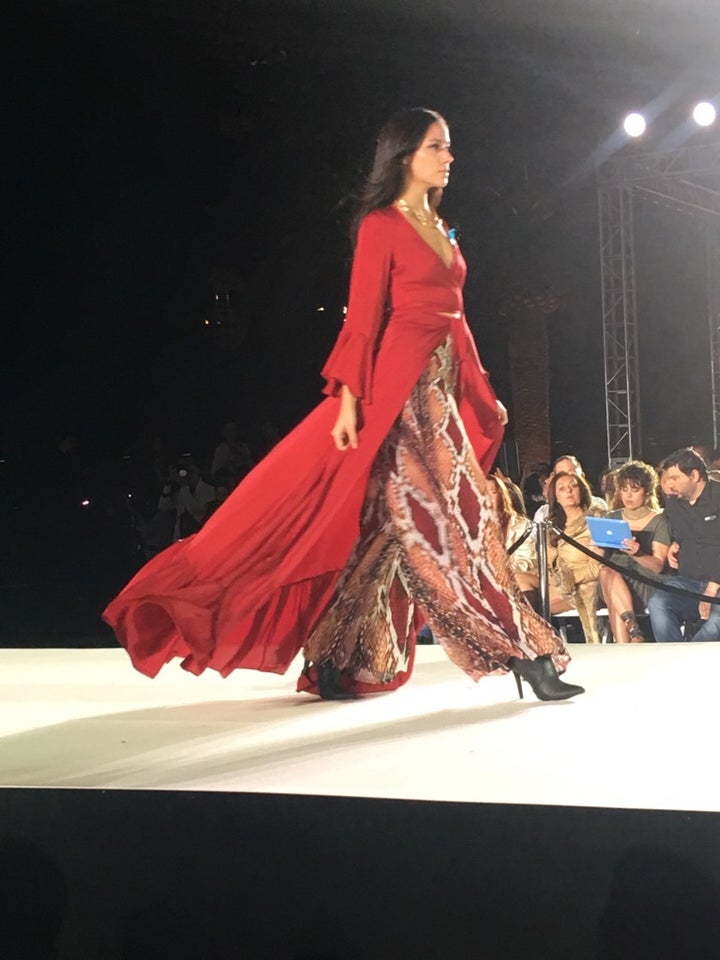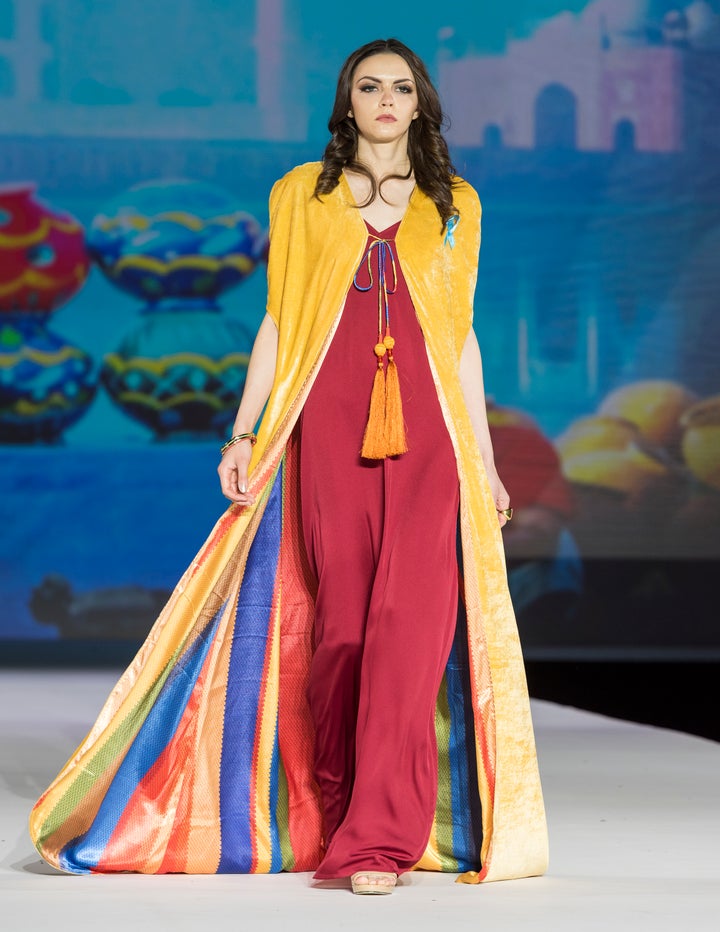 The color wheel ran from hot chartreuse to deep azure. Lots of movement in her compositions creates a dramatic and romantic feeling on stage, yet she kept some of the more feminine looks grounded in tough little ankle boots. Photographic images of India behind the models showed the extraordinary use of color in Indian heritage and it was on display on every body as this line kept the looks bright, chromatic and vibrant.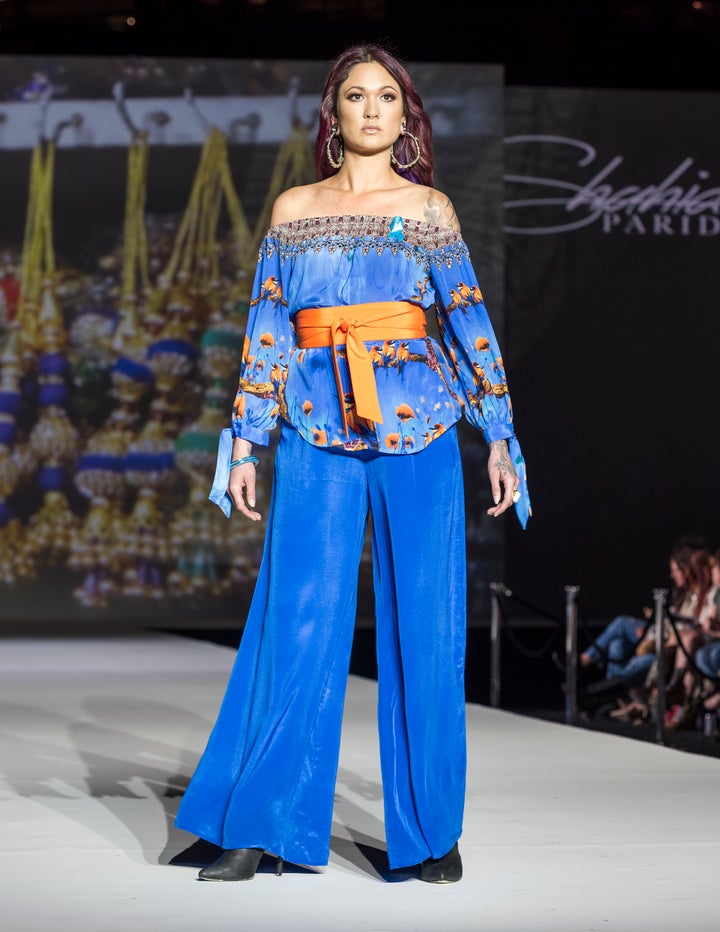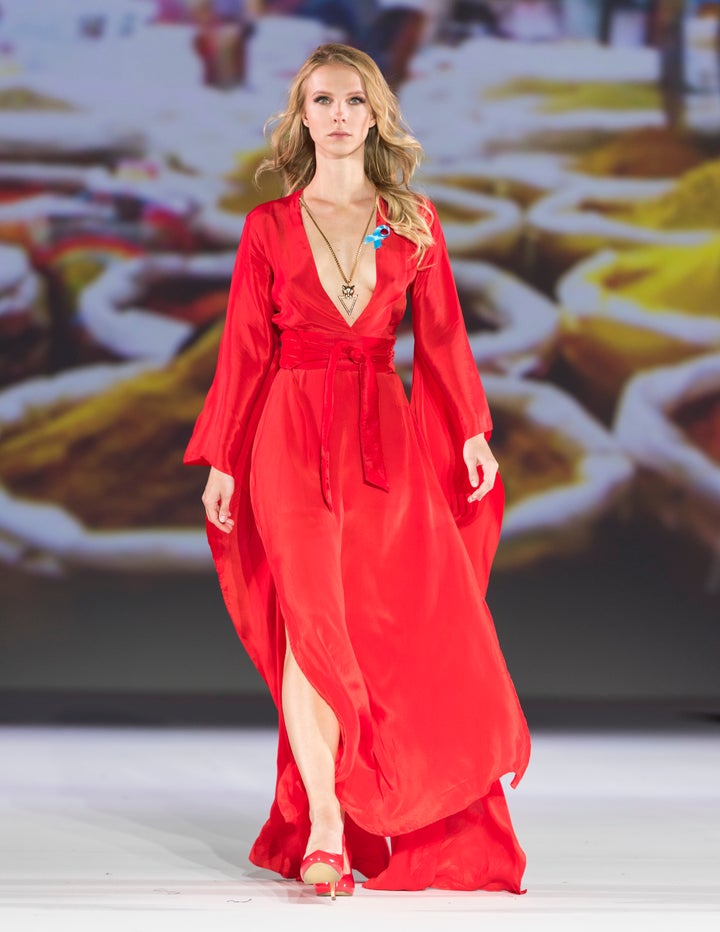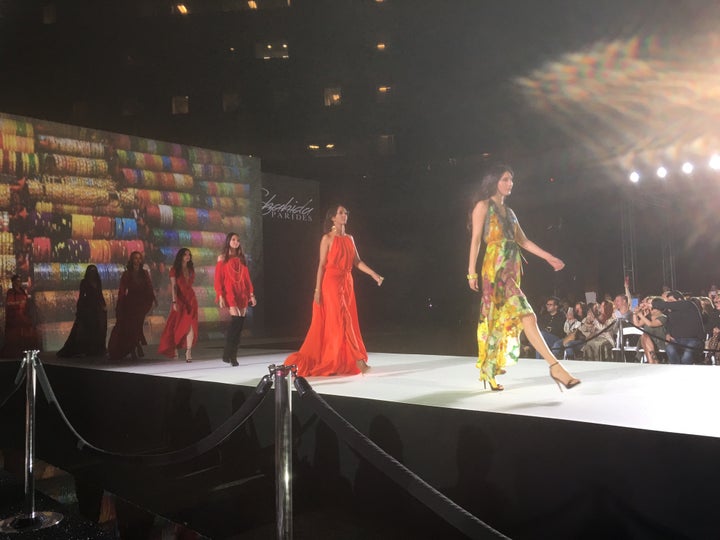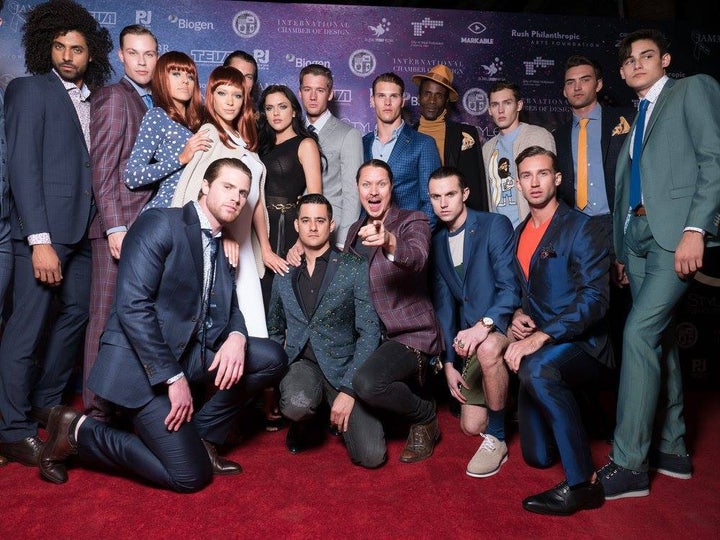 Moods of Norway designers Dahlkvist, Staalnacke and Børresen motto is "happy clothes for happy people' and to set the mood their line started with a male model in swim trunks pushing a 'reel' lawnmower, the kind from the '60s. That set the tone for a brand with a light heart and carefree elegance. Bermuda shorts, print shirts, with mustard and/or green belts, socks, and an array of colored leather dock siders followed for the men, while the girls were in capris with colorful silk tops, pink blouses and diaphonous green blouses and shoulder capes. Men's jeans followed with bright monochromatic orange, green and yellow polo shirts, with opposite choices on the color wheel for the suspenders. The line has a cool 60's vibe to it, while also feeling modern and sexy. The tight, crisp design purposefully cut short in the sleeves, keeps it feeling young and elegant, almost like the men are still growing out of their clothes, and it carries a carefree seductive energy.
Suits for men were sensational, powerful blues and lavenders in classic cuts with subtle geometric designs underneath and bold orange and green ties and pocket squares to make those crisp and light colored dress shirts pop.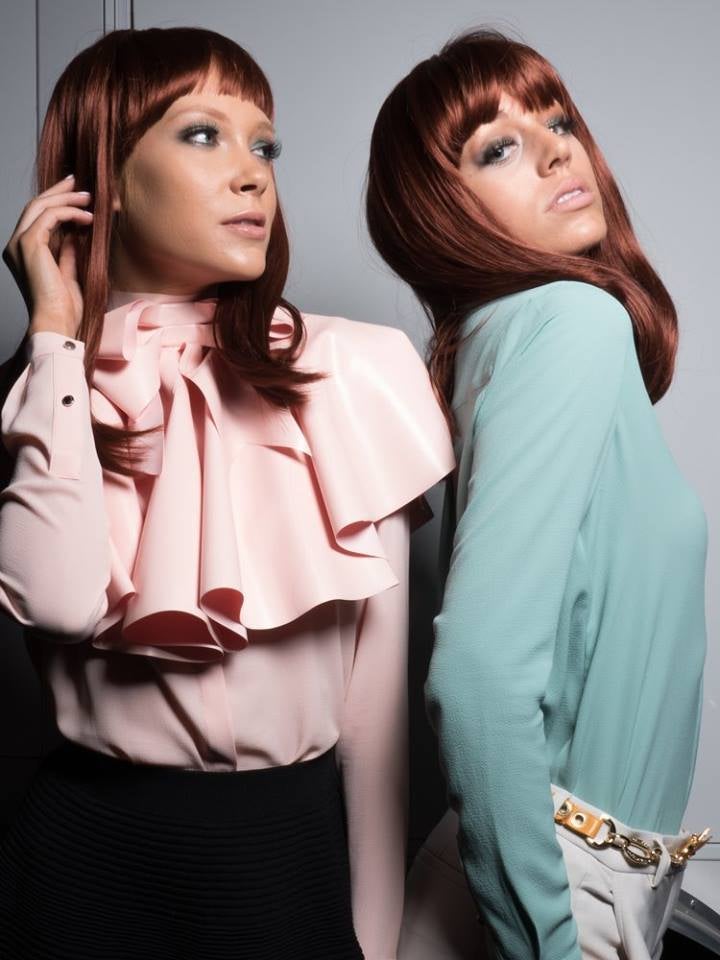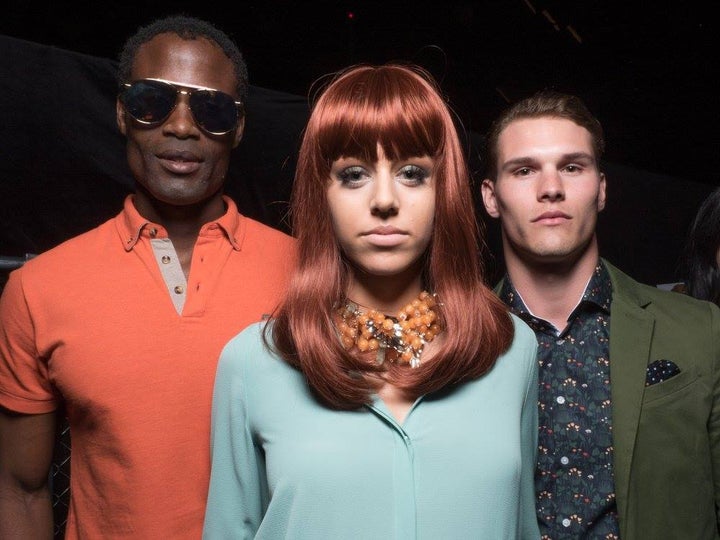 David Tupaz, Richard Hallmarq and Mario De La Torre followed in the 9pm show.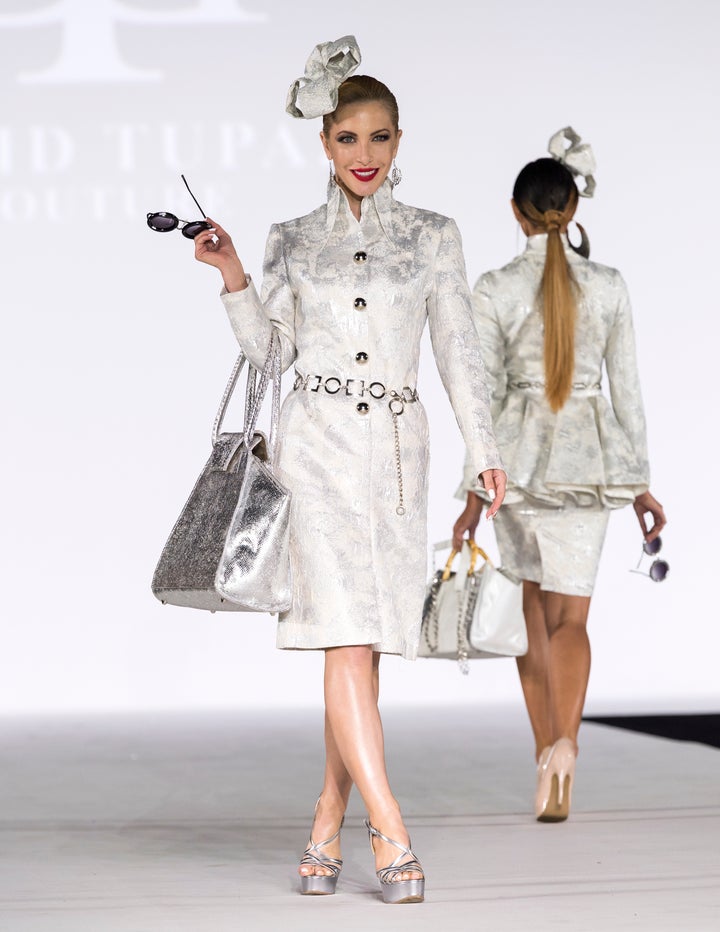 David Topaz's striking designs combine the refined elegance of Christian Dior with the panache of Coco Chanel, yet re-invents their inspirations with saturated hues for the heightened sophistication for today. Monochromatic silvers and blacks, houndstooth and crepes started the show with smart designs in pants suits, gowns, knee length skirts and Chanel jackets, those paired with blouses, pearls and matching hats.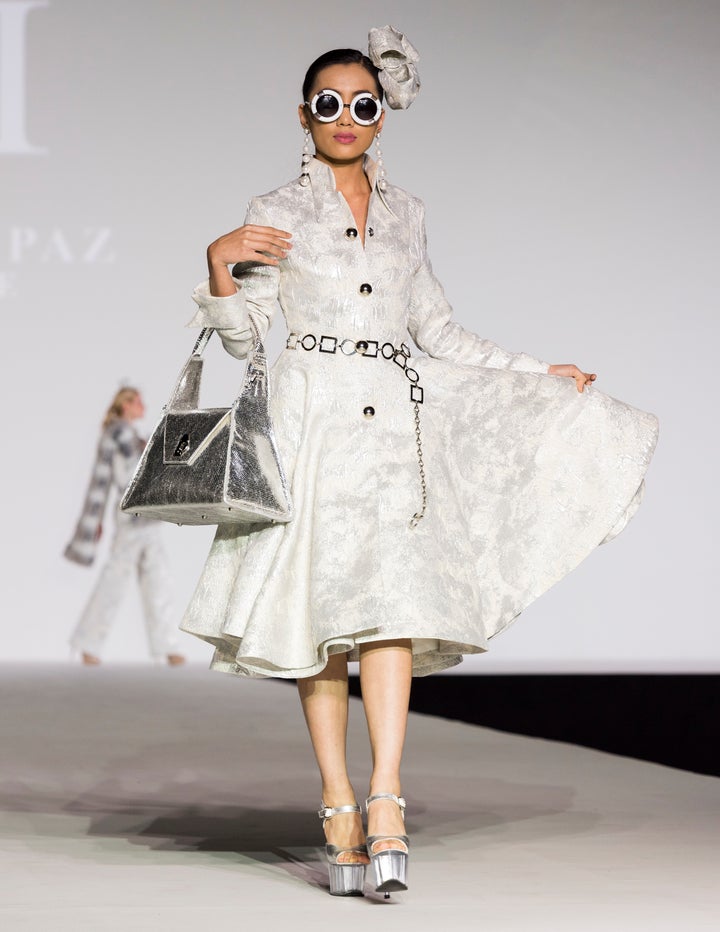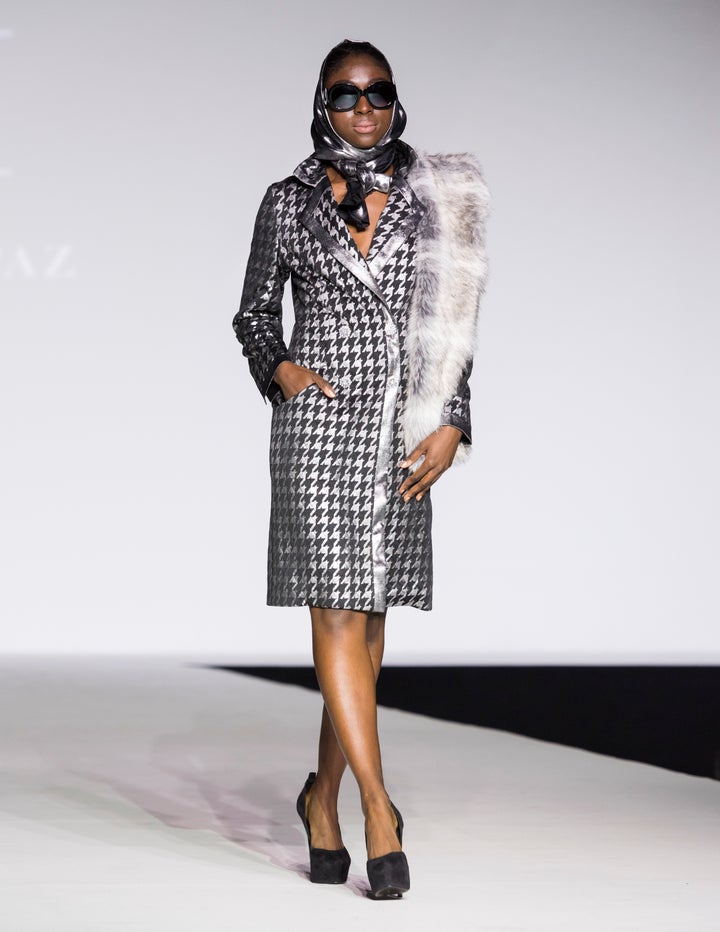 Richly textured gowns of refelctive silvers, blacks and browns followed, accentuated with leather and fur to augment the elegant textiles. Dior famously lowered skirts in the late 1950s to make them more reflective of the English era back when the rich were not ashamed to show their wealth, and this line brings that opulent feel. The knee length skirts and short jackets were stand outs in at a time in fashion when micro skirts and women's shorts are daringly short or even non-existent. The longer skirts felt more provocative and titillating than ever, even compared to the racier designers who show more skin, which is a nod to the designer's talent. These looks were cinematic as well and reminiscent of the chic of Audrey Hepburn and Gene Kelly, either of whom would feel at ease on this runway.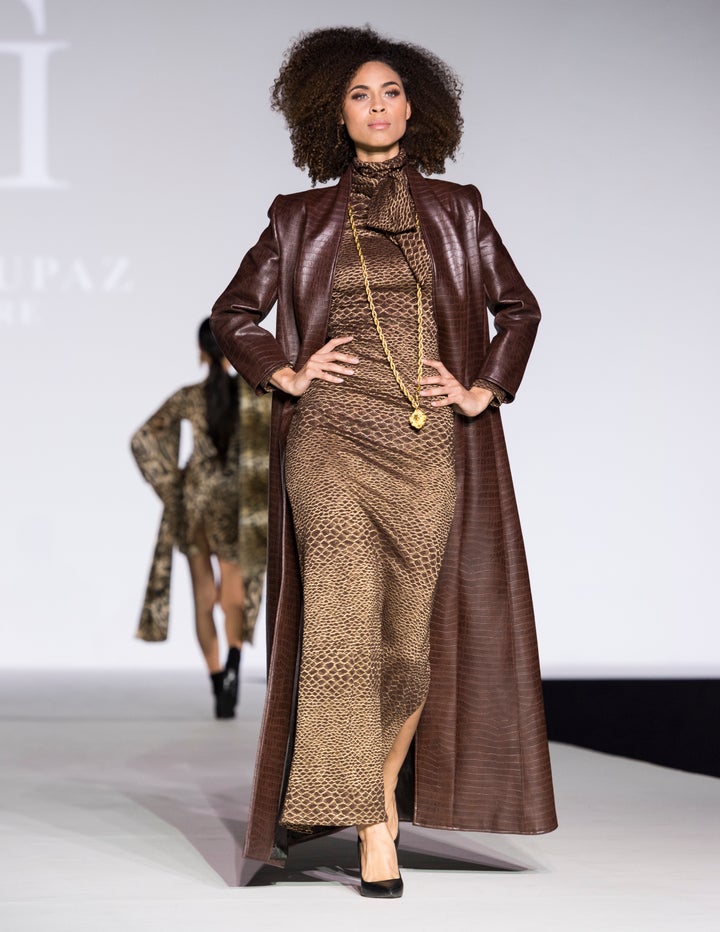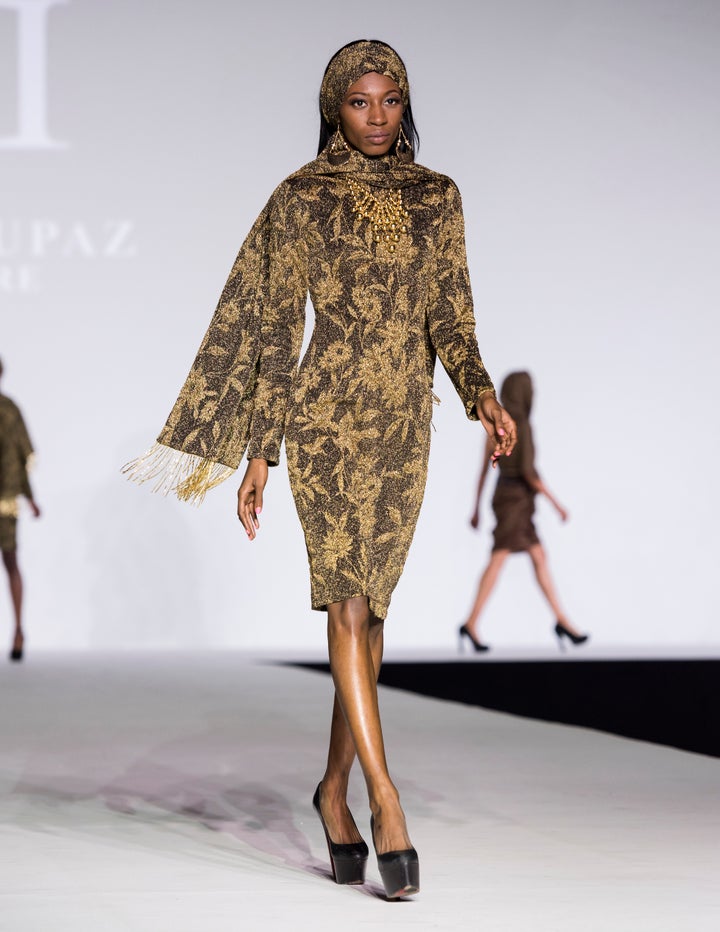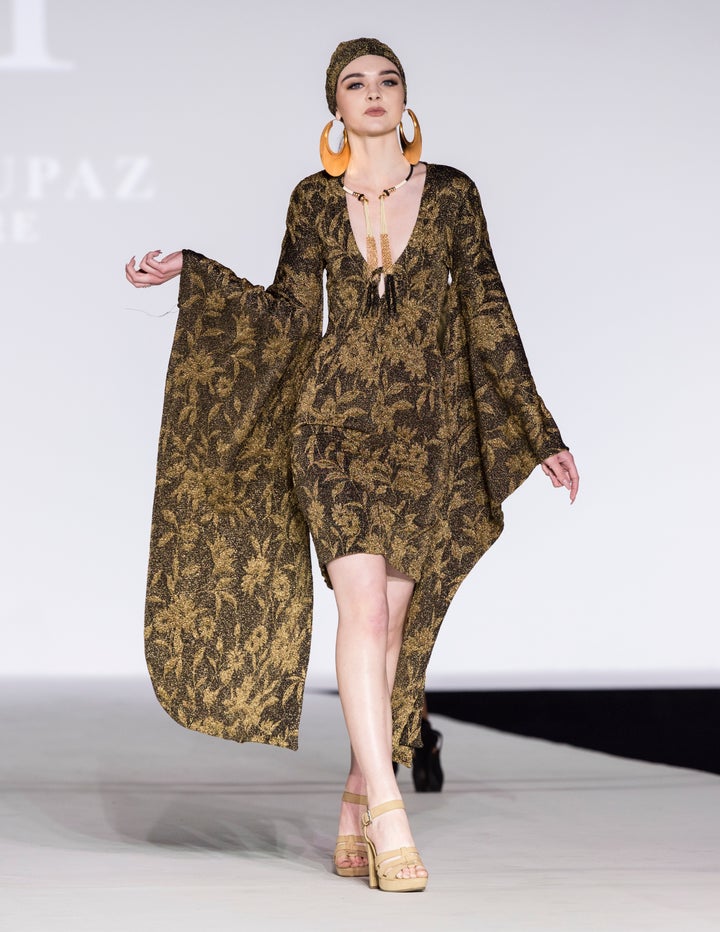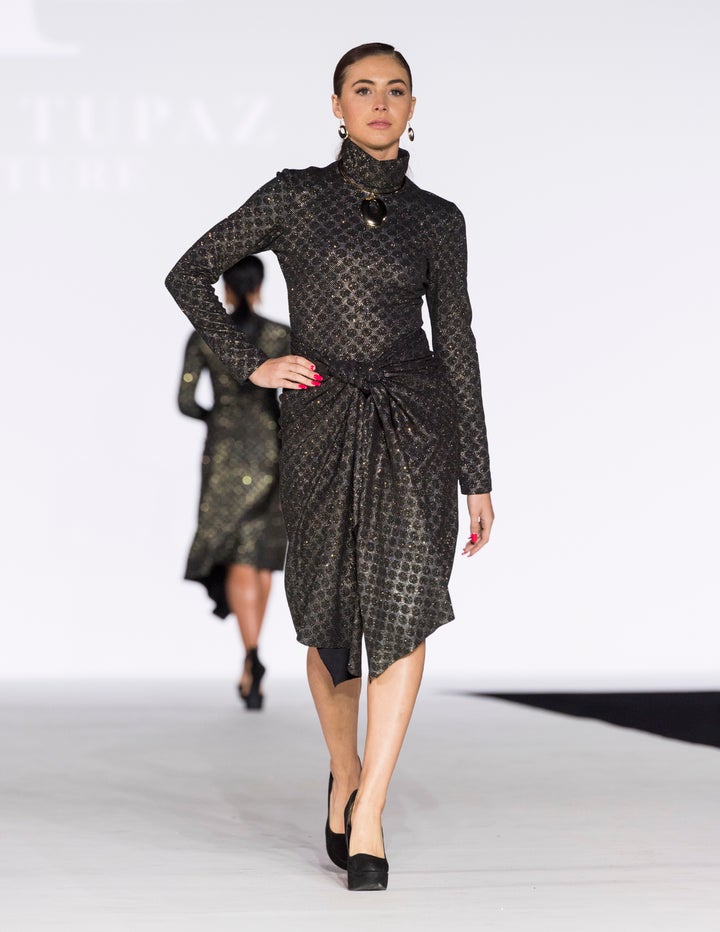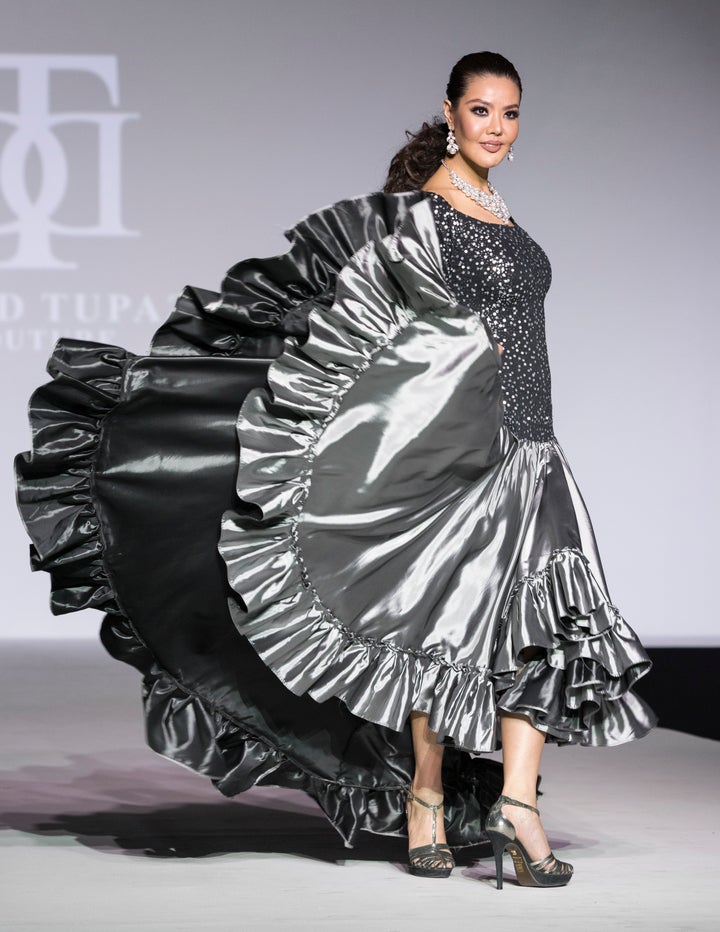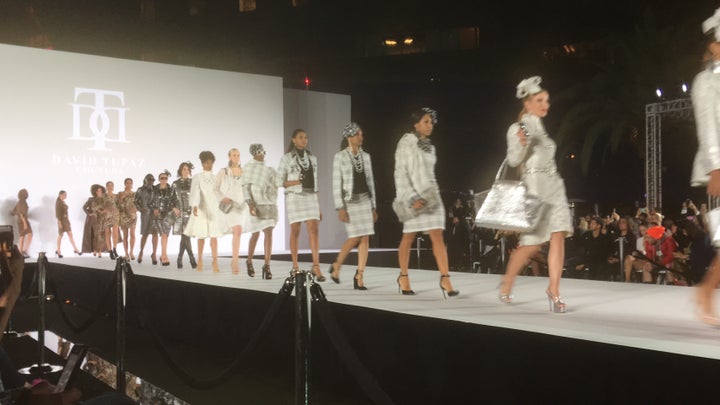 Richard Hallmarq's daring urban couture feels like city-ready fashion for provocative walks in the metropolitan jungle.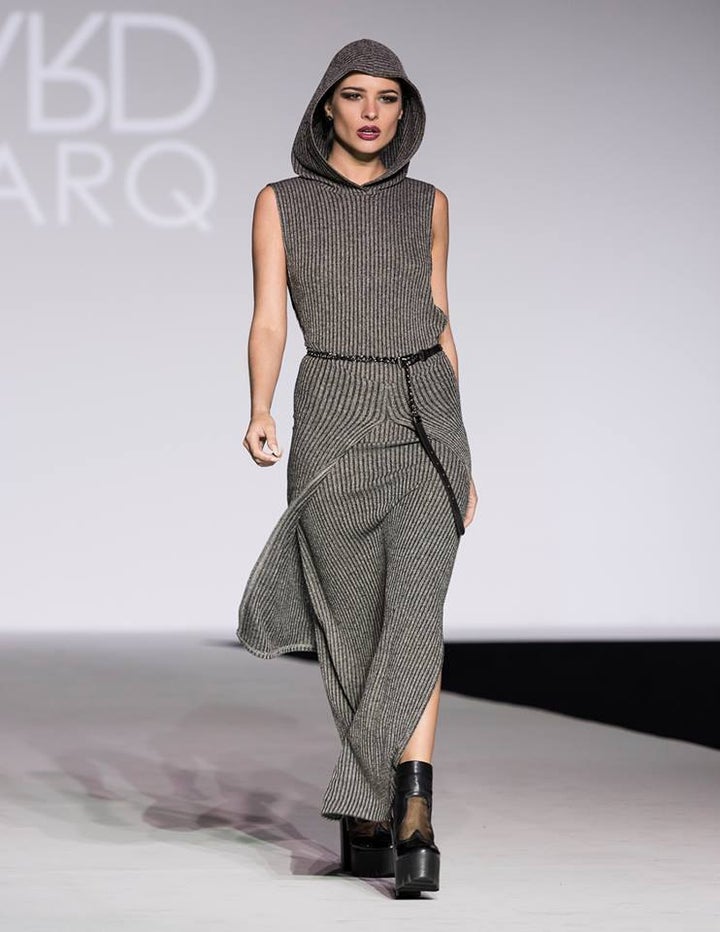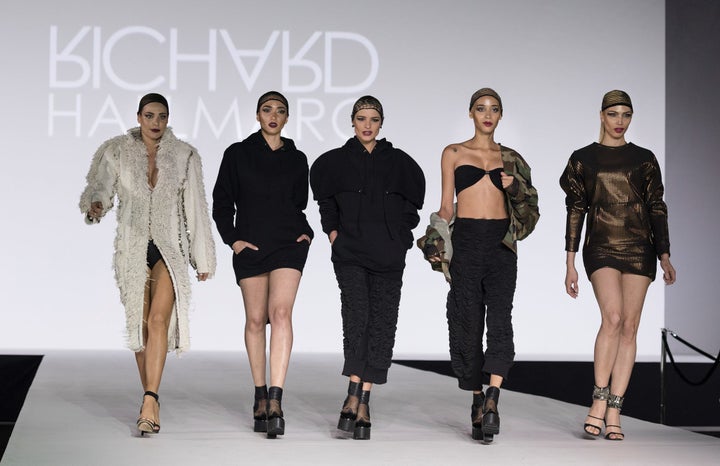 Daringly short but comfortable dresses and pants, mixed up with long dresses with hoods, haute couture cargo pants with camouflage jacket and bikini tops, and fur coat with little underneath, were some of the choices that showed just enough skin in the right places to keep the style flirtatious, tough and exotic. He kept the colors simple with a palette of blacks, browns and whites. A powerful designer whose pret a porte is stylish, simple, provocative and instantly makes a statement.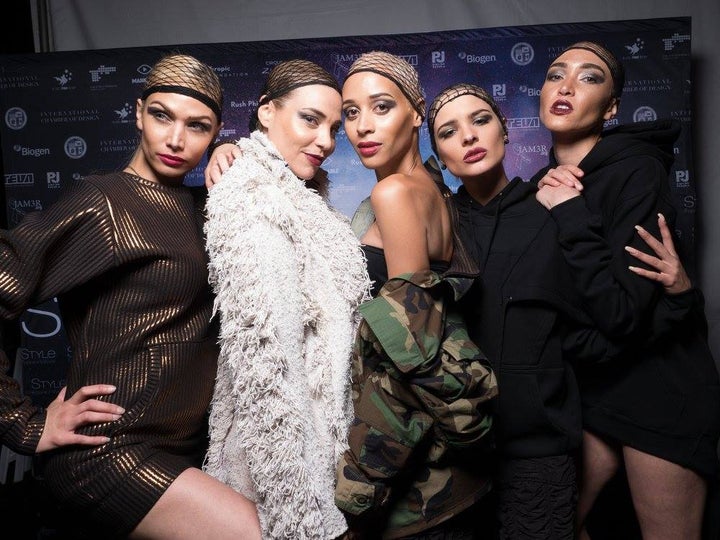 The startling and unique final show of the night was Mario De La Torre who presented an amazing feat. A designer whose line has previously included jump suits, gowns, and day-dresses with elegant yet minimalist designs and simple monochromatic colors, prevented a jaw dropping line cut entirely in vinyl.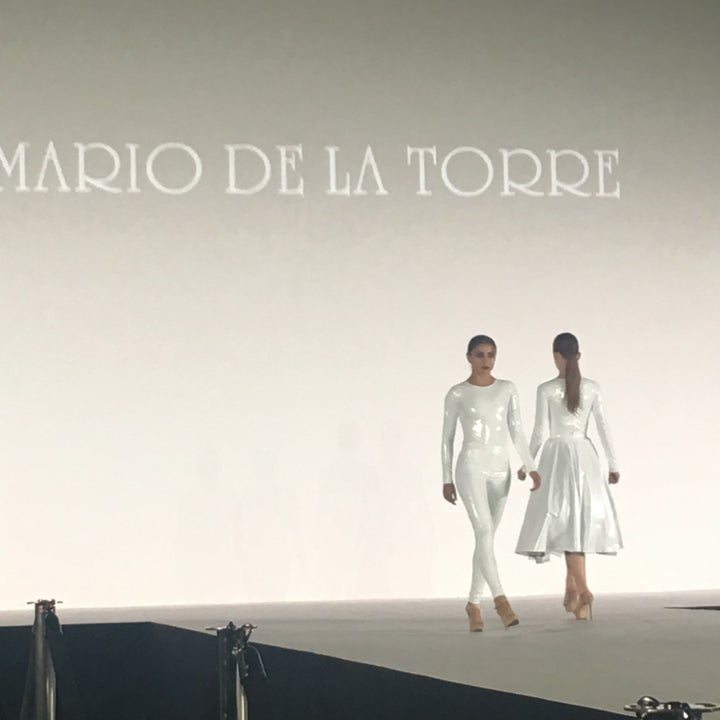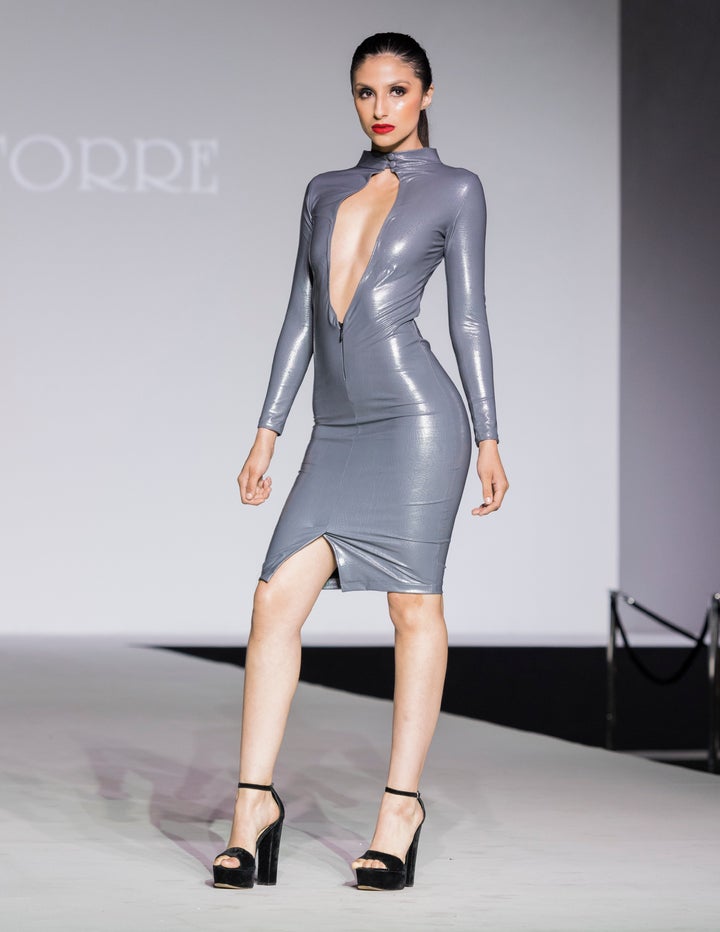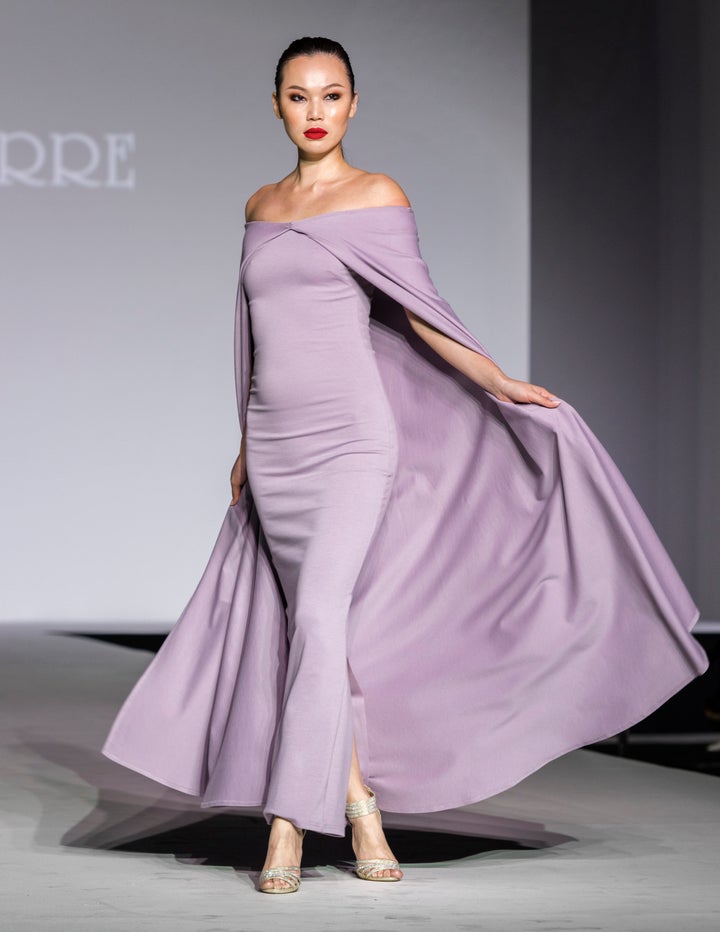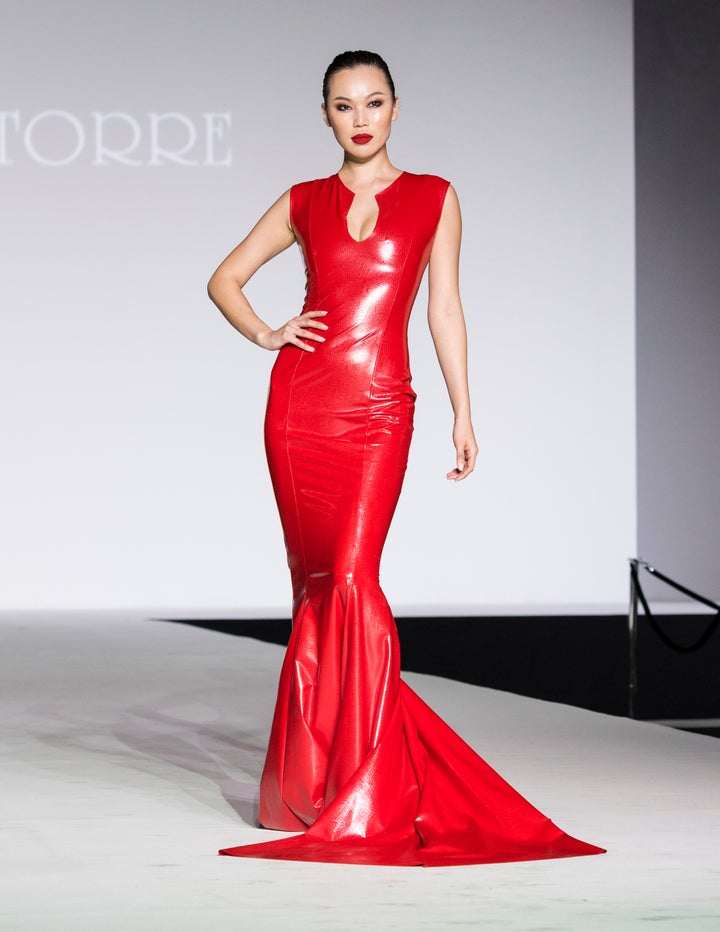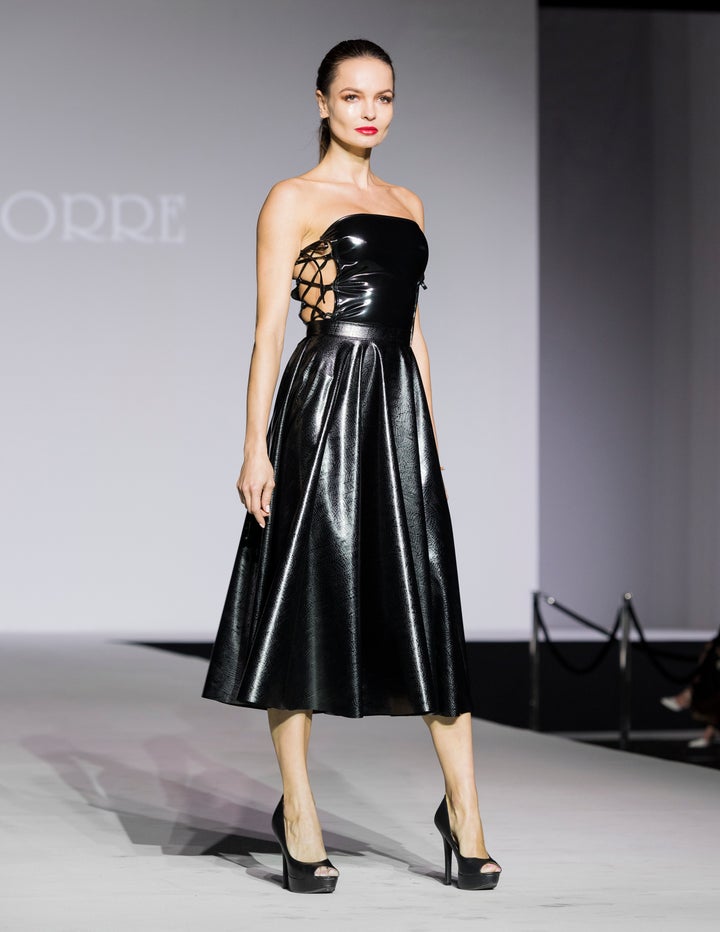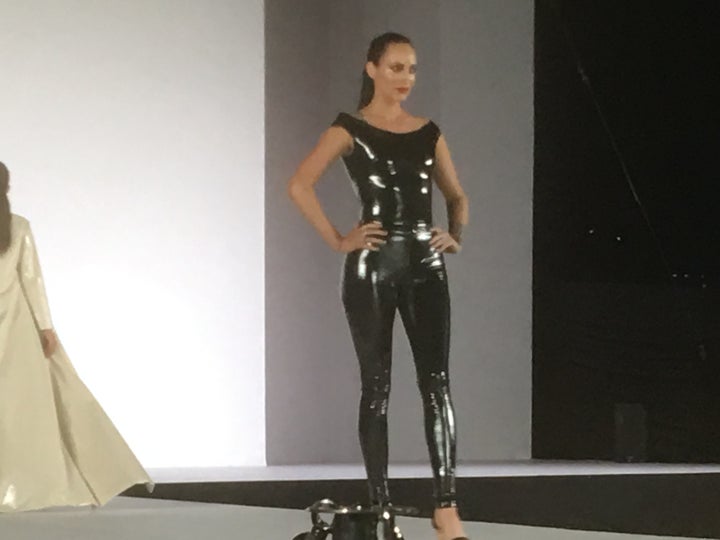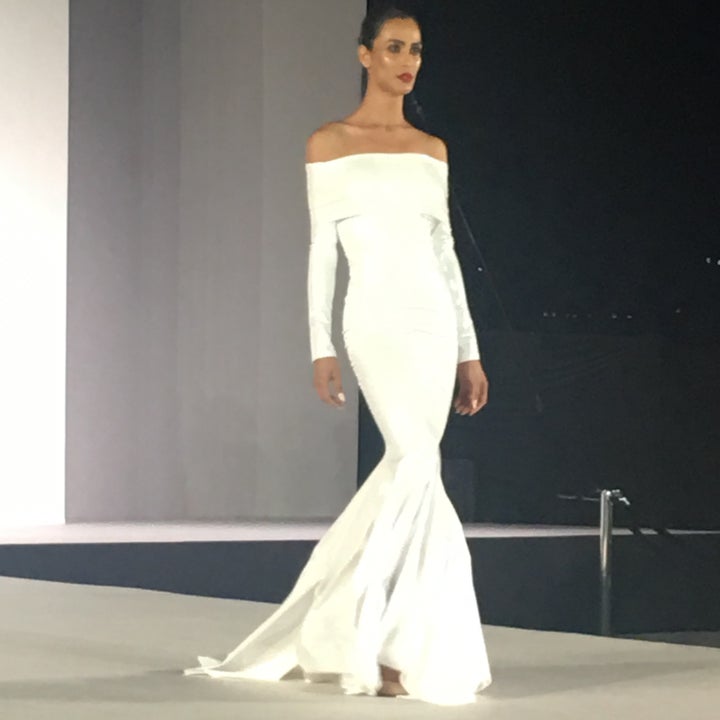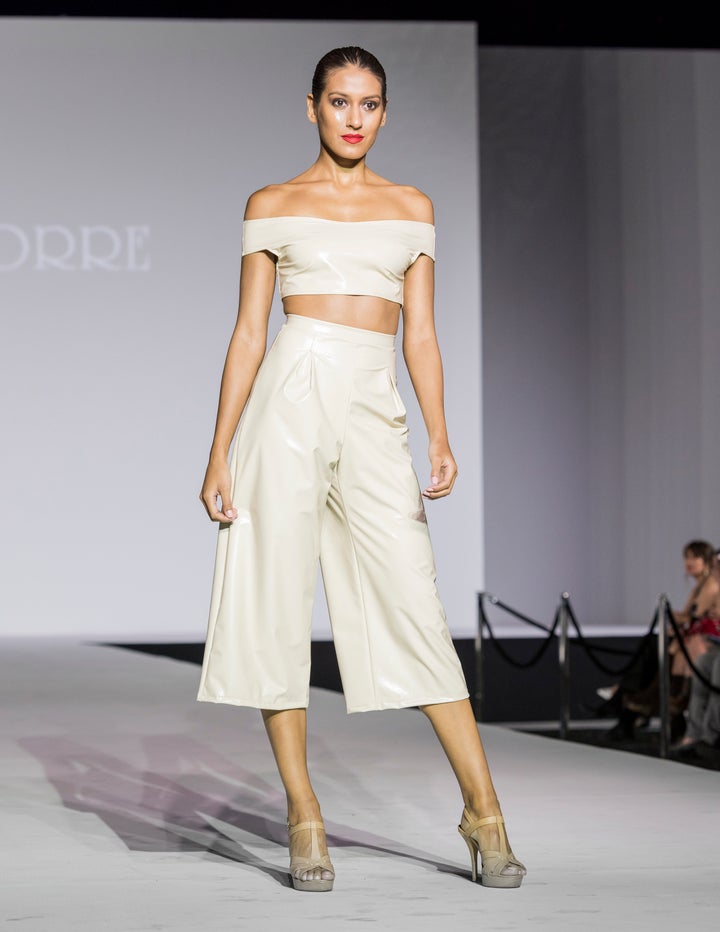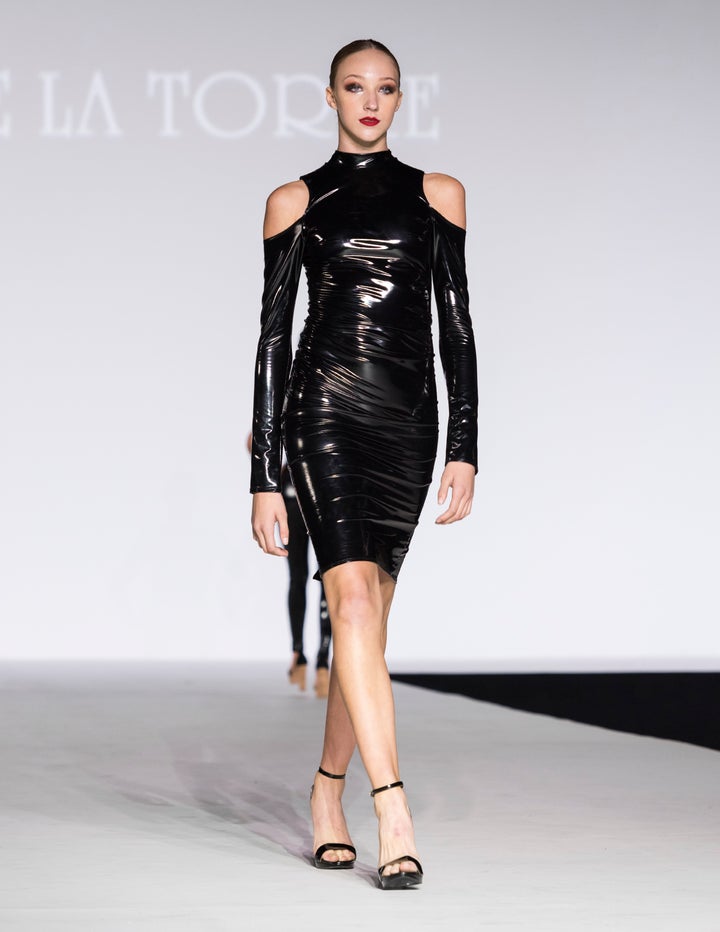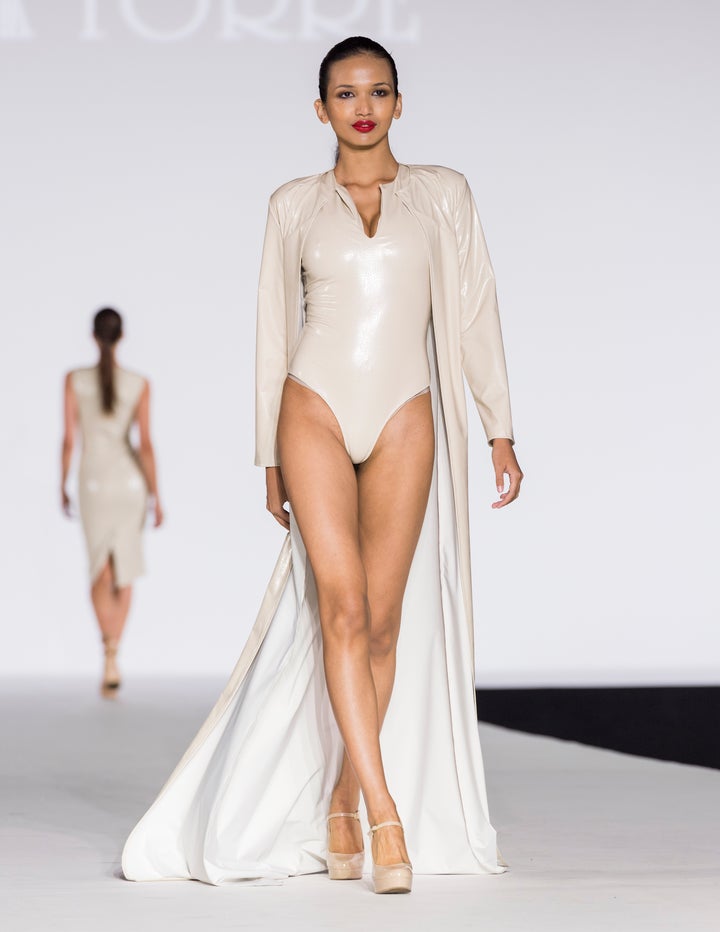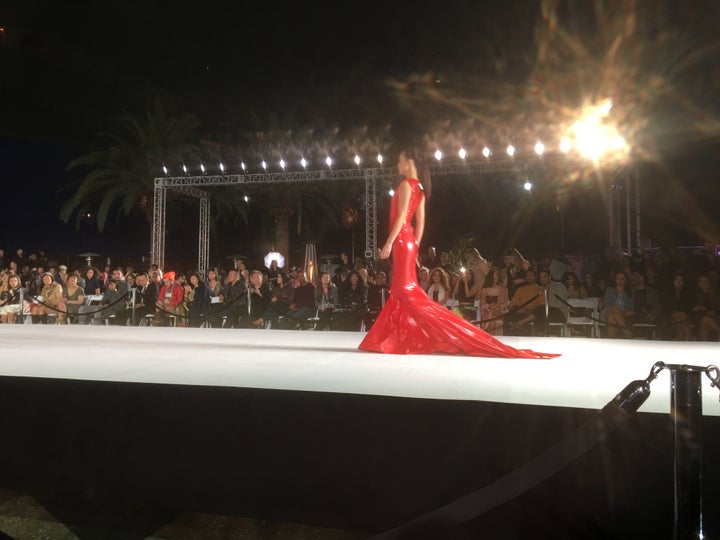 The stunning work ranged from cat suits, long strapless gowns with trains, to day dresses, pants, dresses with capes and jump suits. Designs he's familiar with and used before, but here cut in vinyl so exquisitely, it appeared to be cut from a more remarkable magical gentle and free flowing textile that also looked as if each dress had been poured out of a bottle, painted on the models and then allowed to solidify. The impossible looking creations turned every head and held the audience captive until the final moment.
Join me on Twitter! @PhilipDMorton